July 28, 2011 -
Barry Dorey
Big Ten Media Days notebook: Day 1
The college football world turned its attention toward the Hyatt Regency McCormick Place in Chicago on Thursday as the Big Ten kicked off its annual Media Days.
While the NCAA investigation and its effect on Ohio State was one of the bigger storylines entering the annual gathering, the conference debut of Nebraska also was of interest.
But the main course was Big Ten commissioner Jim Delany and the topic of college football reform in light of all the recent scandals that have rocked the sport. Delany talked about providing athletes with "the full cost of education" back in May, and SEC commissioner Mike Slive and ACC chief John Swofford thoroughly discussed the need for major reform at their league's media gatherings.
Here's what Delany talked about at his presser.
The boss speaks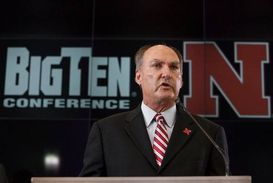 League commissioner Jim Delany is pushing for reform like his fellow BCS-conference leaders.
Delany urged the NCAA to make substantial changes concerning widespread reform in light of all the off-the-field transgressions this offseason. But he stressed that new NCAA president Mark Emmert needs help to make real lasting reform happen in what he referred to as "the second-most popular sport behind the NFL."
"It's going to be a challenge," Delany said of cleaning up the sport. "All we can do is to come together. It's a real challenge for presidential leadership.
"It's not the NCAA alone that needs to change, it's the conferences and institutions. It's not the NCAA's problems, it's our problems."
Delany noted that he agreed with all four of Slive's proposals, which included providing full cost of attendance to student-athletes, making academic guidelines stronger and changing recruiting rules among other alterations. He even said he supports having team academic standards being a prerequisite to being eligible for postseason play. Now that's real reform.
Regarding the issue of full cost of attendance, Delany stressed that the idea should not be confused with paying players.
"If it's paying the student-athletes beyond what is the cost of the scholarship and cost of going to college, then I have no interest in that conversation," Delany said. "If it's paying the full cost of the scholarship, then I'm interested in having that conversation."
Delany noted that he gathered Big Ten coaches Thursday morning to hold a special meeting to discuss violations and avoiding situations in the future.
Preseason honors
While the Big Ten is withholding from releasing a preseason media poll this season (the coaches in the conference voted against having one), the league did release a preseason Players to Watch list, voted on by the media. Check it out below:
Legends division
QB Denard Robinson, Michigan
QB Kirk Cousins, Michigan State
DT Jared Crick, Nebraska
LB Lavonte David, Nebraska
QB Dan Persa, Northwestern
Leaders division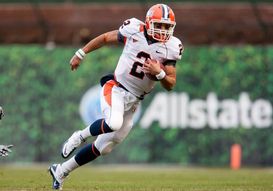 ICONIllinois QB Nathan Scheelhaase is a Big Ten Player to Watch.
QB Nathan Scheelhaase, Illinois
WR Damarlo Belcher, Indiana
C Mike Brewster, Ohio State
DL John Simon, Ohio State
LB Michael Mauti, Penn State
RB James White, Wisconsin
RB Montee Ball, Wisconsin
*The Leaders division has seven players instead of five because of ties.
This list is certainly comprised of some of the league's best players, although I would have liked to see Michigan State RB Edwin Baker, who rushed for 1,201 yards and 13 scores in 2010, on the list.
Purdue's Danny Hope maintained Thursday that he will employ a two-quarterback system this fall with Rob Henry and Robert Marve. The Boilermakers head coach said a plan was in place last season to play both because Henry's athleticism was too dynamic to keep on the bench. However, Marve suffered a torn ACL in Week 3, forcing Henry into full-time duty, which was a lot for the freshman to handle.
"A lot of people talk about our quarterback situation, saying if you don't have a starter, you don't have a quarterback," Hope said. "I disagree. I think we have two really good quarterbacks."
Henry certainly caused fits for opponents with his running ability and was even dubbed as "Tim Tebow Lite" by some in the press box during a road victory over Northwestern. However, Henry left a lot to be desired in the passing game, which is one reason why Marve will get plenty of playing time this fall. Even though a laceration on his throwing hand hampered Henry's ability to air it out, he still needs to improve as a passer.
However, Hope said Henry was the team's most improved player this spring. If Marve can be 100 percent healthy following a second torn ACL, could the Boilers be primed to be much improved offensively this fall?
Boilermaker fans certainly hope so.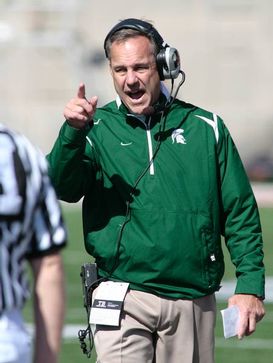 ICONMark Dantonio could have his best Michigan State team yet.
Michigan State head coach Mark Dantonio had perhaps the quote of the day, which you can revisit or see for the first time here.
In terms of the Spartans' forecast this fall, can they reach the Rose Bowl for the first time in 22 years? MSU claimed its first Big Ten title since 1990 last season but was unable to go to Pasadena because it lost a tiebreaker. Dantonio may have his most balanced team since he's been in East Lansing, with veteran quarterback Kirk Cousins and running back Edwin Baker leading the way. The schedule sets up nicely, as the Spartans will get a Buckeyes team without DeVier Posey and Co., and Dantonio's squad also gets Wisconsin and in-state rival Michigan at home. The real question is whether 2011's version of the Spartans will be tougher than they showed in awful losses to Iowa and Alabama last season.
Runner-up for quote of the day? First-year Michigan head coach Brady Hoke takes the honor, on whether the Wolverines are rebuilding this season.
"I don't think we're rebuilding. Period," he said. "We're Michigan."
More than 50 media members who cover Nebraska were in Chicago for the festivities. The Cornhuskers, entering their first Big Ten season, were picked to win the Legends division in the first annual Big Ten Newspaper Poll. They were picked to defeat Wisconsin in the inaugural conference title game.
I'll have more notes from Day 1 posted Friday morning at the NFP, and my Day 2 notes will be published Saturday morning. Big Ten Media Days conclude Friday.
Email dave.miller@nationalfootballpost.com or follow me on Twitter at Miller _Dave