July 30, 2011 -
Barry Dorey
Big Ten Media Days notebook: Day 2
Big Ten Media Days concluded Friday at the Hyatt Regency McCormick Place in Chicago. Here are some final notes from the league's annual preseason gathering.
CLICK HERE for Big Ten Media Days notes: Day 1, part 1
CLICK HERE for Big Ten Media Days notes: Day 1, part 2
At Friday's Big Ten kickoff luncheon, the conference held a coin flip to determine the home team in the inaugural league title game, which takes place in Indianapolis on December 3.
The Legends division came out victorious over the Leaders division, which means Nebraska, Northwestern, Michigan State, Iowa, Michigan or Minnesota will be vying to be the designated home team in the championship game.
While having a designated "home" team on a neutral-site field doesn't really have much of an impact on the game — the Legends team merely gets to wear its home uniforms and stand on the home sideline at Lucas Oil Stadium — it will be strange if the Legends team has a worse record than a Leaders team and still has "home-field advantage."
A confident "Michigan man"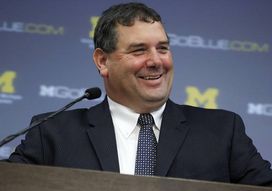 Brady Hoke believes the university is an easy sell on the recruiting trail.
At his Media Days presser Thursday, first-year Michigan head coach Brady Hoke discussed the recruiting success he has enjoyed thus far in Ann Arbor despite being on the job for a short amount of time.
"This might sound arrogant, and if it is, it is. We're Michigan," Hoke said. "We have a global education. We're the winningest program in the history of college football. We have a tremendous staff of guys. The lifeblood for all of us, no doubt, is the guys you bring in your program. We've really tried to focus on the guys that fit the mold of Michigan with the integrity and character that we want to have."
Certainly, Hoke brings a certain swagger that Michigan had seemed to lose over the last few years. He also brought in one of the best defensive minds in Greg Mattison, the team's new coordinator who has been an integral part of the staff's recruiting efforts.
While Michigan may not return to the upper-echelon of the Big Ten in 2011, the jump is coming — and Hoke will make sure he does everything to keep the program on top.
*One last night on the Wolverines:
Cornerbacks J.T. Floyd and Troy Woolfolk will enter fall camp healthy and will participate fully in practice. That's huge because the Wolverines were torched on defense last season, specifically struggling against the pass. Expect Hoke to play a lot of youth in the defensive backfield, but the presence of Floyd and Woolfolk is crucial if the defense ever wants to get off the field this fall.
Persa even better in 2011?
As dynamic a player as Denard Robinson was for Michigan last fall, Dan Persa was Northwestern football.
Until Mike Trumpy emerged as a viable option at tailback, Persa accounted for much of NU's offense — through the air, on the ground (where he rushed for nine touchdowns) and any other way he could help the offensive unit.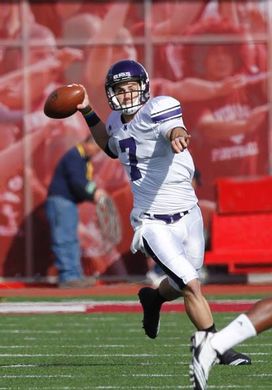 ICONDan Persa is one of the most talented yet underrated players in the nation.
So what does Persa have in store for 2011?
Despite having to come back from Achilles' tendon surgery, the dual-threat quarterback could be even better, at least that's what head coach Pat Fitzgerald believes.
"It's scary how good he could be," Fitzgerald said Thursday. "His athletic gifts and talents, that's easy to see. But to see that mental progression from a quarterback — the game slows down, and you are able to anticipate things before they unfold."
With a running game that should be more consistent and talented receivers in Jeremy Ebert, Demetrius Fields and Charles Brown, Persa will be surrounded by enough weapons to keep the NU offense potent. But does he really need to improve on a season in which he completed a national-best 73.5 percent of his throws and connected on 15 touchdowns against just four interceptions?
"There's a lot of room to improve," Persa said. "I took too many sacks and I need to make more throws from the pocket. Can I make those improvements? That will be my goal in camp."
Persa, whom Fitzgerald said is "100 percent healed," is projected to be one of the frontrunners for Big Ten player of the year. With his work ethic, I wouldn't put it past him to exceed his stellar figures from last fall. And that's a scary proposition for opponents of the 'Cats.
How impressive is Michigan State quarterback Kirk Cousins? Check out the video below of the Spartans signal-caller delivering an inspiring speech at the Big Ten Kickoff Luncheon.
Video is courtesy of Big Ten Network.
Email dave.miller@nationalfootballpost.com or follow me on Twitter at Miller_Dave