December 13, 2010 -
Dave Miller
Big Ten names divisions 'Legends' and 'Leaders'
Get ready for the Big Ten's 2011 conference championship game, featuring the winners of the Leaders and Legends divisions.
Yes, welcome to the 21st century of Big Ten football.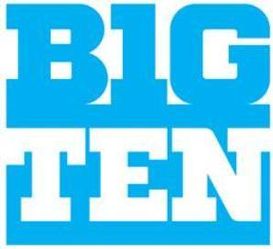 The new Big Ten logo is simple, to say the least.
The conference, which will expand to 12 teams with Nebraska's addition in 2011, also unveiled a new logo and 18 football awards on Monday, each named after two standout Big Ten performers.
"The Legends, not too hard in that we have 215 College Football Hall of Fame members, we have 15 Heisman Trophy winners," league commissioner Jim Delany told The Associated Press. "We thought it made perfect sense to recognize the iconic and the legendary through the naming of the division in that regard…We've had plenty of leaders in the conference, that's for sure, but the emphasis here is to recognize the mission of using intercollegiate athletics and higher education to build future leaders."
Illinois, Indiana, Ohio State, Penn State, Purdue and Wisconsin will be in the Leaders division, while Iowa, Michigan, Michigan State, Minnesota, Nebraska and Northwestern will compete in the Legends division.
The new logo is a block "Big Ten" which includes an ode to the original 10 members with those numerals embedded in the last two letters of the word Big. The conference never seriously considered putting a 12 in its logo or changing its brand name to include the number of members today.
"There will be people who would want us to be digitally correct with our name and our number, but I think we have 100-percent support of the people who have responsibility for these programs. In fact, it was a presidential directive that we maintain our name," Delany said.
The league also introduced 18 new football awards. Those include the Stagg-Paterno Championship Trophy, presented to the winner of the conference title game, an offensive player of the year award honoring Otto Graham and Eddie George and a defensive trophy which will honor Bronko Nagurski and Charles Woodson. The Hayes-Schembechler Coach of the Year trophy will also be introduced next season.
Email dave.miller@nationalfootballpost.com or follow me on Twitter at Miller_Dave