February 07, 2012 -
Dave Miller
Big Ten softens its anti-playoff stance
College football playoff talk coming from the Big Ten?
Once one of the most staunch opponents of such a postseason format, conference commissioner Jim Delany has discussed a four-team playoff scenario with league and school officials that represents a significant step toward a more modern postseason in the sport.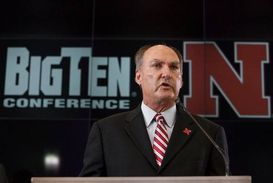 Jim Delany and the Big Ten are open to change in regards to the current postseason system.
Teddy Greenstein of the Chicago Tribune reported on Monday that the Big Ten has tossed around the idea of a national four-team playoff that would involve the top four teams in the BCS standings, with the semifinals being hosted by the higher seeds. The national championship game would then be bid out to traditional major sites such as New Orleans, Miami, Pasadena and Glendale -- the sites of the current BCS bowl games.
Whether lower ratings or lackluster attendance numbers for some BCS games in recent years contributed to the cause, the fact is that the Big Ten has clearly opened up to the idea of an improved offseason, and that's something that's refreshing. There was a great deal of scrutiny this postseason -- even more than in previous years -- of a system that awarded Alabama a shot at the national championship despite not even advancing to the SEC title game.
This proposal certainly would satisfy Big Ten constituents because it would provide the opportunity for their programs to host postseason contests in their own backyard in cold-weather towns, which is much different than travelling to warm-weather cities to play other BCS-conference schools in major bowl games. However, no Big Ten team has been in the top four slots of the BCS standings when bowl games were set since Ohio State was No. 1 in 2007. Perhaps most important in this scenario is the Rose Bowl retaining its Big Ten/Pac-12 tie-ins. Even if a Big Ten or Pac-12 team is in the top four of the BCS standings, more than likely the league would send a replacement team to Pasadena to retain tradition.
Of course, this Big Ten proposal is one of many ideas that we will hear about throughout the offseason. Expect leagues such as the SEC, Big 12 and Pac-12 to have their discussions leaked as league and school officials work toward an improved postseason with new BCS contract talks on the horizon. BCS executive director Bill Hancock said that as many as 50 to 60 BCS bowl/playoff plans were discussed after the BCS title game in New Orleans. The next postseason cycle begins with the 2014 season, so a new system could be approved as early as this fall.
Email dave.miller@nationalfootballpost.com or follow me on Twitter at Miller_Dave