May 05, 2011 -
Dave Miller
Big Ten spring review
Let's take a look at some of the storylines that played out this spring in the Big Ten as well as some of the questions that were answered and unanswered.
In case you missed it earlier today, here are my Big Ten post-spring power rankings.
Who will fill in for Terrelle Pryor during his suspension?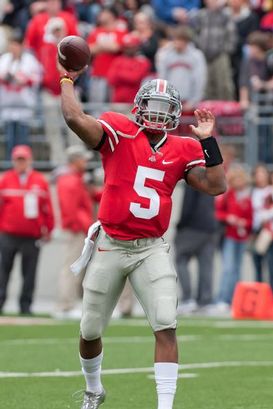 ICONBraxton Miller made quite the impression this spring. But will it be enough to land the starting job under center?
After 15 practices, Ohio State fans are still waiting on a decision from head coach Jim Tressel regarding the quarterback situation in Columbus. We know that Pryor will miss the first five games of the 2011 season, and many assumed that Joe Bauserman would keep the seat warm. But it was apparent that early enrollee Braxton Miller was the most talented signal caller on the field in the team's spring game, leading three scoring drives and not looking overwhelmed. But would Tressel, who will also miss the first five contests, turn the offense over to a true freshman knowing that he would just return to the sideline once Pryor is eligible to play? It doesn't seem like that will be the case despite his high level of talent. In my opinion, Kenny Guiton would be the best option because he gives the offense a dual-threat option under center much like Pryor. And, to his credit, he goes through his progressions and doesn't rely on his feet despite having good athletic ability. At the end of the day I think the coaching staff will hand the ball to Bauserman because he's been in the system the longest. But it will be interesting to see how close of a race Miller and Guiton make it in fall camp.
Oh, and did I mention that the Buckeyes also must lean on inexperienced receivers to be productive in the absence of DeVier Posey and play on without three other Buckeyes who must serve five-game stints on the sideline? There's also that Tressel cover-up which prompted the NCAA investigation…
Will Denard still be productive in a new offense?
While Al Borges realizes how special of a season Denard Robinson had in 2010, the new offensive coordinator of the Wolverines would like to have his unique talent on the field for a full season — and for full games — after "Shoelace" battled numerous injuries during his breakout campaign. So Michigan fans can expect Robinson to carry less of a load. That will start with him lining up under center for the majority of the time instead of out of the shotgun, which he did in the spread under Rich Rodriguez. But Borges, who has been an offensive coordinator since 1986, will not stifle the dual-threat signal caller's productivity. Rather, he would like to see his running backs pick up some of the slack and Robinson to become more efficient through the air. The offense struggled under Robinson in the spring game, as he completed only 5 of 14 passes and had an interception nullified by a defensive penalty. He also bobbled a few snaps. But keep in mind that there is plenty of work to do for everyone in this new offense, and the transition from the spread to a pro-style scheme for anyone is a struggle. If he stays healthy for a full season, Robinson will make plenty of highlight reels.
Once again, the defense will be the main issue in Ann Arbor. No matter the personnel, new coordinator Greg Mattison will make a difference in year one. Up front, the Wolverines received strong springs from Craig Roh, Mike Martin and Ryan Van Bergen. However, the secondary's lack of depth is the biggest concern.
Check out Michigan spring game coverage courtesy of The Detroit News.
Besides Hoke, what about the other new head coaches?
Jerry Kill and Kevin Wilson may not be able to celebrate Big Ten championships in 2011, but the new leaders at Minnesota and Indiana, respectively, have already made an impact at their new schools. Both had the difficult task of turning around losing cultures, and it remains to be seen how their teams fare on the field in the fall. But both of them are tough and expect a lot from their players — and they'll do anything to maximize their players' talent. Kill has a nice piece to work with on offense in quarterback MarQueis Gray, but the Gophers must answer a lot of questions up front on both sides of the ball. Meanwhile, Wilson's Hoosiers will score points no matter who is under center — and that's their biggest question. And, of course, can they stop the big play?
Is Nebraska the best team in the Big Ten?
There's a very good possibility that the Cornhuskers could advance to the inaugural Big Ten championship game and maybe even meet Ohio State in a rematch. Bo Pelini has perhaps his best defense yet in Lincoln, and the offense will be productive — even if it's a bit conservative — as long as Taylor Martinez has the magic. It will be interesting to see if freshman receiver Jamal Turner can carry his spring game performance — 228 all-purpose yards — into the fall after moving from quarterback. The only thing that could prevent the Huskers from having a standout debut season in their new conference is unfamiliarity with their new league opponents. It may not seem like a big deal, but consider that the entire coaching staff — a revamped staff, mind you — will have an even busier offseason breaking down new conference opponents. I think Nebraska is entering the Big Ten at a perfect time — when there are questions at the traditional major programs. But don't underestimate the value of being familiar with your annual conference foes.
Next up: Big East
Email dave.miller@nationalfootballpost.com or follow me on Twitter at Miller_Dave