January 03, 2011 -
Dave Miller
Black Monday preview
We've already seen five NFL head coaches get canned this season: Dallas' Wade Phillips, Minnesota's Brad Childress, Denver's Josh McDaniels, San Francisco's Mike Singletary and Carolina's John Fox. Who will be next as Black Monday arrives?
Let's take a look at who may go and who may stay. Or, rather, who should go and who should stay.
Sweating it out
Marvin Lewis, Cincinnati Bengals: Lewis finished the season 4-12 in the last year of his contract. That's not exactly stepping up in a free agency year. Owner Mike Brown can't be happy with never being in playoff contention this year, and even with the team's deficiencies there's no excuse for such a rotten 2010 campaign. Could defensive coordinator Mike Zimmer be in position to step in as the new lead man? With a 60-67-1 career mark, we've seen just about all that Lewis can offer.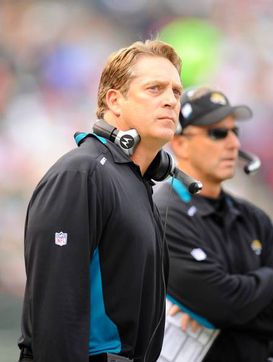 ICONIt seems like it's always close but no cigar for Jack Del Rio and the Jags.
Jack Del Rio, Jacksonville Jaguars: In eight seasons, Del Rio has never won a division title. And he has gone three years without making the playoffs. While it's debatable just how much talent the Jags have on the roster annually, he always seems to have his team in playoff contention — only to fail to get it there more often than not. Losing to New England in two postseason appearances isn't a crime, but a 65-63 record in eight seasons is too mediocre to keep around for a ninth season.
Gary Kubiak, Houston Texans: All indications are that Kubiak will be retained with Wade Phillips coming in as new defensive coordinator. But will a new defensive staff really solve all of the problems? Sure, the Texans have been atrocious on that side of the ball. But does Kubiak really strike you as a playoff-caliber coach? He has never taken the team to the postseason, and I'm convinced he never will. He's 37-43 in his career — just not head-coach material.
Jeff Fisher, Tennessee Titans: Missing the playoffs the past two seasons is never good, especially when you've been with a franchise for so long. But Fisher is one of the most-respected coaches in the league, and the Titans have really dipped defensively the last few seasons. The fact that owner Bud Adams loves quarterback Vince Young doesn't help his cause, but it's hard to see Fisher not get another year to turn things around. But if he is dismissed, he'll be scooped up in no time.
Eric Mangini, Cleveland Browns: The Browns had some signature wins this season, and Mangini just finished his second season in Cleveland. But with an offense that struggled to move the ball and put up points, a 10-22 record and a team president in Mike Holmgren who did not hire him, Mangini could be in serious trouble. His career mark of 33-47 doesn't exactly inspire confidence, either.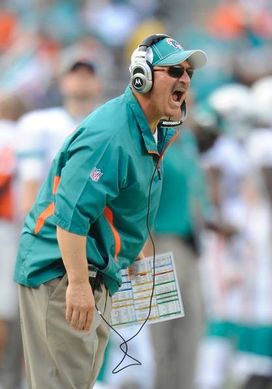 ICONTony Sparano and the Dolphins were just 1-7 at home this season.
Tony Sparano, Miami Dolphins: The real stunning aspect of Miami's season was its 1-7 home record. You need to put fannies in the seat, and winning one game at home with a talented team is no way to draw big crowds. The 38-7 loss to the Patriots on Sunday was a real disappointing way to end the year. Would owner Steve Ross make a change, spend money on a buyout and spend even more on a big-name hire?
Tom Cable, Oakland Raiders: It would be a travesty if Oakland owner and general manager Al Davis made a change. There are rumblings that Cable is likely gone. I know they're baby steps, but going 8-8 — including 6-0 in the AFC West — is reason to celebrate. The offense improved under coordinator Hue Jackson, which ironically could lead to Cable's demise if Davis believes Jackson could get more out of the team as the head man.
Jason Garrett, Dallas Cowboys: The interim tag very well could be removed by owner Jerry Jones. He'll interview at least one minority candidate to satisfy the Rooney Rule, but all indications are that Garrett survives in Dallas. Unless, of course, Fisher becomes available. I can't see Jones passing on an opportunity to get the current Titans head coach.
Leslie Frazier, Minnesota Vikings: It looks like owner Zygi Wilf will remove Frazier's interim title, and it makes sense. Frazier has been well-respected around the league, and he deserves a full season without No. 4. Or a full season with a healthy No. 4. Just kidding. Maybe.
Tom Coughlin, New York Giants: Team owner John Mara announced Sunday night that Coughlin will be back in 2011. While the G-Men did miss the playoffs, they finished 10-6 and never quit. I love John Fox as a fit in New York, but the Giants are Coughlin's team.
Email dave.miller@nationalfootballpost.com or follow me on Twitter at Miller_Dave
Follow the Daily Jolt on Twitter: Daily_Jolt
The Daily Jolt is a section of the National Football Post that serves as a one-stop shop for all things football, sports, pop culture and everyday life.
The section's editor, Dave Miller, also writes the Against the Grain college football column for the NFP. When he isn't putting coaches on the hot seat, he can often be found daydreaming of hanging out on set with Natalie Portman and Mila Kunis.