January 10, 2013 -
Dave Miller
Blowout loss doesn't diminish ND's season
After its blowout loss to Alabama in the BCS national championship game Monday night at Sun Life Stadium in Miami, it's obvious that Notre Dame is not ready to return to the top of college football's mountaintop.
But with Nick Saban building a dynasty in Tuscaloosa, the Fighting Irish aren't the only ones unable to match up very well with the king. Still, to claim its first national title since 1988, Notre Dame may have to go through Alabama once again, because the Tide aren't going anywhere anytime soon.
So closing the gap on Alabama remains a top priority, and there are plenty of reasons to remain optimistic in South Bend that ND can at least continue to improve.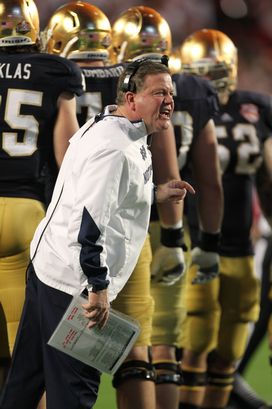 US PRESSWIREBrian Kelly has a bright future at Notre Dame if he decides to dismiss NFL suitors.
First and foremost, keeping head coach Brian Kelly remains a priority. And despite the reported mutual interest between him and the NFL's Philadelphia Eagles, it's hard to imagine Kelly making the jump right now. While I believe that Kelly eventually will land at the next level, he has unfinished business at the college level and knows that the NFL will always be there for the taking. Quite simply, there's no need to rush unless the Eagles' offer is too good to be true — a situation above and beyond money.
So assuming Kelly stays and gets an extension and a raise, he'll have redshirt sophomore Everett Golson returning to an offense that, while potent, still has miles to go to get to where Kelly wants and believes it can be on a weekly basis. Even if Cierre Wood elects to go to the NFL, sophomores Amir Carlisle and George Atkinson III will continue the productive ground attack that paced the Irish this season, and they are scheduled to be joined by Greg Bryant, who is one of the top tailbacks in the Class of 2013. At receiver, junior TJ Jones, sophomore DaVaris Daniels as well as freshmen Chris Brown and Davonte' Neal give Golson plenty of weapons as Kelly will continue to open up the offense. And while the strong O-Line will lose some key pieces, stud left tackle Zack Martin is returning.
Defensively, however, is where the Irish really stand out despite getting humbled by the Tide on Monday night. Again, most every defense — even Stanford's, which featured a dominant front seven — would have been ripped apart by Alabama's offensive line and its ground game.
Moving forward, the Irish will lose Heisman Trophy finalist Manti Te'o, who didn't end his career with a standout effort Monday night. The Irish will also lose veteran end Kapron Lewis-Moore. But coordinator Bob Diaco will be back after getting consideration for a few head-coaching gigs. And that's huge news for the coaching staff. Diaco's unit will include depth across the line, including star nose guard Louis Nix III and ends Stephon Tuitt and Sheldon Day. And linebackers Prince Shembo and Danny Spond also will be back in 2013. And the secondary, which had depth and inexperience issues, will continue to improve and get re-enforcements this February on National Signing Day.
Notre Dame went from unranked in the preseason to the top spot in the rankings by the end of the regular season. Critics will contend that the schedule wasn't as daunting as once thought and that the "Luck of the Irish" was on the side of Kelly's squad. But ND deserved to be in Miami this past Monday night. Now the goal for the program is to continue to be a major player once again on the national stage year after year.
Certainly, Kelly and the Irish are on the right track. But, for another season, Alabama remains the king.