August 31, 2012 -
Dave Miller
Boise State at Michigan State: 3 things to watch
Opening weekend of the 2012 college football season continues Friday night with a very intriguing matchup in East Lansing as Boise State hits the road for a clash with Michigan State.
Chris Petersen lost a lot of talent from his one-loss Broncos squad last fall, while Mark Dantonio hopes his Spartans offense could keep up with the team's physical and imposing defense.
Let's take a look at three things to watch in the tilt between the Broncos and the Spartans on Friday evening.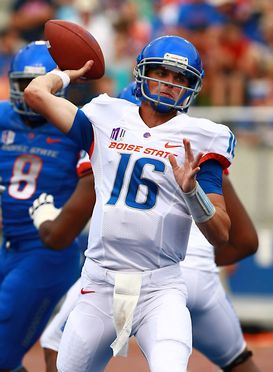 US PRESSWIREJoe Southwick is replacing the winningest QB in NCAA history.
1. Dueling new starting QBs: Both Boise State and Michigan State will be replacing longtime starting signal-callers: the Broncos no longer have prolific Kellen Moore, while the Kirk Cousins era is over for the Spartans. Enter Joe Southwick and Andrew Maxwell, respectively. The junior Southwick has been the backup for the past two seasons and displayed his talent in the spring game. He'll have D.J. Harper, a senior who has waited for his fulltime opportunity, to help him out at running back. And receiver Matt Miller and tight end Gabe Linehan give Southwick dependable options. At MSU, I've heard nothing but good things about the junior Maxwell, who also has served as a backup for the last two seasons. The central focus of this offense will be on the run game, led by Le'Veon Bell, but Maxwell possesses the goods to deliver in the team's passing game. The receiver corps was depleted with the losses of B.J. Cunningham, Keith Nichol and Keshawn Martin, but Bennie Fowler could be a gamebreaker and Keith Mumphery could have a breakout campaign. Both of these offenses should be solid by midseason. But can they get off to strong starts in Week 1?
2. On the defensive: Both the Broncos and the Spartans were able to rely on very good defenses last season, which helped carry them to successful campaigns. Dantonio can rely on another sound unit this fall. But Petersen will be replacing stars Shea McClellin, Tyrone Crawford, George Iloka and Billy Winn. That's a lot of veteran talent to lose. So this is a season in which we'll see how good of a staff Petersen has put together, because the new starters will have needed to be coached up. All of those two and three-star recruits from years past are now juniors and seniors, and the recent higher-star recruits that have been sprinkled in will get their opportunities as well. Tackles Ricky Tjong-A-Tjoe and Michael Atkinson are proven defensive players, but who will step up at end? Weakside linebacker J.C. Percy will be the strength of the linebacker corps, but can sophomore Blake Renaud step up in the middle? Cornerbacks Jamar Taylor and Jerrell Gavins are veterans of the Boise 'D,' but can a pair of sophomores step up at safety? The good news for Bronco fans is that MSU is breaking in several key new starters on offense. Meanwhile, Pat Narduzzi has a ton of talent on his Spartans defense, a unit that is one of the most physical outside of the SEC. William Gholston is a star at end, Max Bullough leads a strong linebacker corps and cornerback Johnny Adams is the veteran of a sound secondary.
3. Boise magic: We know the story. Every season, the Broncos are supposed to get tripped up in an early-season showdown and never be heard from again. But whether it was Oregon, Virginia Tech or Georgia, no team has been able to thwart Boise and end its big-game magic. Petersen's squad has won its last six games against BCS conference teams, its last loss coming to Washington early in the 2007 season. The only thing that has stood in this team's way the last few years has been a couple of missed field goals. And while so much veteran talent has been lost to the NFL, it's never wise to discount the Broncos. Friday night will be a tough test under the lights in East Lansing, but is there a little bit of magic left even with a turned-over roster?
Email dave.miller@nationalfootballpost.com or follow me on Twitter at Miller_Dave