October 11, 2010 -
Dave Miller
Boise State positioned for top spot in first BCS standings
If you thought the Boise State-Bowl Championship Series discussion was interesting (or perhaps annoying if you're from a BCS conference) up to this point, be prepared for an all-out blitz of Broncos talk if the first BCS standings look anything like the projection released today.
According to ESPN's Brad Edwards, Boise State would come out on top if the standings were released today. The unbeaten Broncos would lead Oregon by a comfortable margin.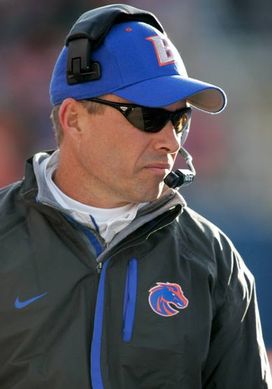 ICONBoise State head coach Chris Petersen
This projection was not designed to show how the standings will look next Sunday when they are released. Rather, it was done to show how the standings would look if they were released today.
The top two teams in the final regular-season BCS standings play in the BCS national championship game.
What about Ohio State, the top team in The Associated Press, USA Today and Harris polls? The Buckeyes would be fifth in the standings, due in large part to the BCS computer rankings. The Buckeyes' strength of schedule to date doesn't quite match up with the other unbeaten teams, and the computers do not take margin of victory into consideration.
Here is how Edwards has the top 10 if the standing were released today.
1. Boise State .913
2. Oregon .863
3. TCU .854
4. Oklahoma .8425
5. Ohio State .8421
6. LSU .782
7. Nebraska .777
8. Auburn .744
9. Michigan State .642
10. Alabama .634
As we begin Week 7 of the season, there are 13 unbeaten teams in all three polls. What does this all mean for Boise? Likely a drop from the top spot sooner rather than later as BCS-conference schools get into the heart of their schedules. The Broncos have already played the toughest part of their schedule.
Follow me on Twitter at Miller_Dave or send your college football questions to dave.miller@nationalfootballpost.com
Want to work in the NFL? Click here to register for the NFP's "Chalk Talk" seminar in Chicago on October 22nd.