May 04, 2012 -
Dave Miller
Bowlsby won't be a 'puppet' for the University of Texas
Bob Bowlsby was introduced as the new commissioner of the Big 12 on Friday, leaving a very comfortable job in Palo Alto as Stanford's athletic director to take over a league that was considered on the brink of implosion the last two offseasons.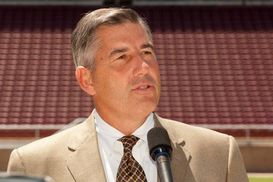 Former Stanford AD Bob Bowlsby is the new commissioner of the Big 12.
Four different schools have left the Big 12 since June 2010, but the league looks to be stable in an ever-changing college football landscape after the recent recommitment of the University of Texas as well as the additions of West Virginia and TCU.
Bowlsby, who also previously served as Iowa's athletic director, replaces interim Big 12 commissioner Chuck Neinas, who took over for Dan Beebe last fall. Bowlsby, who became Stanford's AD in 2006, will start his new job June 15. He is the league's fourth commissioner overall and third since 2007, not counting Neinas.
Here are a few excerpts from his introductory presser:
On Big 12 expansion in the future:
"Expansion will be an ongoing consideration for us. I haven't had the opportunity to talk with all of the presidents about this issue, and I haven't had the opportunity to talk to all but a couple of the athletic directors. I certainly am not going to presume a direction that we will go. I think, though, as you consider expansion, it has to be expansion that has, as its roots, the enhancement of the league."
On whether the University of Texas essentially runs the Big 12:
"I guess I would just suggest that you do a little homework on me. I haven't been very good at being a puppet over the years."
On how West Virginia can fit in the conference while being outside of its geographic footprint:
"We do need to think about how to [make the Mountaineers feel at home]. It isn't a situation where they're going to have a natural rival in the state next door. Their Backyard Brawl with Pittsburgh is natural geographically, but it isn't evident that there's the same geographic vicinity with the Big 12 teams. Having said that, I think it's all about high-quality competition. Football and basketball teams are playing all over the country, so it isn't a particular logistical challenge there. But for some of the non-revenue Olympic sports, it's going to be a challenge. We're going to have to think innovatively about how we don't disadvantage a team that's from some distance away."
Email dave.miller@nationalfootballpost.com or follow me on Twitter at Miller_Dave