January 14, 2011 -
Dave Miller
Breaking down the Florida quarterback situation
Florida's three-headed monster at quarterback in 2010 made it very apparent that Urban Meyer didn't have a standout performer under center. If the old saying was, "If you have two quarterbacks, then you have none," how the hell do you deal with three?
The Gators struggled under center in Meyer's last season, but new head coach Will Muschamp has brought in offensive guru Charlie Weis to run a more traditional pro-style offense during his tenure.
In other words, UF needs to find a steady signal-caller.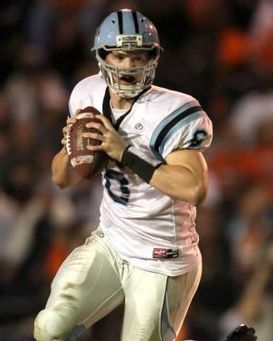 Jeff Driskel is already on campus and could play for the Gators in 2011.
As of today, the team will likely enter spring practice with four scholarship quarterbacks on its roster — John Brantley (assuming he stays), Jordan Reed (if he doesn't permanently move to tight end), Tyler Murphy (a great athlete) and Jeff Driskel, who is the gem of the 2011 class and just arrived on campus. Trey Burton appears headed to the defensive side of the ball as he is more of an athlete than quarterback on offense, thus doesn't fit into the pro scheme.
With Brantley being gone in a year and Reed likely to play a different position, the Gators should feel blessed to have landed Driskel and relieved that he enrolled early. Even though we never know how recruits will turn out, he is clearly being built to be the quarterback of the future in Gainesville.
But you can never have enough depth at the position, which is why the Gators may not be done under center.
According to a tweet from reporter Laura McKeeman of FOX Sports/Scout.com, Weis will take his first recruiting visit as offensive coordinator to West Palm Beach Dwyer High School to see quarterback Jacoby Brissett on Friday morning. Brissett was originally offered a chance to greyshirt at Florida by Meyer (a greyshirt means you pay your own way your first year), but he declined and was reported to be looking at LSU, Florida State, Wisconsin and South Carolina.
But he hasn't shut the door on Florida's new staff, and the 6-4, 220-pound Brissett has said that his interest in the school has increased upon the arrival of Muschamp and Weis. Brissett also has the athleticism to move to another position, perhaps wide receiver or safety.
But that's the last thing the Gators are thinking about right now. They want quarterbacks who can effectively move the ball through the air, an aspect of the offense that was missing on too many Saturdays this past season.
Email dave.miller@nationalfootballpost.com or follow me on Twitter at Miller_Dave
Want to work in the NFL? Click here to sign up for the NFP's "Chalk Talk at the Combine" Seminar February 25 in Indianapolis.