August 15, 2012 -
Dave Miller
Brown's injury is a disaster for Edsall, Maryland
Randy Edsall's coaching job for 2012 just became a hell of a lot tougher.
Starting quarterback C.J. Brown, who replaced former starter Danny O'Brien when O'Brien struggled in Gary Crowton's spread scheme last fall, suffered a season-ending torn ACL in his right knee Tuesday night in a non-contact two-minute drill. As Brown was running downfield, he injured his knee making a cut.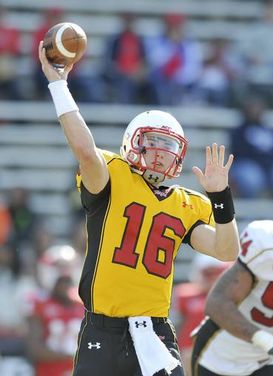 Maryland starting QB C.J. Brown suffered a season-ending torn ACL in his right knee.
"I feel terrible for C.J.," Edsall said in the team's release. "He's worked incredibly hard to be the starting quarterback of this team. He's stepped up and been a tremendous leader. We'll do everything we can to make sure he gets the best treatment to help in his recovery.
"To see the work that he's put in for this season to go away with one cut in a non-contact drill, a cut that he's made thousands of times, is just devastating."
In five starts in 2012, the 6-3, 205-pound Pennsylvania native threw for 842 yards with seven touchdowns against six interceptions. He was also the team's second-leading rusher with 574 yards and five touchdowns.
This is a disastrous blow for a Maryland squad that tanked to 2-10 in Edsall's debut season in College Park. There are already Terrapin fans calling for the former Connecticut head coach's job.
It's important to keep in mind that Edsall didn't forget how to coach in 2011, however. He's the same guy who brought UConn up from the FCS and eventually earned a berth to the Fiesta Bowl. He just had no idea how to deal with the media and his new players last year. While things have calmed down in College Park since then, the injury to Brown is a brutal blow heading into the 2012 season.
True freshman Perry Hills will now work with the first team while fellow true freshman Caleb Rowe will work with the second team. Edsall noted that he likes Hills' command of the offense and the fact that he limits mental mistakes, but having to go with a true freshman in Mike Locksley's offense is a real chore.
Expect another bumpy campaign in College Park this fall. And for the temperature, rightly or not, to increase on Edsall's coaching seat.
Email dave.miller@nationalfootballpost.com or follow me on Twitter at Miller_Dave