May 23, 2013 -
Dave Miller
Buyout of Weis may cost Notre Dame $19 million
Notre Dame is paying Brian Kelly a lot of money to be its head football coach.
And after an undefeated regular season and a spot in the BCS national championship game in 2012, he's certainly deserving of the cash when compared to other coaches across the country.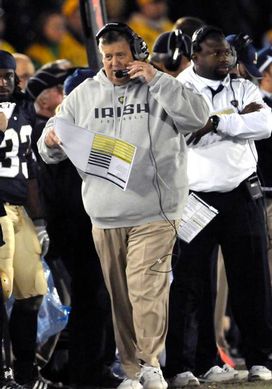 ICONCharlie Weis is still making a lot of money from his time at Notre Dame.
But the Fighting Irish are also shelling out a pretty penny to former head coach Charlie Weis, whom Kelly succeeded. How much exactly?
By the time the school is done paying Weis not to roam the sidelines in South Bend, the figure could approach roughly $19 million.
As Brian Hamilton of the Chicago Tribune details, as part of the separation agreement for his firing in 2009, Weis has received nearly $10.8 million from ND thus far, according to federal tax documents. The university is scheduled for additional annual payments through December 2015, so the total would come to $18,966,867.
On the flip side, Kelly earned a total of $1,088,179 from the school from July 2011 through June 2012, according to the documents. However, that most likely does not include the earnings that he would have received from leading Notre Dame to the BCS title game in January.
Since being dismissed by the Irish on November 30, 2009, Weis served as offensive coordinator of the NFL's Kansas City Chiefs, where they had the league's best rushing attack and ranked ninth in total offense. However, after taking over as the OC at Florida, the Gators finished 102nd nationally at just 334 yards per game. Weis was then hired to be the face of the Jayhawks, where he replaced Turner Gill.
Weis finished his Notre Dame career with a 35-27 mark in five seasons.