January 17, 2014 -
Dave Miller
Buzz building for Mason at Vanderbilt
Subscribe to the "Against the Grain with Dave Miller" podcast in iTunes
All indications out of Nashville are that Stanford defensive coordinator Derek Mason is the top choice to replace former head coach James Franklin, who left Vanderbilt to take over for Bill O'Brien at Penn State.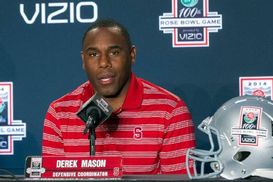 Derek Mason could be the next head coach at Vanderbilt.
As I mentioned on Thursday's episode of CI Live, Mason fits the profile that Commodores athletic director David Williams has been seeking since the head gig opened, and he has been considered an ideal fit at the SEC East school even before being interviewed. There was always strong mutual interest on both sides, and money was never an issue — which has seemed to be a misconception in the national conversation about the Vandy job since Franklin's name was thrown around for various jobs this offseason. The fact that Williams worked so hard to keep Franklin in Nashville even managed to further elevate a job that was made stronger because of Franklin's success in his short stint at the school.
If he is offered and accepts the job, Mason would be transitioning from one strong academic program to another and would inherit a Vandy team that has improved its defensive talent and depth under Franklin.
There is expected to be a resolution to this matter in the next 24-48 hours, as the Commodores are bleeding on the recruiting trail since Franklin's departure. With the recruiting dead period now over and National Signing Day on the horizon, Vandy needs to salvage what was shaping up to be a strong 2014 class but has since been decimated.
Williams has managed to play very coy and keep this search relatively quiet, but it appears that this was essentially Mason's job to turn down heading into his Thursday interview. Unless a dark horse has emerged, it appears that the well-respected Mason could be the next leader of the 'Dores.
Dave Miller, the college football editor and writer for the National Football Post, is on Twitter @Miller_Dave.