September 20, 2012 -
Dave Miller
BYU at Boise State: 3 things to watch
Brigham Young travels to Boise State on Thursday night for a clash that could be a preview of future Big East matchups if BYU decides to join a conference and ditch its independence.
The Cougars are coming off of a tough three-point loss to Utah in the Holy War, while the Broncos registered their first win of the season against Miami (OH) last week.
Let's take a look at three things to watch in the clash between the Cougars and the Broncos on Thursday evening at Bronco Stadium, where Boise State has not lost a September game in more than a decade.
BYU (2-1) at Boise State (1-1), 9 p.m. ET on ESPN
Line: Boise State by 7.5
Series: Boise State leads 2-0
1. Cougars rushing attack vs. Broncos defensive front: BYU has not been able to establish a prolific ground game thus far this fall, with no running back averaging more than 4.0 yards per carry last week against Utah. But Michael Alisa and Jamaal Williams are undoubtedly talented enough to have a breakthrough game any week, and it could happen against a Broncos defense that allowed Michigan State's Le'Veon Bell to rush for 210 yards in the opener. And while Bell is a unique talent, the Broncos have a lot of new faces in their 4-2-5 scheme. Keep an eye on Broncos sophomore defensive end Demarcus Lawrence, who leads the team in tackles this season. He will need to be very active Thursday night. Meanwhile, the Cougars' interior offensive line has struggled to open up rushing lanes even against Weber State, so it will be a chore to go up against Broncos tackles Ricky Tjong-A-Tjoe and Mike Atkinson. To compensate, look for a lot of run plays designed to get Alisa and Williams to the outside.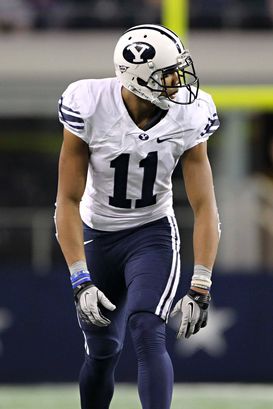 US PRESSWIRECan the Cougars get Ross Apo involved in the passing game?
2. Broncos secondary vs. Cougars aerial attack: The strength of the Boise defense is its secondary, which boasts veteran cornerbacks Jamar Taylor and Jerrell Gavins. Backup Bryan Douglas is also a key contributor to a secondary that has allowed a little more than 230 yards per game through the air. Last week the Cougars were unable to get Ross Apo going on the outside against the Utes, and that hampered the aerial attack. BYU will see mixed coverages from the Broncos, so quarterback Riley Nelson will have to be prepared for multiple looks. And Apo will need to use his size to his advantage against smaller defenders while Cody Hoffman, who has caught passes in 22 straight games, continues to be Nelson's top option.
3. D.J. Harper vs. Cougars run defense: With Doug Martin now playing in Tampa Bay for the NFL's Buccaneers, D.J. Harper gets his shot at being the Broncos' lead back. Keep in mind that Harper once was ahead of Martin on Boise's depth chart before being sidelined by injury. He rushed for over 160 yards and three touchdowns last week against Miami (OH). But on Thursday night he'll be going up against a Cougars run defense that is ranked sixth in the nation, allowing an average of 53 yards per game. Seniors Eathyn Manumaleuna, Romney Fuga and Russell Tialavea lead the way for the Cougars.
Also keep an eye on:
- If Cougars QB Riley Nelson has time to throw against the Boise pressure. He was on the run a lot last week against Utah.
- If Broncos QB Joe Southwick can build off of his impressive game last week against Miami (OH), when he completed 24 of 31 passes for 304 yards.
Email dave.miller@nationalfootballpost.com or follow me on Twitter at Miller_Dave