March 19, 2013 -
Dave Miller
Cal's Kline continues to impress in spring drills
Plenty of quarterback battles are taking place on campuses across the country this spring, but one of the more intriguing competitions is taking place at Cal, where new head coach Sonny Dykes is installing his high-octane offense.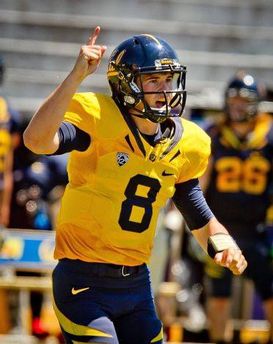 Zach Kline continues to impress in spring drills.
Earlier this spring I had a chance to talk to Dykes about the quarterback battle in Berkeley, and he was very complimentary toward redshirt freshman Zach Kline, who was a high-profile recruit in former head coach Jeff Tedford's Class of 2012. And Dykes reiterated to Jeff Faraudo of the Oakland Tribune on Monday that Kline continues to impress.
"Looks a little bit like Zach Kline is starting to get a little bit more settled in," Dykes said. "I've seen him kind of make a move here over the last two practices.
"His reads are happening a little faster, seems like he's a little more accurate on his midrange throws than he was. I saw some of that in the scrimmage Saturday and it carried over to practice [Monday]."
While it's still way to early to start speculating on who might take the field as the starter in the season opener in the fall, Kline certainly seems to have a slight edge in the competition, although junior Austin Hinder and true freshman Jared Goff continue to remain in the mix. Goff graduated early from high school to compete for the job.
When I talked to Dykes earlier this spring he told me that he expects one QB by the end of spring to stand out and head into fall with the edge. But he stressed that summer workouts will be crucial, too, as the players continue their preparation in the weight room, with film study and by getting more comfortable with the new offense.
What most struck me when talking to Dykes, though, was that he stressed that Kline was "incredibly coachable," that he was improving from practice to practice and that he has taken on a leadership role. And that's vital for the signal-caller of a new offense.
Cal has two more practices (Wednesday and Friday) before the team's spring game on Saturday. It will be interesting to see how all of the QBs translate their reps in practice into the showcase contest this weekend.