November 05, 2010 -
Dave Miller
Cam Newton: the day after
Just a quick update on the Cam Newton story as I compose my Saturday Tailgate post for tomorrow morning here at the NFP.
As we all know by now, ESPN.com and the New York Times reported Thursday that the NCAA is investigating the recruitment of Newton while he was still in junior college. According to the reports, former Mississippi State quarterback John Bond claims that former Bulldogs teammate Kenneth Rogers was shopping the quarterback's services to Mississippi State for $180,000. Of course, Newton ultimately enrolled at Auburn.
In case you missed it, Tigers head coach Gene Chizik stated Thursday night that Newton is eligible and will remain eligible.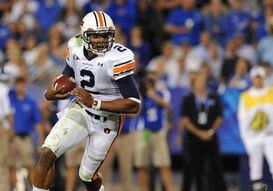 ICONThe recruitment of Auburn QB Cam Newton is under investigation.
"Cameron Newton is eligible at Auburn University," Chizik said. "Period. End of story."
The Opelika-Auburn News even quoted an anonymous source late Thursday night, saying that "there are no NCAA allegations against any member of Auburn's coaching staff or anyone associated with Auburn in the recruitment of Cam Newton."
Now, according to reports, Auburn has known about this issue since July. As Barrett Sallee of CollegeFootballNews.com writes, it's unlikely that the team would have put Newton on the field knowing that he could be ruled ineligible at any point during the season.
At this point, we know there was dirty business going on during the time Newton was being recruited. But as of now, Kenneth Rogers is the only known potential wrongdoer. Rogers, by the way, is currently being investigated by the NFLPA for misrepresenting himself to players.
We know that Newton wanted to play at Mississippi State. And according to Bond, Rogers was the one who wanted a specific payment. Whether that was exclusively for Rogers, for Newton or for both, we don't know. Newton, of course, is innocent until proven guilty.
Cam's father, Cecil, has stated that his son has done nothing wrong, and that if Rogers tried to get money from Mississippi State, he did it on his own, without the family's knowledge. But he acknowledged that he knew Rogers.
Although Newton wanted to attend Mississippi State because of his previous relationship with head coach Dan Mullen, he previously told Sports Illustrated that he left the decision to his father. Cecil Newton decided, for whatever reason, that Auburn was the better fit.
Mullen declined comment Thursday night, but recently remarked to Rivals.com Radio in regards to recruiting Newton, "That's a long, long, long story for another day, I'm sure."
It does indeed seem like a long story. But one that will eventually be told.
Email dave.miller@nationalfootballpost.com or follow me on Twitter at Miller_Dave