August 17, 2010 -
Dave Miller
Camp battle: Arizona State quarterbacks
The battle between junior Steven Threet and sophomore Brock Osweiler for the starting quarterback job at Arizona State may not come to a conclusion anytime soon. While head coach Dennis Erickson didn't intend for the competition to go down to the final days of camp — preferring instead to name a starter midway through — he realizes that the derby likely could be too close to call all the way until camp's later stages.
Last week, Erickson even mentioned junior Samson Szakacsy as a legitimate candidate, creating even more uncertainty on campus. After missing all of spring practice following shoulder surgery, the dual-threat signal-caller is finally healthy and would definitely bring a different look to the offense. Early word out of camp was that he was throwing the ball better than he had in the past.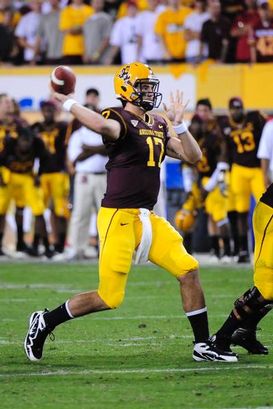 ICONBrock Osweiler is engaged in one of the closest QB battles in the country.
On Saturday, Erickson gave Osweiler the starting nod for the team's scrimmage, but it was Threet who had the best day of the bunch. He led two touchdown drives and finished 7-of-11 through the air for 91 yards. Even though the former Michigan Wolverine worked mostly against the second- and third-team defensive lines, he looked comfortable running the Sun Devils' offense.
Osweiler, meanwhile, finished the game 10-of-21 for 92 yards while Szakacsy was 4-of-7 for 46 yards with an interception.
Threet was considered the favorite entering spring practice but struggled with his mechanics and learning the new offense. Osweiler performed better than Threet overall, but he also struggled with his accuracy. Erickson has said that accuracy would be one of the biggest deciding factors in who would line up under center for the opener.
However, just last week Erickson called Osweiler one of the most talented QBs he has had and singled him out for his improvement.
I don't see how this battle doesn't go down to the final week of camp. And even when a starter is named, I would be looking over my shoulder if I was declared the winner.
Follow me on Twitter at Miller_Dave or send your college football questions to dave.miller@nationalfootballpost.com
Click here to purchase the Total Access Pass / Fantasy Draft Guide from the NFP and receive a free Deuce Brand watch while supplies last.