August 17, 2010 -
Dave Miller
Camp battle: Oregon quarterbacks
All eyes in Eugene will be on the Oregon scrimmage Tuesday as senior Nate Costa and sophomore Darron Thomas continue their battle for the starting quarterback gig vacated by Jeremiah Masoli.
Ducks head coach Chip Kelly, coordinator Mark Helfrich and the rest of the offensive staff have said that consistency is the number one attribute they are looking for in their designated signal-caller, and as we enter the second week of fall camp, no clear leader has emerged.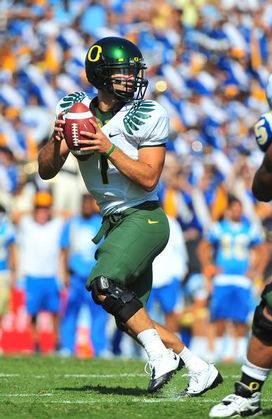 ICONCan the veteran Nate Costa hold off Darron Thomas for the starting job?
While Costa is more experienced and has the support of some of the more veteran Ducks players, Thomas' skill set continues to stand out to the coaching staff — although it's displayed on an inconsistent basis. Thomas is still trying to improve his footwork in and around the pocket, as his accuracy has often suffered because of poor mechanics.
At this stage, he is still more of a thrower than a passer. But he's improving.
However, during a scrimmage Saturday, Thomas took a step back in his quest for the starting job, tossing two interceptions and fumbling a snap.
Meanwhile, Costa, who has fought back from three major knee surgeries, seemed tight in the early days of camp. Perhaps knowing this is his last chance in Eugene affected his nerves.
But he has settled down nicely, and with the offense returning nine starters, Costa knows that all he has to be is steady — and consistent — and he likely will be given the nod to help lead the Ducks in defense of their Pac-10 championship.
Follow me on Twitter at Miller_Dave or send your college football questions to dave.miller@nationalfootballpost.com
Click here to purchase the Total Access Pass / Fantasy Draft Guide from the NFP and receive a free Deuce Brand watch while supplies last.