August 07, 2011 -
Dave Miller
Camping out: Mississippi State's offense ready for next step
Mississippi State kicked off fall practice Thursday, and third-year head coach Dan Mullen mentioned after the first practice that his team looked faster than in his previous two seasons. Speed, of course, is one of the attributes that SEC programs have no problem recruiting when wooing the nation's top high school players.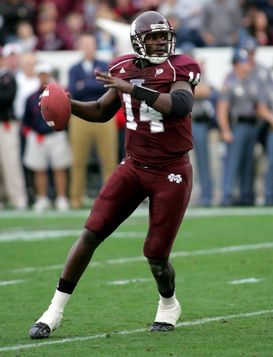 ICONChris Relf may be the most underrated dual-threat QB in the nation.
Expectations are high for the Bulldogs in 2011, especially quarterback Chris Relf as he enters another year in Mullen's scheme. The 6-4, 240-pound senior racked up 2,502 total yards and 18 scores last season, and he has fellow senior Vick Ballard back at running back. Ballard led the SEC with 20 touchdowns last fall.
While he notes that the stats are unofficial, Brandon Marcello of The Clarion-Ledger had Relf completing 13 of 14 passes in team drills on Saturday. If the dual-threat signal-caller continues to make strides as a passer, this offense could be scary — just as we saw in the Gator Bowl win over Michigan.
One player to keep an eye on is redshirt sophomore receiver Ricco Sanders, who could emerge as one of Relf's primary targets. Sanders caught his first pass and touchdown in the team's bowl win over the Wolverines, and Marcello notes that he was Relf's favorite target in practice on Saturday, catching a long touchdown in morning drills. If Sanders emerges as a viable option in the passing game, some of the pressure will be lifted off the shoulders of Chad Bumphis.
"Ricco has been one of our most steady guys," offensive coordinator Les Koenning said. "When he came in, he came in late, so he was behind and now he's picked it up."
The biggest concern for the Bulldogs concerns the team's offensive line depth. The front-line players are solid, but avoiding key injuries will be crucial.
Check out what Mullen had to say after yesterday's practice HERE.
Email dave.miller@nationalfootballpost.com or follow me on Twitter at Miller_Dave