October 06, 2011 -
Dave Miller
Can Cal slow down the Oregon attack again?
Pac-12 conference football takes center stage Thursday night as California (3-1, 0-1 Pac-12) visits Oregon (3-1, 1-0 Pac-12) in an intriguing contest at Autzen Stadium.
Last season, the Golden Bears nearly derailed the Ducks' national championship aspirations but fell just short in a 15-13 loss in Berkeley. Can Jeff Tedford's squad close the deal this year on the road against a team that has won 13 consecutive conference games and 18 in a row at home?
Here's what to watch tonight when this Pac-12 showdown kicks off.
And be sure to check out Wes Bunting's take on this contest from a scout's perspective.
Can the Cal defense perform an encore?
Last fall, Clancy Pendergast's defense shut down the high-octane offensive attack of Oregon before the Ducks eventually held on for the victory in Berkeley. The Golden Bears limited the Ducks to 377 yards of total offense, which was the best defensive effort against Oregon all season. Chip Kelly's squad came into that contest averaging over 50 points per game, and this season his offense is no different as the Ducks are first in the nation at 52.0 points per contest. Besides a Jeff Maehl 29-yard touchdown catch, Cal's defense kept the Ducks out of the end zone that November evening. How did the Bears do it? While it appears the Ducks are re-writing the book on offense, they're really not. They simply run standard plays at a rapid pace. But Cal played a simplified, yet aggressive, man-coverage scheme where their defenders attacked the Oregon ball carriers straight ahead and didn't allow them to break free for a big play. Cal defenders also were sound tacklers in that contest, which has not been the case for Jeff Tedford's squad this season. Cal made sure it spied quarterback Darron Thomas and played with five defensive backs to keep more speed on the field. And it worked. However, Cal safety Chris Conte and defensive lineman Cam Jordan are now in the NFL, and a more experienced Thomas likely won't have the subpar outing as he did in last season's contest. Pendergast will once again keep things simple this time around, but don't expect the Ducks' offense to be grounded as it was last season.
Can Maynard tame the Autzen Stadium crowd?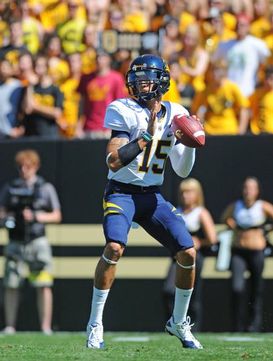 Zach Maynard will face a hostile environment Thursday night at Autzen Stadium.
California quarterback Zach Maynard has not yet faced such a hostile crowd as he'll see at night in Eugene on a national stage. The Buffalo transfer will need to play better than he did in the Bears' last game Sept. 24 at Washington when the offense failed to convert on its chances in the red zone. Tedford has yet to really have a standout signal-caller since Aaron Rodgers, so Cal's offense has too often been hit or miss. While he has thrown for 10 touchdowns against three interceptions on the year, Maynard has only completed 52.2 percent of his throws. And that's not going to get it done, especially when the Bears have talent at receiver in Keenan Allen and Marvin Jones ready to make plays. For Cal to have a chance in this one, it will need Maynard to play the best game of his career. And running back Isi Sofele, who has rushed for 380 yards and 4 touchdowns on 79 carries, will need to keep this offense balanced.
A Heisman moment?
Since Oregon's loss to LSU in the season opener, Ducks running back LaMichael James has seemingly been dismissed from the Heisman Trophy conversation. And it hasn't helped that Andrew Luck, Russell Wilson, Trent Richardson, etc., have been having excellent seasons. But the Heisman finalist from last season has been on a tear as of late, and the junior had a school-record 288 yards on the ground while breaking the Oregon mark for career rushing touchdowns in a win over Arizona two weeks ago. He leads the nation in rushing at 153.3 yards per game, and he has a chance to gain some more Heisman traction before a national television audience.
Email dave.miller@nationalfootballpost.com or follow me on Twitter at Miller_Dave