September 28, 2011 -
Barry Dorey
Can Cousins bounce back against Ohio State?
There were high expectations for Michigan State quarterback Kirk Cousins entering the 2011 season after he led the Spartans to an 11-win season last fall. But the fifth-year senior and three-year team captain is taking some criticism for his underwhelming play in the team's last two contests: the road loss to Notre Dame and last week's 45-7 romp over Central Michigan.
Such is the life of a college football player who's held in such high regard by everyone associated with him (if you don't know why he's well-respected, just watch his awesome speech at Big Ten Media Days).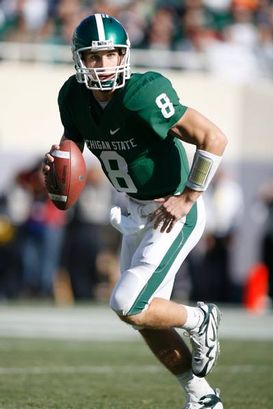 ICONKirk Cousins is most effective when the Spartans are able to employ their play-action game.
But when you really look at the past two games, has Cousins really been subpar?
While he was intercepted at the Notre Dame 6-yard line with just under four minutes left by cornerback Robert Blanton, who returned it 82 yards to the MSU 12, Cousins did have 11 straight completions at one point in the second half of that contest. And keep in mind he had to throw the ball 53 times because the Spartans' rushing attack was grounded by ND. The veteran ended up completing 34 passes for 329 yards while working in a one-dimensional offense.
Last week against the Chippewas, he certainly missed some open receivers in the team's romp, a game in which he completed 13 of 22 passes (59.1 percent) for 213 yards with one touchdown and an interception thrown into double coverage.
While he would like to have that throw back, keep in mind the Spartans have been dealing with offensive line issues throughout the early part of the season, which could have led to Cousins putting too much pressure on himself to make plays while standing upright. The line play, though, improved last week as the Spartans rushed for 198 yards while holding the ball for 38:12. Le'Veon Bell had three first-half rushing touchdowns, and Larry Caper and Edwin Baker give the team some of the best backfield depth in the country.
What was most important for this offense was re-establishing the run, because that sets up its deadly play-action game -- an aspect of their offensive attack that was nonexistent against the Irish.
With a difficult task at hand in Columbus, a place MSU has not been victorious at since 1999, it was a big bounce back effort last week.
An improved line and a newfound emphasis on the run should help ease any pressure put on Cousins by the steady veteran, who would love to add a road victory over the Buckeyes to his resume.
The Spartans have been dynamite on defense with the exception of a few occurences against the Irish, leading the nation in total defense at 172.3 yards per game and ranking eighth in points allowed at 11 points per game. And with the team coming off of a four-interception performance last week, that could be bad news for Ohio State true freshman signal-caller Braxton Miller -- especially with the Buckeyes devoid of their best playmakers.
And with Cousins leading the offense, the Spartans could be poised to put the loss to Notre Dame even more in the rearview mirror.
Email dave.miller@nationalfootballpost.com or follow me on Twitter at Miller_Dave