July 20, 2012 -
Dave Miller
Can Missouri compete for the SEC East title in 2012?
SEC Media Days have concluded, so all eyes will be on the beginning of preseason camp in roughly two weeks.
One team that has garnered a lot of attention is Missouri, which is preparing for its first season in its new league after leaving the Big 12 along with Texas A&M.
While the Aggies were placed in the SEC West, Gary Pinkel's Tigers will compete in the East division. And while there are plenty of questions about how both teams will fare, there is a sentiment that Mizzou has a better chance to compete right away because it will compete in a little bit of a weaker league.
Here are a few things to keep an eye on this fall if Missouri is to exceed expectations and compete for the SEC East title in its debut season in its new conference:
Getting familiar with new foes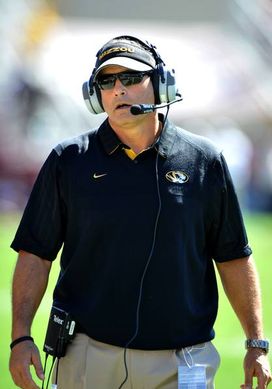 ICONGary Pinkel and his staff have been working overtime on getting to know their new SEC foes.
There's no question that the biggest adjustment for any program entering a new league is getting familiar with its new future opponents and conference members. After 11 years in the Big 12, Pinkel and his staff have spent more time than usual this offseason studying the team's 2012 opponents. Pinkel has assigned one offensive and one defensive coach per team to become an expert on that particular SEC team. It's about the best way to go about preparing for a new opponent. Early tape work will help, but we won't know until the Tigers hit the field whether or not it will pay off.
Navigating the 2012 schedule
Speaking of future opponents, let's take a look at the Tigers' fall schedule.
Sept. 1 vs. SE Louisiana
Sept. 8 vs. Georgia
Sept. 15 vs. Arizona State
Sept. 22 at South Carolina
Sept. 29 at Central Florida
Oct. 6 vs. Vanderbilt
Oct. 13 vs. Alabama
Oct. 27 vs. Kentucky
Nov. 3 at Florida
Nov. 10 at Tennessee
Nov. 17 vs. Syracuse
Nov. 24 at Texas A&M
All eyes will be on Columbia in Week 2 when the Tigers host their first SEC game against Georgia. They'll face a fierce 3-4 defense, but a unit that will have a weakened secondary due to suspensions. Star 'Dawgs linebacker Alec Ogletree will also miss that game. If the Tigers can snag that home win, they could be 3-0 heading into a road test against South Carolina, which boasts a tremendous defense of its own. A tricky test at Central Florida follows. But a 4-1 start isn't out of the realm of possibility with a string of three consecutive home games following the contest against the Knights. Even if Pinkel's squad is 3-2 at the time, being 5-3 heading into the first weekend of November isn't a bad spot to be in for a debut campaign in the SEC. But that's where they'll run into back-to-back tough defenses on the road against Florida and Tennessee. Splitting those games would be huge, while losing both would not be surprising. Even if the Tigers drop both, a home game against Syracuse awaits. A 6-5 mark with a concluding game at fellow new SEC member Texas A&M to conclude the season? That's probably a worst-case scenario. But if Pinkel and Co. can steal both roadies against the Gators and Vols, they may have a shot to win the East. And keep in mind that Florida has issues on offense and Tennessee is changing defensive schemes. One would think the Tigers almost have to win both to have a chance at the East because of expected losses to South Carolina and Alabama.
Maintaining offensive proficiency
Running back Henry Josey is likely to miss most if not all of the season, so a lot will fall on the shoulders of quarterback James Franklin, who ranked 15th nationally in total offense in 2011 and recorded 36 total touchdowns. The dual-threat is ahead of rehab and should be ready to go full throttle for fall camp, but how will his throwing shoulder hold up for an entire season of SEC play? Kendial Lawrence should be productive in Josey's absence, and the Tigers have SEC Media Days darling T.J. Moe returning at receiver. Perhaps most important, however, is the development of true freshman Dorial Green-Beckham, the top overall player in the Class of 2012. He may be the closest thing we've seen to Calvin Johnson and Randy Moss in a long time. The one major concern I have for this offense is how the scheme will fare against tough SEC defenses, especially considering the Tigers' offensive linemen are undersized.
Getting physical on defense
Defensively, the major issue is whether the Tigers can hold up against the rigors of week-to-week SEC play. Linebacker depth is a concern, but there is experience up front. However, the SEC is filled with hogs along opposing offensive lines. The wear and tear may be too much for the Tigers to overcome. Their secondary is deep and experienced, but run defense is especially important in the SEC. Outscoring opponents may be the only way for Mizzou to compete for an SEC title in Year One.
Email dave.miller@nationalfootballpost.com or follow me on Twitter at Miller_Dave