March 06, 2012 -
Dave Miller
Can Nebraska return to its dominant 'Blackshirt' form?
If you look at a couple of usually reliable statistics, Nebraska's defense was pretty solid in 2011.
The 9-4 squad ranked 37th in scoring defense and 42nd in total defense after finishing in the top 11 in both categories the previous two seasons. The highlight of the year was arguably the way the unit throttled Michigan State and quarterback Kirk Cousins in a 24-3 late October victory, as it allowed just 187 total yards to the Spartans.
However, the Cornhuskers still managed to give up their share of yards in some contests, which certainly isn't up to the standard set by head coach Bo Pelini or past Blackshirt units.
Last fall, Big Red allowed 444 yards to Fresno State; 486 yards to Wisconsin; 468 yards to Northwestern; and over 400 yards to Washington and Michigan. In addition, the following national rankings may tell the real story of the team's defensive fate: 64th in third-down defense, 65th in red zone defense, 73rd in interceptions, 84th in sacks and 91st in turnovers gained.
With spring drills slated to start next weekend, Pelini hopes last year's youthful and inconsistent squad can return to the dominant form of the Blackshirts in 2009 and 2010.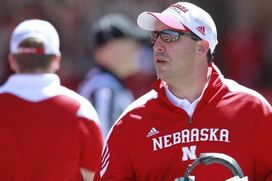 Don't expect a lot of new wrinkles from new defensive coordinator John Papuchis.
"When I watch the cut-ups and film from last season, obviously there's always times when you've got to give the offense the credit. Good one for them," Pelini said. "But there were too many times when you looked at it and said, 'That shouldn't have happened.'"
New defensive coordinator John Papuchis certainly has his work cut out for him with defensive tackle Jared Crick, linebacker Lavonte David and cornerback Alfonzo Dennard gone. But the defense still returns a lot of experience, especially in the secondary, where starters Daimion Stafford, Andrew Green and Ciante Evans are back. In addition, as many as seven fifth-year seniors could have prominent roles, including linebackers Will Compton, Alonzo Whaley and Sean Fisher.
Creating turnovers and more negative plays will be crucial if the Huskers have designs on returning to top form. But there is no Ndamukong Suh or Crick inside that can create similar havoc as the pair did when NU ranked No. 1 in the country in sacks in 2009. The return to health of junior Thad Randle, however, will help. He's perhaps the team's best interior pass rusher.
For those who want to see more pressure coming off the edge, don't expect it. Papuchis and Pelini warned not to expect schematic change.
"Bottom line is, our defense works," Pelini said. "It worked over a long period of time. We're always doing things to make it better, but I have more than a good understanding of what it takes to play great defense."
And Papuchis believes that players having more confidence as well as trust in their abilities and the scheme can go a long way toward better execution.
One thing is for certain: the past is in the past. So the players and coaches have put aside the frustrations of 2011, where inconsistency was all too consistent.
"I'm looking for a big jump," Pelini said.
So are all Cornhusker fans.
Email dave.miller@nationalfootballpost.com or follow me on Twitter at Miller_Dave