August 10, 2012 -
Dave Miller
Can Petrino find a job in 2013?
Bobby Petrino officially kicked off his comeback tour this week.
The former Arkansas head coach was featured in a one-on-one interview Thursday morning on Sports Center with ESPN's Joe Schad, and Petrino came off as contrite and remorseful following his firing in April after the revelation of an affair with a 25-year-old woman who worked for him.
Petrino was emotional throughout the piece, as he detailed the falling out he is dealing with on a daily basis. From a football perspective, Petrino stated that he wants to get back into the coaching game as soon as possible, stating that he believes that he will be a better coach because of what happened in Fayetteville.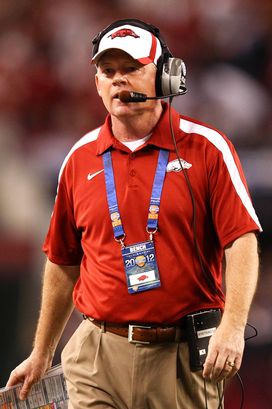 US PRESSWIREBobby Petrino has a career mark of 75-26 as a college head coach.
"I now know that I'm going to coach the person as much as the player and help the person when he has made mistakes and help him understand that he's not going to be defined by the mistakes he's made and how he reacts to it and overcomes it," Petrino said.
So will Petrino be able to return to the sideline in 2013?
The problem for Petrino on the collegiate level is the fact that he has a history of not exactly being trustworthy.
Remember when he interviewed for the Auburn head job, which was not vacant? Tommy Tuberville certainly remembers.
Or when he told Atlanta Falcons owner Arthur Blank that he was staying in Atlanta and not moving back to the college game to take over at Arkansas?
Even after his motorcycle accident this past spring, Petrino did not come completely clean to athletic director Jeff Long about the specifics of the accident. He subsequently completely embarassed the entire university.
There will, of course, be openings after this season. Some have speculated that he would be a good fit in Knoxville and Lubbock, specifically, but I think Tennessee's Derek Dooley and Texas Tech's Tommy Tuberville are in for bounceback years.
The greater issue, though, is if any college administration would be interested in Petrino after his latest mishap.
An FCS school or small FBS program would definitely make the phone call, no question. But a major FBS power? It's hard for me to buy, at least next year. Could he be a candidate in 2014 or beyond? Quite possibly, because Petrino has proven to be a hell of a football coach. And wins are all that matter in the big business of major college football. Let's face it, there aren't a lot of unemployed coaches boasting a 75-26 career collegiate mark.
His best bet might be to rehab his image in the NFL as an offensive coordinator and show people that he can be the type of face of a program that he was back in his Louisville days, before all of the drama continuously surrounded him. On the flip side, there have been worse off-the-field stories popping up across the NCAA landscape than the one Petrino was involved in this past spring, as horrible as that was.
All it takes is one AD to give Petrino another shot.
Of course, an extended media tour will always help the cause.
Email dave.miller@nationalfootballpost.com or follow me on Twitter at Miller_Dave