April 07, 2012 -
Dave Miller
Can Petrino survive the mess at Arkansas?
Even with a very successful record in Fayetteville and a Sugar Bowl berth just two seasons ago, Arkansas head coach Bobby Petrino must be fired after his terrible errors in judgment over the last week.
It's safe to assume that this saga will continue to get uglier, especially when more information comes out about Petrino's inappropriate relationship with 25-year-old Jessica Dorrell (who just so happens to be engaged to someone in the school's athletic department) and following an investigation into Capt. Lance King's role in the aftermath of the motorcycle crash last Sunday.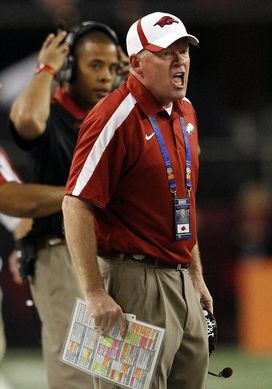 ICONDoes Bobby Petrino still have a coaching future at Arkansas?
As my NFP colleague Joe Fortenbaugh wrote Friday, the coverup is always worse than the crime, and Petrino's lying about the incident merits a termination. He has already been placed on paid administrative leave less than a week after he and Dorrell were involved in the crash. Now, athletic director Jeff Long has no choice but to fire his head coach.
Razorback fans have seen off-the-field drama affect the head football coach before, when Houston Nutt was in town. Now, the Hogs may be ready to look for a new leader again after the 51-year-old Petrino lied to his superiors. That trust may never be able to be rebuilt.
It may not be fair to speculate on whether there were other instances when Petrino may have hid the truth, but that's exactly what goes through the minds of many after a situation like this occurs. Especially for a coach who has raised eyebrows before due to the way he departed Louisville and the NFL's Atlanta Falcons.
Long said Thursday night that he had no timeline in determining Petrino's future with the Razorbacks because he is at the beginning of the review. "I don't know what I'm going to find," Long said. None of us know what the AD will find, but not even a sterling record at Arkansas can save Petrino after Long said he was disappointed that he didn't hear about Dorrell's presence until a police report was released.
In a statement released Thursday, Petrino acknowledged his grave error.
"My concern was to protect my family and a previous inappropriate relationship from becoming public," he said. "In hindsight, I showed a serious mistake in judgment when I chose not to be more specific about those details. Today, I've acknowledged this previous inappropriate relationship with my family and those within the athletic department administration.
"I will fully cooperate with the university throughout this process and my hope is to repair my relationships with my family, my athletic director, the Razorback Nation and remain the head coach of the Razorbacks."
Petrino, who signed a seven-year contract in December 2010 after completing his third season at Arkansas, makes roughly $3.5 million annually but has a clause in the deal that allows the school to dismiss him for "engaging in conduct, as solely determined by the university, which is clearly contrary to the character and responsibilities of a person occupying the position of head football coach or which negatively or adversely affects the reputation of the (university's) athletics programs in any way."
Despite turning the Hogs into a national contender and recording a 21-5 mark over the last two seasons, Petrino's recent actions certainly fall into the negative or adverse territory as stated above in the clause.
The question remains whether Long will invoke it and begin the process of finding a new face of Arkansas football.
Email dave.miller@nationalfootballpost.com or follow me on Twitter at Miller_Dave