January 26, 2012 -
Dave Miller
Can Rutgers keep together its strong class without Schiano?
We always knew that Greg Schiano was being targeted by NFL clubs for various head-coaching vacancies.
Rutgers fans just didn't think it would happen at this point in the offseason, so close to National Signing Day with the Scarlet Knights positioned to bring in a very solid haul of talent.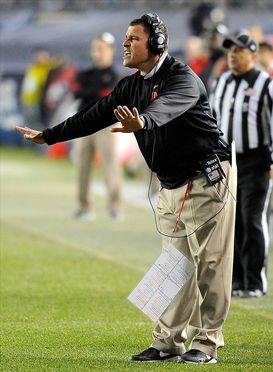 ICONGreg Schiano has assembled a strong Class of 2012. But will it be kept together if he leaves for the NFL?
But with the report by ESPN's Adam Schefter that the Tampa Bay Buccaneers will name Schiano the team's new head coach, where will Rutgers turn for its new leader after Schiano helped build the program from the ground up? And how will his loss affect the incoming Class of 2012?
While nothing is yet finalized, the Bucs and Schiano are reportedly putting the finishing touches on a deal at a time when many Rutgers fans were hoping Schiano would be closing strong on the recruiting trail, a path that has been very bright for the program this cycle.
With Ryan Brodie, J.J. Denman and Chris Muller, Rutgers is bringing in three very solid pieces to work along the trenches. Brodie is New Jersey's top offensive lineman, Denman switched his commitment this week from Wisconsin and Muller is a four-star prospect from Pennsylvania. Along with Derrick Nelson and Brandon Arcidiacono, Rutgers has five offensive linemen -- a position of great need -- in a class that stands at 17 so far with commitments from seven of the state's top 15 recruits.
With star Mohamed Sanu gone and Mark Harrison a rising senior, Rutgers has commitments from four athletic playmakers who could slot in at receiver. One or two of those skill players are also flexible enough to end up at running back, a position that needs depth with just Savon Huggins, Jawan Jamison and Jeremy Deering as the only options.
But how will Schiano's departure affect their commitments? Will a few or more re-open their recruitments? And will stud defensive end Darius Hamilton and dual-threat quarterback Devin Fuller now turn their attention elsewhere? Fuller will announce his decision Sunday, while Hamilton will declare January 31.
Certainly replacing your head football coach less than a week before National Signing Day is a nightmare, and one that could really hurt the Scarlet Knights as we approach February 1.
If Schiano does leave, Florida International's Mario Cristobal would be a slam-dunk hire for the Scarlet Knights and someone who could maintain this strong class because of his recruiting prowess. He was also an assistant under Schiano from 2001-03. Delaware head coach K.C. Keeler should also get a strong look.
Whichever way Rutgers goes for its next head coach, his first priority is calling each of the 17 current commits to make sure he is still on board to sign a Letter of Intent.
Email dave.miller@nationalfootballpost.com or follow me on Twitter at Miller_Dave