August 06, 2012 -
Dave Miller
Can Sims quickly digest Virginia's playbook?
One of the more intriguing quarterback battles in college football this preseason is occuring at Virginia, where incumbent Michael Rocco is trying to hold off Alabama transfer Phillip Sims for the starting job.
Rocco started all 12 regular season games as well as the Cavaliers' bowl game last year, becoming more comfortable under center as the season progressed and helping the team win four straight late in the year to earn a postseason berth for the first time since 2007. Rocco threw for 2,671 yards while completing better than 60 percent of his passes in 2011.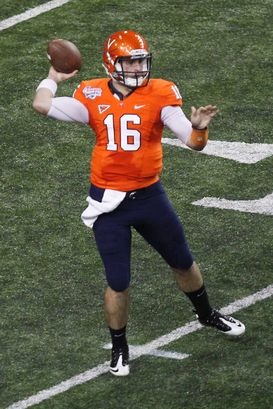 US PRESSWIRECan QB Michael Rocco hold onto the starting job at Virginia?
But with the NCAA granting Sims a waiver to be eligible to play for the Hoos this fall, Rocco's hold on the starting job may have weakened.
Sims lost the starting job in Tuscaloosa to AJ McCarron last fall after redshirting the 2010 season, and he went 18-of-28 passing for 163 yards and two interceptions in mostly mop-up duty last season. But with the 6-2, 217-pounder having three years of eligibility with the Cavaliers, he will get a fresh start and have a chance to have a long career as a starter.
So Virginia head coach Mike London certainly has a tough decision to make.
As is the case with most every coach, London loves competition at all positions because it provides motivation, which ideally produces better results. While sophomore dual-threat David Watford and true freshman Greyson Lambert are also on the depth chart, this is a two-man race between Rocco and Sims.
Keep in mind that Sims arrived in Charlottesville boasting impressive prep credentials, as he was one of the highest-rated pro-style quarterbacks nationally in the Class of 2010 after recording a 48-4 record and setting Virginia state records with 10,725 passing yards and 119 touchdowns at Oscar Smith High School in Chesapeake. And although Rocco impressed in 2011, there is a lot of room for improvement in his game. The arrival of Sims, however, may speed up that process. And that's a good thing for the Hoos this preseason camp.
As Mark Giannotto of The Washington Post notes, London indicated last week that the first two weeks of training camp will be crucial for Sims because he has to show the coaching staff that he has fully grasped the new playbook. If Sims is not making adjustments to his mistakes or can't get past any hesitancy after those two weeks, London will likely stick with Rocco, the QB who took the team bowling last year. Meanwhile, Sims could improve with more reps and by learning from the sideline.
If Sims does indeed fall short of winning the starting job, though, he's too talented to be sidelined for long. So it's up to him to know the playbook through and through because the chances are that Virginia will need his services in 2012 whether it's off the bench or in an eventual starting role.
Email dave.miller@nationalfootballpost.com or follow me on Twitter at Miller_Dave