December 13, 2011 -
Barry Dorey
Can Sumlin successfully transition A&M into the SEC?
It took awhile, but Texas A&M officially landed Houston's Kevin Sumlin to be its next head coach as it prepares to leave the Big 12 and enter new terrain in the SEC.
The Aggies hired a leader who recorded the best winning percentage of any Houston coach in school history and notched a single-season record for wins despite slipping up against Southern Miss in the C-USA title game. Sumlin also returns to College Station, a place he knows well after having served as an assistant under R.C. Slocum.
However, the first black head coach in A&M history will immediately be faced with a tough task: competing in the SEC West, unquestionably the toughest division in college football.
Let's take a closer look at the SEC's newest hire.
The Aggies will throw. And throw some more.
No matter where Sumlin coached throughout his career, he became accustomed to seeing the scoreboard light up on Saturdays. As wide receivers coach at Purdue, he witnessed Drew Brees make Big Ten defenses look silly. At Oklahoma, he watched the Sooners march toward the BCS title game behind the prolific arm of Heisman winner Jason White and saw Sam Bradford continue the offensive wizardry as OU's offense never missed a beat no matter who was at quarterback. So it was no surprise that Sumlin would have such great success with Case Keenum, the star quarterback who set a number of career records (FBS career marks of total yards, passing yards, completions and touchdowns) while the pair was at Houston. Even when Keenum was lost for the season early in 2010, Houston still averaged nearly 40 points and 500 yards per game. The system, quite frankly, will work no matter who is the signal-caller.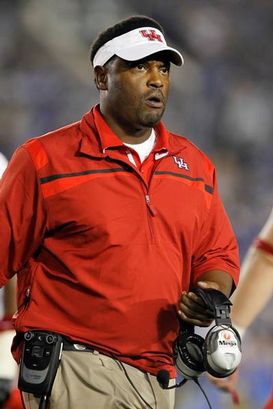 ICONKevin Sumlin will lead the Aggies into the SEC.
But can this offense win in the SEC?
The one concern with the hire is how this attack will fare in the SEC, where defenses have more speed and more balanced offenses are needed to sustain success. When the Cougars' running game was shut down in the C-USA title game by an aggressive Southern Miss defense, the Air Raid scheme slowed considerably. We've seen teams such as Arkansas put together a BCS-caliber season while throwing the football all over the field, but the Razorbacks also employed a healthy dose of running back Knile Davis last season. Will Sumlin put more of an emphasis on the run in a league that is naive to spread passing attacks? While Hal Mumme (one of the foremost proponents of the Air Raid offense) had success at Kentucky, his best season in Lexington was 7-5. And that won't cut it for Aggies fans or the A&M administration. It will be interesting to see if Kliff Kingsbury, who likely will follow Sumlin to A&M as the team's offensive coordinator, will provide Aggies fans with some semblance of a ground game. After all, Cyrus Gray and Christine Michael were quite effective the last few seasons for A&M even with quarterback Ryan Tannehill utilizing his deep corps of receivers.
At his introductory press conference Monday, Sumlin said he plans to adapt to the rugged, defensive-minded SEC and recruit players to fit that philosophy.
"We're going to be diverse in what we do," Sumlin said. "We're going to do what's necessary to win."
For A&M, that has to mean balance on offense.
Sumlin lacks SEC experience
It's common knowledge that life in the SEC is a different animal for a variety of reasons. The pressure to win at any school is great, but it's greater down South. Fan bases are rabid at nearly every school, but they're even more enthusiastic at places such as Alabama, Tennessee and Florida. So will Sumlin's lack of SEC experience be a detriment? I wouldn't bet on it.
Keep in mind that Alabama's Nick Saban did not possess any SEC experience when he took the head job at LSU in 2000. Neither did Les Miles when he left Oklahoma State to take over in Baton Rouge in 2005. Urban Meyer? He was the head coach at Bowling Green and Utah before winning two BCS national championships at Florida. Of course, no one's trying to compare Sumlin to any one of those championship-level coaches. The key for the new A&M head coach is to make strides on the recruiting trail, which he should be able to do. Kids who grow up in Texas still want to be a Longhorn or an Aggie. At Houston, it wasn't quite like that. However, the one challenge Sumlin faces right away is fellow SEC head coaches going deeper into Texas on the recruiting trail now that A&M has invaded their league. So it will be even more difficult for Sumlin to keep some of that talent in-state.
The bottom line is that Sumlin has proven to be a very good football coach at Houston, and A&M went out and hired the man it wanted all along. With a few adjustments along the way, the Aggies should find success under their new leader. It just may not be as consistent and annual as many A&M backers hope. I mean, have you seen the teams that reside in the SEC West?
Email dave.miller@nationalfootballpost.com or follow me on Twitter at Miller_Dave