July 13, 2010 -
Dave Miller
Carroll on USC's sanctions: 'I do feel responsible'
With his former program dealing with NCAA sanctions because of events that occurred on his watch, Pete Carroll is intent on protecting the legacy of USC football.
In New York to promote his new book, "Win Forever," Carroll spoke to The Associated Press about the difficulties affecting the Trojans after his nine-year tenure.
"It's been most difficult to watch everybody have to deal with it, whether it's the players or the coaches or the fans who support the university," Carroll said Monday.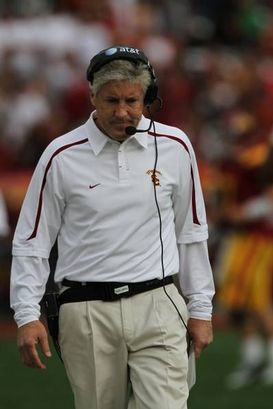 ICONPete Carroll went 97-19 and won two national titles at USC.
"I do feel responsible being connected with it. I've also felt a responsibility, with the way it's come down, to work to try to get the message out there and defend somewhat."
Following a 97-19 run — including two national championships — Carroll left Los Angeles after the 2009 season to take over as coach of the NFL's Seattle Seahawks.
But his departure came as USC was being investigated for violations involving former star tailback Reggie Bush. Ultimately the NCAA handed 'SC a two-year postseason ban and a major loss of scholarships over the next three academic years. The Trojans were also forced to vacate victories from the 2004 and '05 seasons.
The university is appealing some of the penalties.
Despite all the wins and accomplishments during Carroll's reign, many college football followers feel that the 'SC dynasty has been tarnished.
Not Carroll, however.
"I'm very proud of those years," Carroll declared. "Very proud of all that we did."
"We spent so much time working to do things better than it's ever been done before in all of our ways. Not just in coaching and in the Xs and Os part of it, but in recruiting and evaluating and dealing with the image we projected."
Carroll was not implicated in the investigation, but many wonder if his exit from Los Angeles came at a very convenient and opportunistic time. New head coach Lane Kiffin will now try to navigate the Trojans through this rough patch in their history.
Follow me on Twitter at Miller_Dave
Ready for fantasy football? Click here to purchase the 2010 Total Access Pass/Draft Guide from the NFP.