October 05, 2012 -
Dave Miller
Catholics vs. Convicts: The Notre Dame-Miami rivalry
"...But save Jimmy Johnson's ass for me!" -- Notre Dame head coach Lou Holtz to his players at halftime of the team's game against Miami (FL) in 1988.
The 1988 showdown between No. 4 Notre Dame and top-ranked Miami (FL) at Notre Dame Stadium in South Bend remains an epic clash in the minds of many college football fans across the country.
It was Good vs. Evil, Midwestern choirboys vs. South Beach renegades, Catholics vs. Convicts.
The idea behind the "Catholics vs. Convicts" theme came from a Notre Dame student who coined the phrase for a t-shirt. The student began printing a plethora of these shirts with the slogan written on them, and they sold like hotcakes during the buildup for the Top 5 showdown.
The pre-game fight between the two teams outside of the entrance tunnel lead credence to the slogan on the shirts. Both the players and coaches on the respective teams wanted the victory badly. Perhaps the fan bases wanted the win even more.
Notre Dame had embarassed Miami from 1971 through 1980, winning 10 straight games by an average margin of 23 points. However, Howard Schnellenberger and Jimmy Johnson changed the game for the 'Canes. From 1981 through 1987, Miami went 5-1 against Notre Dame, with the Canes' average margin of victory being 28 points.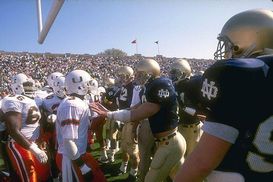 Miami and Notre Dame didn't like each other very much in 1988.
However, on that bright, sunny day in 1988, the Fighting Irish claimed a 31–30 victory, and Lou Holtz's squad went on to win the 1988 national championship.
Good trumped Evil, just like in all of the fables we read growing up.
Miami went on to beat the Irish 27-10 in the Orange Bowl the next year, while ND claimed a 29-20 victory in South Bend in 1990. However, the series sadly ended.
But because of ND's win in 1988 and the fact that "good" triumphed over "evil," the "Catholics vs. Convicts" theme has lived on. Of course, when the Irish claimed a victory over the Hurricanes in the Sun Bowl on December 31, 2010, neither team capped off the standout seasons they had been used to when they were both powerhouses in the 1980's. And while Saturday night's clash at Chicago's Soldier Field may not be between two Top 5 powerhouses, it's a huge game for both schools because of the direction they want to take this fall and into the future.
"Catholics vs. Convicts" it is not, but the two teams' combined 8-1 record make this game intriguing nonetheless. And for many Irish fans everywhere, they likely can't help but think back to the epic clash in 1988 and smile.
Email dave.miller@nationalfootballpost.com or follow me on Twitter at Miller_Dave