January 12, 2015 -
Dave Miller
CFP title game preview: Oregon vs. Ohio State
Oregon and Ohio State will battle for the first-ever College Football Playoff national championship on Monday night in Arlington, TX, putting a bow on what has been a wild 2014 college football season.
While many fans of the sport were hoping to see an Alabama-Oregon or Alabama-Florida State showdown for the title, the Buckeyes put on an impressive performance in the Sugar Bowl to earn their way into the game against a Ducks team that throttled FSU in the Rose Bowl.
Here are five key storylines to monitor during the national championship game.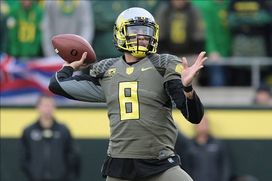 Marcus Mariota has thrown 40 TD passes against just three INTs this season.
Oregon's high-octane 'O' vs. Ohio St.'s D-Line: Can Heisman Trophy-winning quarterback Marcus Mariota have the same success as he did against FSU? We know about star Buckeyes end Joey Bosa, who has 13.5 sacks and 20 tackles for loss. But keep an eye on inside linemen Michael Bennett (seven sacks and 14 tackles for loss) and Adolphus Washington. Along with MLB Curtis Grant, they need to get penetration to stop that Ducks run game up the middle, which sets up Mariota so well for the zone-read as well as play-action. The Buckeyes' D did a great job of getting pressure on Blake Sims and holding the Tide to 2-of-13 on third down while also forcing three turnovers. Now, the goal is to rattle Mariota while keeping him in the pocket. The Oregon O-Line is relatively healthy, so Mariota hopes to operate with a clean pocket. The dual-threat signal-caller and possible No. 1 overall pick in this year's NFL Draft leads the nation in passer rating and yards per attempt, and he's thrown 40 touchdown passes against just three interceptions while adding 15 more scores on the ground this year.
Cardale Jones in a big spot: Buckeyes quarterback Cardale Jones has exploded onto the scene, starting the last two games and helping Urban Meyer's squad make it to the grand finale. He showed off his deep-passing skills against Wisconsin, but he showed against Alabama that he knew when to pull it down and take off running as well. Jones will need Ezekiel Elliott, who reeled off 230 rushing yards and two touchdowns against the Crimson Tide, to be very productive against the Ducks because they will drop a lot of DBs back and keep everything in front in order to stop the vertical passing game. Jones will need to find his receivers underneath and scramble at times as well. But the 225-pound Elliott, who has 1,632 rushing yards and 14 touchdowns, must have a strong game. Oregon will give up its share of yards, but can OSU put up red-zone points? The key to the game could be the Buckeyes' play in that area. Will they have to settle for FGs, or can they score enough TDs?
The Marshall Plan: Mariota grabs most of the headlines, but the Ducks will need outstanding performances from their skill-position players on offense, especially with Devon Allen (knee) and Darren Carrington (failed drug test) on the sideline for the final game of the season. Byron Marshall has excelled in his receiving role in the slot after flourishing as the Ducks' leading rusher in 2014. With Josh Huff departed and leading returning receiver Bralon Addison hurt, head coach Mark Helfrich and his offensive staff needed to bolster a thin and inexperienced receiving corps before the year. Knowing that Thomas Tyner and Royce Freeman looked capable of carrying the load in the backfield, the staff decided to move Marshall to a new role, where he has excelled all season. And a lot of that success has to do with the fact that Marshall was open to the idea of shifting out of the backfield. He bought in, and he is a key part to a team that averages 47.2 points per game and 7.39 yards per play. The 5-10, 205-pounder has caught 66 passes for 834 yards and five touchdowns, and he's added 383 yards and a score on 51 rushes one season after putting up 1,038 yards on 168 carries. He's been a key cog for Helfrich, offensive coordinator Scott Frost and the rest of the staff in a season in which offensive depth has been tested.
The new and improved Buckeyes O-Line: Ohio State's offensive line was a complete disaster against Virginia Tech in the team's lone loss of the season back in September. It was a performance that many college football observers felt would be too much to overcome in order to get a CFP berth. But the unit became better and better each week, led by tackle Taylor Decker, who was the only returning starter on the line this season. He switched from right tackle to left tackle, and he's been a key cog to the unit. But it will be tested by a Ducks defense that features a big line, led by 6-7 end DeForest Buckner (13 tackles for loss, four sacks and four pass breakups). Coordinator Don Pellum's 3-4 scheme also features Arik Armstead, who still has a ton of development left but can make things difficult for the OSU offense. Can the Buckeyes win the battle in the trenches and impose their will with Meyer's Power Spread?
The turnover battle: The Buckeyes should be able to move the football against an Oregon defense that will give up its share of yards. Ohio State is fifth in the nation in scoring offense and No. 10 in rushing yards per game, while Oregon is No. 51 against the run and No. 111 against the pass. However, the Ducks were No. 1 in the nation in turnover margin at plus-20, and we saw what they were able to do against Florida State in the Rose Bowl when the Seminoles were careless with the football. Jameis Winston and Co. had 528 total yards of offense, but Jimbo Fisher's squad also had five turnovers. The Buckeyes must avoid turnovers, especially because of how productive the Ducks are on offense. If Meyer's team is able to control the clock, have longer possessions, protect the football and keep Mariota on the sideline, this should be a four-quarter game. Oregon doesn't turn the football over with Mariota at the helm, so the Buckeyes want to limit the Ducks' offensive possessions.
Other notes:
— The Ducks' offensive depth will really be tested in the final game of the season. Besides Marshall, Mariota will have to rely on Dwayne Stanford (39 catches for 578 yards), Keanon Lowe (25 catches for 349 yards), Charles Nelson (21 catches for 306 yards) and tight end Evan Baylis (strong performance in Rose Bowl). The "next man up" philosophy is being put to test against the Buckeyes. The loss of Carrington is huge because over 75 percent of his catches this year resulted in either a first down or a touchdown.
— Keep an eye on Devin Smith. The Ohio State senior receiver is one of many big-play threats for the Buckeyes (he averages 27.7 yards per catch and has 12 touchdowns), and I would expect OC Tom Herman to dial up some plays for Jones to take downfield shots to Smith in order to loosen up the Oregon defense. Jalin Marshall and the returning Dontre Wilson will also be used in unique situations as the Buckeyes look to keep the Oregon 'D' on its toes.
— Ohio State led the Big Ten with 24 interceptions, as Vonn Bell recorded six to lead the team. Doran Grant had five, and Tyvis Powell added four. As mentioned above, Mariota tossed only three interceptions all season. Can the Buckeyes force the Ducks QB into a mistake or two?
Dave Miller, the college football editor for the Nat ional Football Post, is on Twitter @Miller_Dave.