November 25, 2014 -
Dave Miller
CFP Top 25: Full rankings and analysis
The selection committee tasked with the challenge of putting together the inaugural College Football Playoff released a fifth edition of its Top 25 on Tuesday night, and the group kept Mississippi State as the No. 4 team in the country up to this point in the 2014 college football season.
This past week the Bulldogs shut out Vanderbilt, but Dan Mullen's squad cannot get to the SEC title game unless it takes care of Ole Miss in the Egg Bowl and Auburn upsets Alabama in the Iron Bowl. Meanwhile, Marshall remained the lone undefeated Group of Five squad over the weekend and is finally ranked by the CFP committee. However, Boise State is also ranked — one spot ahead of the Thundering Herd.
Here is the complete Top 25:
1. Alabama
2. Oregon
3. Florida State
4. Mississippi State
5. TCU
6. Ohio State
7. Baylor
8. UCLA
9. Georgia
10. Michigan State
11. Arizona
12. Kansas State
13. Arizona State
14. Wisconsin
15. Auburn
16. Georgia Tech
17. Missouri
18. Minnesota
19. Ole Miss
20. Oklahoma
21. Clemson
22. Louisville
23. Boise State
24. Marshall
25. Utah
If the season ended today, the matchups for the first-ever College Football Playoff in FBS would be No. 1 Alabama vs. No. 4 Mississippi State in the Sugar Bowl and No. 2 Oregon vs. No. 3 Florida State in the Rose Bowl. The winners of those two semifinal matchups would meet in Arlington on January 12 for the national championship.
The committee's final decision on which teams will comprise the four-team playoff will come at 12:45 p.m. ET on Sunday, December 7.
A few thoughts:
- The top seven teams in the Top 25 remained the same from the previous week for the first time this season. This week, the selection process was short one member, as Mike Tranghese was unable to travel to Dallas for the meetings because he was sick. So only 11 members were present for these new rankings.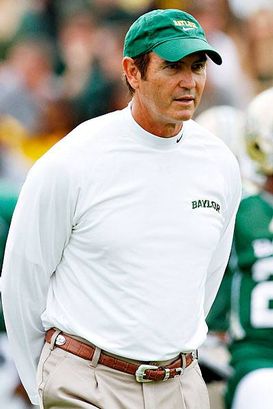 US PRESSWIREWill Art Briles and his Bears get shut out of the College Football Playoff even if they run the table?
- Baylor is still dealing with the ramifications of having a weak nonconference schedule, as the Bears remain at No. 7 despite thoroughly beating Oklahoma in Norman and beating TCU, which sits ahead of the Bears at No. 5. Art Briles' squad has a road loss to West Virginia, and that combined with the soft noncon slate has it behind TCU, which blew a 21-point fourth-quarter lead and lost in Waco. Worse for the Bears is that Ohio State is ahead of them, and keep in mind that the Big 12 does not have a conference championship game. The Bears still have a rankings-booster game left with Kansas State, but the Buckeyes have the strong win over Michigan State, a victory over a respected Minnesota team and a potential Big Ten championship. Urban Meyer's squad fell at home in Week 2 to Virginia Tech, but it is a much-improved team than it was back then. And selection committee chairman Jeff Long told the media tonight that the committee does not really consider Virginia Tech a bad loss. Also working against Baylor is the strength of Minnesota, which has defeats at the hands of both TCU and Ohio State but has put together a strong campaign and rose seven spots after beating Nebraska. It will be interesting to see if a Gophers loss to Wisconsin significantly impacts both TCU and Ohio State in their quests to remain above Baylor.
- Mississippi State is still No. 4 right now, but will the Bulldogs ultimately still be there at the end? How much will the committee value conference championships on Selection Sunday if Dan Mullen's squad finishes 11-1 but is shut out of the SEC title game? I am starting to think that a possible Big Ten champion Ohio State team would trump a one-loss Bulldogs squad. It is even possible that TCU and Baylor would get overtaken by the Buckeyes.
- The committee finally decided to include unbeaten Marshall in its rankings, but the Thundering Herd are not the highest-ranked Group of Five team. That honor belongs to Boise State, which has played a tougher schedule and enters its regular-season finale against Utah State at 9-2 before a possible Mountain West title game. The Broncos have wins over Colorado State, BYU and Nevada, and they have losses to Ole Miss and Air Force. Marshall may need Boise State to lose. Even then, would a one-loss Colorado State team ultimately be ranked ahead of Marshall and have a chance to be the league champion from one of the non-Power Five conferences to get that automatic 'New Year's Six' berth?
- The possible matchups for the other 'New Year's Six' bowls if the season ended today could be as follows...Peach Bowl: Georgia vs. Baylor, Fiesta Bowl: UCLA vs. Boise State, Orange Bowl: Georgia Tech vs. Michigan State and Cotton Bowl: TCU vs. Ohio State.
Of course, nothing will truly matter until December 7. But the days are ticking away, and we are getting ever so close to the final rankings being released.
Dave Miller, the college football editor for the National Football Post, is on Twitter @Miller_Dave.