November 18, 2014 -
Dave Miller
CFP Top 25: Full rankings and analysis
The 12-person selection committee tasked with the challenge of putting together the inaugural College Football Playoff released a fourth edition of its Top 25 on Tuesday night, and the group selected Alabama as the best team up to this point in the 2014 college football season.
This past week the Crimson Tide beat Mississippi State, which is no longer unbeaten. Florida State is the lone remaining undefeated Power Five school, yet the Seminoles check in at No. 3 this week. Marshall, of course, is an undefeated Group of Five squad but is once again not ranked.
Here is the complete Top 25:
1. Alabama
2. Oregon
3. Florida State
4. Mississippi State
5. TCU
6. Ohio State
7. Baylor
8. Mississippi
9. UCLA
10. Georgia
11. Michigan State
12. Kansas State
13. Arizona State
14. Auburn
15. Arizona
16. Wisconsin
17. Utah
18. Georgia Tech
19. USC
20. Missouri
21. Oklahoma
22. Clemson
23. Nebraska
24. Louisville
25. Minnesota
If the season ended today, the matchups for the first-ever College Football Playoff in FBS would be No. 1 Alabama vs. No. 4 Mississippi State in the Sugar Bowl and No. 2 Oregon vs. No. 3 Florida State in the Rose Bowl. The winners of those two semifinal matchups would meet in Arlington on January 12 for the national championship.
The committee's final decision on which teams will comprise the four-team playoff will come at 12:45 p.m. ET on Sunday, December 7.
A few thoughts:
- Baylor continues to get punished for a weak nonconference schedule, as the Bears sit at No. 7 despite thoroughly beating Oklahoma in Norman and actually beating TCU, which sits ahead of the Bears at No. 5. Art Briles' squad has a road loss to West Virginia, and that combined with the soft noncon slate has it behind TCU, which blew a 21-point fourth-quarter lead and lost in Waco. Perhaps even worse for the Bears is that Ohio State jumped them this week, which is pretty significant because the Big 12 does not have a conference championship game, of course. However, the Bears still have a rankings-booster game left with Kansas State in the finale. But will the Buckeyes have the best win — over Michigan State — out of all of the one-loss teams vying for a potential No. 4 spot in the final standings? Urban Meyer's squad fell at home in Week 2 to Virginia Tech, but it is a much-improved team than it was back then. And a potential date with Wisconsin in the Big Ten title game would be a nice season-ending boost for the Buckeyes. Meanwhile, it's clear that the committee loves Minnesota, which has defeats at the hands of both TCU and Ohio State. Of course, both of those teams are ahead of Baylor this week. It will be interesting to see if the Gophers suffer another loss and how that would impact both TCU and Ohio State in their quests to remain above Baylor.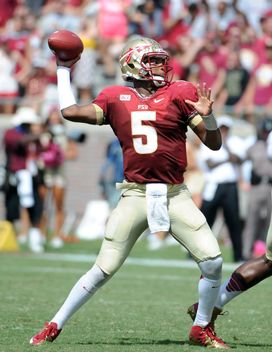 US PRESSWIREJameis Winston and the 'Noles are No. 3 despite being the last unbeaten team in a Power Five conference.
- Florida State dropped another spot this week, as the Seminoles check in at No. 3. Alabama's win over No. 1 Mississippi State vaulted the Crimson Tide, and No. 2 Oregon had a bye week. Are losses being overlooked too much by the committee with the lone Power Five unbeaten behind teams with a defeat? It's certainly something that has been and will continue to be discussed over the next few weeks. The victory over Notre Dame was considered big for the Seminoles, but the Fighting Irish are now out of the Top 25. However, with Clemson and Louisville in the latest rankings, FSU has wins over two ranked teams.
- Mississippi State is No. 4 right now, but will the Bulldogs ultimately still be there at the end? How much will the committee value conference championships on Selection Sunday if Dan Mullen's squad finishes 11-1 but is shut out of the SEC title game? On ESPN, committee chairman Jeff Long said of Mississippi State's effort against Alabama: "You never felt like they were really out of that game." That bodes well for the Bulldogs...for now.
- We are starting to hear the term "game control" a lot, which is basically the way in which the committee considers how the game was played between two teams. That is obviously incredibly subjective, which gets us back into the debates of eye test vs. resume and best team vs. the most deserving. Well, it will continue for another week...and into next season and so on. That's what makes this sport simultaneously great and sometimes frustrating for fans.
- Long admitted that "the differences between teams 4 through 7 are narrow, very narrow." So the next few weeks will be filled with intrigue, as is most always the case in college football as we get down to the wire.
- Both Arizona State and Nebraska dropped seven spots this week, as the Sun Devils went from No. 6 to 13, and the Cornhuskers fell from No. 16 to 23.
- Keep an eye on No. 9 UCLA. If the Bruins win the Pac-12 South, a rematch with Oregon would await in the league title game. A victory over the Ducks would be huge if carnage ensues over the next few weeks and room opens for a two-loss team to snag a bid.
- Once again, there are no Group of Five teams in this week's CFP Top 25 rankings. That is nothing to worry about right now, but which league champion from one of the non-Power Five conference will be in the Top 25 by the end of the year — if any? Will an undefeated Marshall get edged out for that automatic 'New Year's Six' berth? I have a hard time believing that the Thundering Herd would ultimately be left out as an unbeaten champ even with a weak slate, but there are a few other Group of Five teams in the mix, including Boise State, Colorado State, Memphis and Northern Illinois. Marshall's exclusion right now is due to its schedule. Fair or not, the Thundering Herd are being punished for not having even one difficult game to get through. It doesn't bode well for the Herd that teams such as Memphis and Northern Illinois are in the discussion, but I still think Marshall gets that nod.
- Here are the rankings by conference: SEC (6), Pac-12 (6), Big Ten (5), ACC (4) and Big 12 (4).
- The possible matchups for the other 'New Year's Six' bowls if the season ended today could be as follows...Peach Bowl: Georgia vs. Marshall, Fiesta Bowl: UCLA vs. Baylor, Orange Bowl: Georgia Tech vs. Ole Miss and Cotton Bowl: TCU vs. Ohio State.
Of course, nothing truly matters until December 7. But there will always be fan bases upset in a sport that will never truly have a perfect way to decide a national champion.
Dave Miller, the college football editor for the National Football Post, is on Twitter @Miller_Dave.