April 24, 2014 -
Dave Miller
Change on the way for the NCAA
The NCAA's Division I Board of Directors on Thursday met in Indianapolis and endorsed a governance restructuring that is expected to be approved as early as August, allowing the power conferences to be one step closer to having autonomy on decision-making.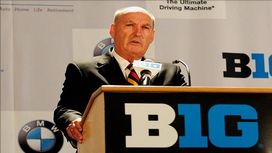 US PRESSWIREJim Delany's Big Ten conference is one of five leagues that will be granted autonomy on decision-making.
This proposal would allow the five resource-rich conferences (the ACC, Big 12, Big Ten, Pac-12 and SEC) to address challenges they deem unique and make rules on matters affecting the interests of student-athletes within their specific leagues.
University presidents will continue to work to fine-tune the proposed areas of autonomy.
One objection from Thursday's meeting is the issue of 'actionable' process, which would require all conferences outside of the Power 5 (the 65 schools in the five highest-profile conferences) to take a separate vote. The American Athletic, Conference USA, Mid-American, Mountain West and Sun Belt do not want to be put into the same category as the other 22 conferences on major issues. In other words, these conferences want to have a voice at the table on major issues as well. Consider that big-name schools such as UConn and Boise State in basketball and football, respectively, are in these leagues. The steering committee is seeking more feedback on how to handle this aspect of the new governance model, and the committee will also continue to discuss a variety of issues that could be included in the areas of autonomy.
Issues that could be addressed in terms of autonomy for the Power 5 include:
— financial aid, including full cost of attendance and scholarship guarantees
— insurance
— academic support
— other support such as travel for families and expenses that come with practice and competition
While much is to be discussed, including the voting, interpretation and enforcement processes within the Power 5 conferences as well as the structure that separates the next five conferences (AAC, MAC, etc.) from the remaining 22, change is indeed on the horizon — a move away from the archaic way of doing things within the governance structure.
The board is expected to vote on final recommendations in August so a transition to the new governance structure could be in place by fall 2014.
Dave Miller, the college football editor and writer for the National Football Post, is on Twitter @Miller_Dave.