June 11, 2012 -
Dave Miller
Class of 2013 team recruiting rankings
It's still very early to judge how the Class of 2013 hauls are shaping up for teams around the country, as all of the commitments from high school rising seniors are non-binding verbals. However, let's take a look at the 25 strongest classes as of right now as we peek ahead to National Signing Day next February.
I'll continue to update these rankings throughout the summer, fall and winter months.
1. Michigan: Brady Hoke and Co. are doing a masterful job of revitalizing the program both on and off the field. The Wolverines have a staggering 21 commitments, most of whom are upper-star prospects. Quarterback Shane Morris headlines this class, and he's joined by offensive linemen David Dawson, Logan Tuley-Tillman, Chris Fox, Patrick Kugler and Kyle Bosch. Defensive backs Gareon Conley, Jourdan Lewis and Dymonte Thomas will help coordinator Greg Mattison's unit. The Maize and Blue are owning the Midwest right now, and a nice battle is set up between Michigan and Alabama for the top national spot in February.
2. Alabama: The Crimson Tide will always bring in a Top 5 class as long as Nick Saban is in town. Linebacker Reuben Foster is arguably the second-best defender in the nation, behind only uncommitted end Robert Nkemdiche. Tight end O.J. Howard could emerge to become quarterback recruit Cooper Bateman's top weapon down the line. And the running back position will add two more star players in Tyren Jones and Altee Tenpenny. Meanwhile, Georgia commit Derrick Henry could flip and land in Tuscaloosa, making this haul even stronger.
3. Georgia: So much for Mark Richt's hot seat, as the defending SEC East champions already have 19 commitments. In-state talent is plentiful, with cornerback Shaq Wiggins leading the way. Quarterback Brice Ramsey is one of the better dropback passers in the country, and South Carolina native Tramel Terry as well as Florida running back Derrick Henry offer intriguing playmaking options for Richt down the line.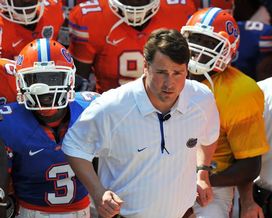 Will Muschamp is comprising a strong 2013 class at Florida.
4. Florida: Will Muschamp was able to land Kelvin Taylor, arguably the top running back in the country and the son of former Gator Fred Taylor. Offensive linemen Cameron Dillard and Josh Outlaw are very good finds up front, and the Gators addressed the receiver position after being unable to snag Stefon Diggs and Nelson Agholor last February. Ahmad Fulwood, Rodney Adams and Marqui Hawkins bring hope for future offenses in Gainesville.
5. USC: The Trojans may not have the numbers in their 2013 class, but they have the star power. USC holds commitments from three of the top 20 players in the country: quarterback Max Browne, safety Su'a Cravens and defensive tackle Kenny Bigelow. And they were also able to land Ty Isaac, the best running back in the Midwest. Lane Kiffin is doing a wonderful job navigating this program through NCAA limitations.
6. Texas: We'll see if wide receiver Ricky Seals-Jones ultimately chooses to play for Mack Brown and Co. after all, but losing his commitment stings a little bit. However, the Longhorns still have the nation's best center in Darius James and multi-dimensional quarterback Tyrone Swoopes, arguably the best dual-threat in the country. In-state dominance is once again the norm for the Longhorns.
7. LSU: The Tigers have focused on offense thus far, as pro-style quarterback Hayden Rettig leads the way. Offensive tackle Ethan Pocic and offensive guard K.J. Malone join wide receiver Chuck Baker and athletes John Diarse and Tre'Davious White as key members of this offensive haul. Getting in-state prospects is the norm, but getting Rettig and Pocic from out of state is huge.
8. Notre Dame: Brian Kelly continues to focus on defense, with outside linebacker Jaylon Smith and defensive end Isaac Rochell leading the way. Offensive line is also shaping up to be an area of strength, with tackles Colin McGovern and Hunter Bivin being two of the finest at the position. Fellow tackles Mike McGlinchey, John Montelus and Steve Elmer are also very good.
9. Texas A&M: Kevin Sumlin is bringing in some SEC-caliber talent immediately, with athletic prospects on both sides of the ball. Receivers Derrick Griffin and LaQuvionte Gonzalez should be fun to watch in the Aggies' up-temp offense, with quarterbacks Kohl Stewart and Kenny Hill as their possible gunslingers. And keep an eye on defensive lineman Jordan Points, who can play end or tackle.
10. Ohio State: Urban Meyer continues his magic in Columbus after bringing in SEC-type defensive linemen this past February. A couple of recent decommitments dropped the Buckeyes, but they're still doing well even with scholarship reductions. Eli Woodard and Cam Burrows form the best pair of corners in the country, and defensive tackle Joey Bosa is a force as a pass-rusher. Athlete Jalin Marshall will be perfect for Meyer's spread attack, and tight end Marcus Baugh will create mismatches.
11. South Carolina: Steve Spurrier continues to bring in high-quality recruits, with quarterback Connor Mitch leading the way. The dropback passer is one of the best in the country, and he'll be joined on offense by tackle D.J. Park and receiver Jasper Sasser. Meanwhile, outside linebacker Matt Rolin headlines the defensive haul. Most impressive is the fact that this staff is getting top prospects from the state of Georgia.
12. Auburn: New defensive coordinator Brian VanGorder is getting some new toys to utilize, as end Carl Lawson is the gem of this haul. Tackle Dee Liner could be the best interior lineman in the country, while Trey Johnson and Cameron Toney add depth at linebacker.
13. Oklahoma: The Sooners will want to make a strong push for defenders this cycle, but their offensive haul so far has been impressive. Running backs Greg Bryant and Keith Ford are two of the finest nationally at the position, while Cody Thomas adds depth at quarterback, which is a position of strength in Norman. End D.J. Ward will give new defensive coordinator Mike Stoops an instant-impact lineman.
14. Florida State: Austin Golson is one of the best offensive tackles in this class and could see the field right away in Tallahassee. Defensive tackle Maquedius Bain and outside linebacker Ro'derrick Hoskins highlight the in-state haul along with wide receiver Tony Stevens and offensive guard Ira Denson.
15. Penn State: Bill O'Brien is making sure that he gets the right pieces for his offense. And the transformation could start with Christian Hackenberg, one of the nation's best pure dropback passers. Adam Breneman, meanwhile, will cause mismatches at tight end. Defensive linemen Greg Webb and Garrett Sickels will add more depth to an area that is always strong in Happy Valley.
CONTINUE TO PAGE 2 TO SEE TEAMS NOS. 16-25