July 29, 2010 -
Dave Miller
College football kicks off in five weeks!
While my beloved Chicago White Sox continue their improbable journey from near-death to the top of the American League Central, it's still hard not to think that the 2010 college football season will kick off five weeks from tonight on Thursday, September 2.
With that in mind, let's take a quick look at some of the most intriguing matchups that will be a part of opening night.
Marshall at Ohio State: It's strange that Ohio State is opening up on a non-Saturday — its first midweek regular season home contest since a season-opening win over Wyoming in 1997. All eyes will be on Buckeyes quarterback Terrelle Pryor, who is coming off of the most impressive showing of his career in the Rose Bowl win over Oregon. For Marshall, will Willy Korn, the graduate transfer from Clemson, be under center? Or can incumbent Brian Anderson hold him off, along with freshmen A.J. Graham and Eddie Sullivan, and lead Marshall into The Horseshoe for this Thursday night battle? Marshall's offensive line may struggle tremendously against the Buckeyes' front, but Marshall's defensive line — the strength of its defense — could keep the Herd in the game for a half.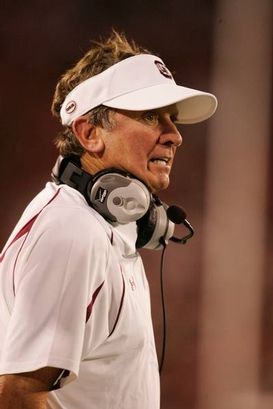 ICONThe Old Ball Coach and his Gamecocks open their season against Southern Miss.
Southern Miss at South Carolina: Will this be the season that oft-criticized South Carolina quarterback Stephen Garcia puts it all together for Steve Spurrier and the Gamecocks? With the duo of Alshon Jeffery and Tori Gurley, Garcia has big receivers to throw to and plenty of opportunities to chuck the football down the field. Will tight end Weslye Saunders be in the lineup, though? Southern Miss, meanwhile, was five points away from claiming the C-USA East Division title last season. Expect the Golden Eagles to battle Central Florida for the division crown this fall if the offensive line could get stabilized. This will be the first meeting between the two schools in their history.
Pittsburgh at Utah: As talented as Pittsburgh is, this looms as a dangerous contest for Dave Wannstedt's Panthers. Playing a road game at Utah is always a tough task, and it will likely be Tino Sunseri's first start under center. The redshirt sophomore saw action only in mop-up duty in '09. If things are close in the fourth quarter, though, I expect reigning Big East offensive player of the year Dion Lewis to carry the Panthers to victory. On the Utah side, I'm looking forward to seeing if walk-on Griffin McNabb could really be the go-to wideout the Utes were looking for heading into spring camp. He surprised the coaching staff with five catches for 100 yards, including a 61-yard touchdown reception, during the Utes' spring game. He could be vital to the offense.
USC at Hawaii: In a game that almost had to be cancelled because of NCAA sanctions, Lane Kiffin will make his USC head coaching debut. I expect Matt Barkley and the Trojans' offense to have a big year, and I look forward to seeing how Monte Kiffin shapes the defense. Earlier this summer I put Hawaii head coach Greg McMackin on my coaching hot seat because the Warriors have taken a major step back from the June Jones era. With Bryant Moniz out on personal leave this spring, freshman David Graves received plenty of reps under center and is the future of Hawaii at the quarterback position. While I would like to see a competitive game, this one could get ugly.
Follow me on Twitter at Miller_Dave
Ready for fantasy football? Click here to purchase the 2010 Total Access Pass/Draft Guide from the NFP.