December 25, 2010 -
Dave Miller
College football notebook
First and foremost, I want to wish all of NFP Nation a Merry Christmas and Happy Holidays. I hope Santa Clause delivered the goods to all of you this morning. And I hope Ohio State quarterback Terrelle Pryor received a new pair of gold pants, perhaps from a Michigan alum.
Alright, let's open up this weekend's notebook.
Little Caesars Bowl: Toledo (8-4, 7-1 MAC) vs. Fla. International (6-6, 6-2 Sun Belt)
As many of you know, I've been posting bowl previews throughout the postseason in my Against the Grain column. But I'll include the preview of Sunday night's Little Caesars Bowl game at Ford Field in Detroit in the notebook — in case I have one too many Rolling Rocks on Christmas night.
Toledo: Head coach Tim Beckman isn't sure if Austin Dantin, the established starter before injuring his shoulder in October, will see any action under center for the Rockets. Terrance Owens will get the starting nod, but I expect Dantin to play despite looking rusty in practice. He has a live arm and tests defenses through the air while Owens is the more mobile signal caller.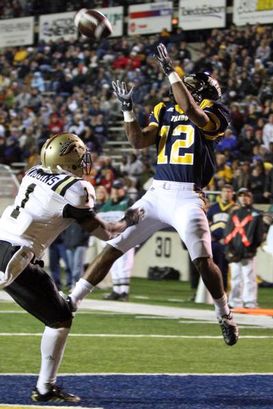 ICONEric Page is tied for fifth in the nation with 94 receptions and ranks 18th in the country with 1,081 receiving yards.
Eric Page is the top receiving threat for the Rockets and will be lined up a lot against Anthony Gaitor, FIU's best cornerback. The 5-10, 180-pound Page torched the Panthers when they met last season, catching five passes for 113 yards and two touchdowns. This year, he is tied for fifth in the nation with 94 receptions and ranks 18th in the country with 1,081 receiving yards. He also is the only FBS player with three kickoff returns for touchdowns. Along with 6-4 Kenny Stafford, the Rockets can really test FIU in the passing game. That's why I think Dantin will see plenty of action if he's relatively healthy. Although Owens did close the regular season with a career-high 304 passing yards against Central Michigan.
FIU: The Rockets may have Page, but FIU has its own all-purpose stud in T.Y. Hilton, who is averaging 156.6 yards per game. He was the Sun Belt's player of the year and can have an impact in all aspects of the game — lining up at receiver, in the backfield and in the return game. He recorded a game earlier in the year in which he had 291 all-purpose yards and scored four touchdowns.
Toledo excels at forcing turnovers, and FIU is the second-most penalized team in the country, so the Panthers must play disciplined. Quarterback Wes Carroll has thrown 13 interceptions on the year, and the Rockets have picked off 19 passes. However, Toledo's pass defense has been spotty. Can Hilton make a few big plays to open things up on offense? He will have to because Toledo has been stout against the run.
FIU is making its first bowl appearance in school history after Mario Cristobal led the squad to its first conference championship. Beckman, meanwhile, has guided Toledo to its first winning season and bowl appearance since 2005. Cristobal has done a remarkable job with the Panthers, as he's elevated this program even as it's dealt with their NCAA sanctions. This should be a fun game to watch if you want a break from NFL action. I think Toledo forces FIU into one too many mistakes and the MAC notches the victory in Detroit.
Skinny posts
…The Florida defense figures to look much different in 2011 with a new coordinator running the show in Gainesville under head coach Will Muschamp. And it's the secondary that likely will look very new — and be very raw in the early stages of the season. Safety Will Hill wrote "farewell uf" on his Facebook page Monday, a likely indication that he will be jumping into the NFL Draft. He presently projects as a mid-round pick. With cornerback Janoris Jenkins also expected to leave early, and senior strong safety Ahmad Black bound for the NFL, as well, the Gators will lose their best defenders in the secondary. The loaded recruiting classes from the past few seasons will help Muschamp's cause, but the inexperience certainly will present a challenge. Just look at what happened to Alabama this season. The player who most needs to raise his game is safety Matt Elam, who contributed as a true freshman after Urban Meyer worked hard to get him to come to Gainesville.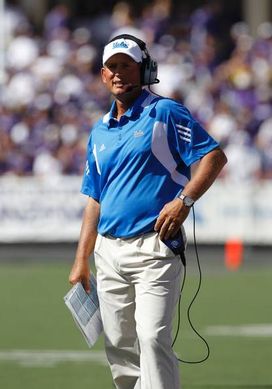 ICONUCLA head coach Rick Neuheisel will be entering a critical season in 2011.
…UCLA head coach Rick Neuheisel is on the prowl for a new defensive coordinator, and Stanford's Vic Fangio is believed to be atop of his list of candidates, according to Scott Reid of the Orange County Record. It's hard to believe that Fangio would leave Palo Alto after being so instrumental in the team's turnaround on defense — a big reason why the Cardinal is playing in a BCS bowl game. In addition, Neuheisel is entering a make-or-break season in 2011, making a jump to Los Angeles very unlikely. Of course, the situation could radically change is Jim Harbaugh isn't roaming the Stanford sideline in 2011.
Reid listed seven possible candidates for the opening who have some connection to UCLA or Neuheisel.
• Fangio, who worked with Neuheisel in Baltimore for the NFL's Ravens
• Seahawks LB coach Ken Norton Jr., a UCLA alum
• San Diego State DC Rocky Long, a former Bruins DC under Bob Toledo
• Bengals LB coach Jeff Fitzgerald, who worked with Neuheisel on Ravens
• UCLA DB coach Tim Hundley, who was Neuheisel's DC at Washington
• Eastern Michigan DC Phil Snow, a former Bruins DC under Toledo
• New Mexico State head coach DeWayne Walker, former Bruins DC
…Sophomore wide receiver Stephen Hill will miss Georgia Tech's Independence Bowl game against Air Force after being declared ineligible for not meeting the school's academic requirements, but it's the loss of senior safety Mario Edwards for the same reason that will hurt the most. Edwards started all 12 games, making 68 tackles — including 36 stops over the last five games — and forced a fumble this season. Junior Rashaad Reid or true freshman Isaiah Johnson will get the starting nod in his place. While Johnson is an intriguing talent who made an impression early in fall camp, the loss of Edwards certainly hurts as Al Groh's struggling unit will attempt to stop the Falcons' triple-option attack. Backup senior defensive end Robert Hall and senior linebacker Anthony Barnes are also ineligible after not meeting NCAA academic guidelines.
On the recruiting trail
• When Charlie Strong was able to get quarterback Teddy Bridgewater to commit to Louisville after previously being committed to Miami, it likely was an indication that the Cardinals will be moving more toward a spread offense. While Bridgewater, one of the top-rated signal callers in the 2011 class, possesses a nice arm, it's his ability to challenge defenses with his arm and his legs that make him so dangerous. As I mentioned on Monday, with senior quarterbacks Adam Froman and Justin Burke graduating after this season, an intriguing quarterb ack battle could be shaping up for 2011 with Bridgewater and fellow 2011 recruit DaMarcus Smith. It's difficult for any true freshman to adjust to the college level, but with the way the Cardinals defense played this year, perhaps it will be easier for Strong to hand over the car keys to a youngster under center.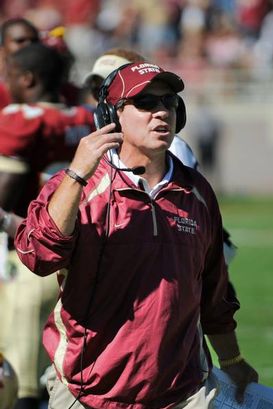 ICONFSU head coach Jimbo Fisher is bringing in top recruits to Tallahassee.
• There's a two-school battle taking place for five-star ILB Tony Steward of Florida between Clemson and Florida State. But Steward told Eric Guimaraes of PalmettoSports.com that UCLA remains in the mix — strange because of the aforementioned coordinator situation at the Pac-10 school. Steward has visited Westwood and is scheduled to go to Clemson on Jan. 14 and Tallahassee on Jan. 21. He also had an official visit scheduled to Alabama, but it conflicts with the U.S. Army All-American Bowl. He said if he is unable to get to Tuscaloosa on that day, he won't reschedule. Will Jimbo Fisher add to an already formidable Class of 2011?
Victory formation
It really amazed me how many columnists and pundits painted Terrelle Pryor and his fellow Ohio State players as victims after the announcement Thursday that they must sit out the first five games of the 2011 season for accepting improper benefits. Once again, the argument was made that the NCAA is a big-money machine and that these players should be able to get back whatever they can for helping put out a product that makes money. For me, that argument is tired. And if you desire to make money off of the game of football as a player, you have to bide your time and wait until the opportunity presents itself on the professional level. There are a lot of injustices in the world — and the entire college football world has many of them — but student-athletes not making cash for their play is not one of them.
The On the Quad podcast is on hiatus this week, but be sure to check out a new episode or two with yours truly and NFP Director of College Scouting Wes Bunting next week.
Email dave.miller@nationalfootballpost.com or follow me on Twitter at Miller_Dave