January 08, 2011 -
Dave Miller
College football notebook
We are just two days away from putting a bow on the college football season, as top-ranked Auburn and No. 2 Oregon will meet in the BCS National Championship in Glendale, Ariz., on Monday night.
In the meantime, let's open up this weekend's notebook and see what's happening on campuses across the country.
Harbaugh leaves The Farm
Jim Harbaugh officially made the jump to the NFL coaching ranks late on Friday afternoon when he accepted a five-year deal with the San Francisco 49ers. Certainly, even with quarterback Andrew Luck returning — and his father said on Friday that he has no intention of changing his mind — Stanford will take a slight step back in 2011. As one of the best coaches in the nation, Harbaugh was the straw that stirred the drink in Palo Alto. Sure, he brought in some good players. But more importantly, he coached them up. And if the dropoff isn't too steep in 2011, it will be noticeable in 2012. You can win at Stanford, but you can't win big consistently without an enthusiastic motivator like Harbaugh.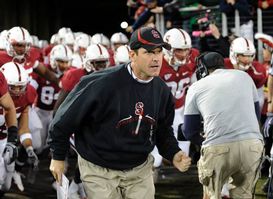 ICONJim Harbaugh is moving on from The Farm.
You can bet that Cardinal athletic director Bob Bowlsby has a replacement in mind already, knowing that Harbaugh's departure was likely. I can't see how it would be anybody but an in-house candidate, with associate head coach Greg Roman and offensive coordinator David Shaw being the two primary target — especially with Luck coming back. But certainly he should get Boise State's Chris Petersen on the phone if he hasn't already. Not only would it be a good opportunity for the Broncos head coach but his coaching staff has been picked apart over the last year by other programs. That's what happens when you have success. Plus, his school is moving into a Mountain West Conference that will be weakened with the departures of TCU, Utah and BYU.
BBVA Compass Bowl: Pittsburgh (7-5, 5-2 Big East) vs. Kentucky (6-6, 2-6 SEC)
This matchup certainly should be a classic to wake up to late Saturday morning, right? Perhaps if you partied too hard Friday evening, this game is just the cure for your hangover. Pittsburgh takes on Kentucky in the BBVA Compass Bowl at Legion Field in Birmingham, Ala., and both teams face major questions entering this contest.
Pittsburgh: The Pittsburgh program certainly has been through its share of turmoil over the past month. Dave Wannstedt was fired after the Panthers underachieved, Mike Haywood was brought in from Miami (OH) after a lengthy national head-coaching search, and Haywood was promptly dismissed from the position after being arrested on a domestic violence charge. So it's back to the drawing board now for athletic director Steve Pederson — the same guy who brought Bill Callahan to Nebraska. I feel your pain Pitt Nation.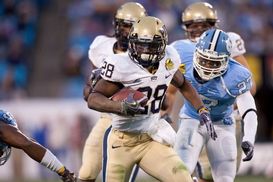 ICONDion Lewis and the Panthers will try to close out a tumultuous season in style.
On the field, who knows what type of product Panthers fans will see when the football is teed up on Saturday. The Panthers haven't won a big game all year, and this group doesn't strike me as the type to rally around adversity and make the best of it. If they want to finish the season on a high note, though, running backs Dion Lewis and Ray Graham must be the focal point of the offense. Kentucky's inability to stop the run is the main reason why it finished 2-6 in league play, and Pitt's offensive line improved as the season progressed. I expect Pitt to run — and run some more — especially because the secondary is the strength of Kentucky's defense.
Kentucky: The Wildcats are facing some adversity of their own, as senior quarterback Mike Hartline is out for this game due to suspension. Thus, sophomore Morgan Newton will make his first start of the season. Sorry Kentucky fans, he likely will not play anywhere near the caliber of Cam Newton. But he did see action in 2009. I expect Kentucky's staff to put him in low-key situations early to make him feel comfortable and generate some confidence. That means we should expect to see a lot of Randall Cobb, Kentucky's do-everything athlete. He may see even more action in the Wildcat package with Hartline out. Nonetheless, he will get his touches in this one because the Wildcats will be looking to take advantage of the fact that Big East defensive player of the year Jabaal Sheard and tackle Myles Caragein will be out with injuries for Pitt. Also look for Newton to use his athletic ability with some rollout plays.
The bottom line: If Hartline was playing, Kentucky would have enough on offense to claim the victory. Newton is raw, but do the Panthers have enough on defense with their numerous injuries to not let Cobb beat them? Motivation is the determining factor in this one, and even with a youngster under center I like Joker Phillips' squad to get its seventh victory of the season.
Be sure to check out the latest On the Quad podcast, where NFP Director of College Scouting Wes Bunting and yours truly talk Stanford quarterback Andrew Luck, NFL Draft and more.
Skinny posts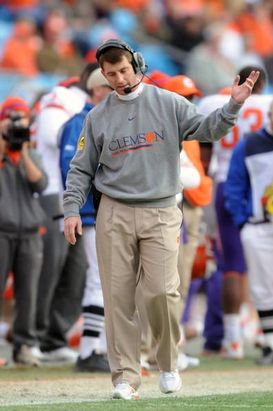 ICONDabo Swinney is looking for a rejuvenated offense in 2011.
…Will Clemson be able to land Tulsa's Chad Morris for its vacant offensive coordinator position? Despite some interest from Mike Gundy and Oklahoma State, Morris is still likely to land on Dabo Swinney's staff. According to offensive tackle recruit Eric MacLain, who met with Swinney on Tuesday according to TigerIllustrated, the Clemson head coach believes that he will be able to land Morris. Tom Dienhart of Yahoo! Sports reported that Morris is Swinney's first choice to replace the fired Billy Napier. Morris runs a high-tempo spread offense, as he learned the no-huddle approach from Auburn's Gus Malzahn, and he was once linked to Texas' OC opening because he was quarterback Garrett Gilbert's high school coach. It would be intriguing to see his offensive philosophy work with sophomore Tajh Boyd, who is in line to take over for Kyle Parker under center in 2011. Keep an eye on TCU co-OC/QB coach Justin Fuente if Swinney can't strike a deal with Morris.
…Nebraska's redshirt freshman quarterback Taylor Martinez reaffirmed his commitment to Nebraska on Wednesday amid rumors that he may be thinking of transferring. However, "T-Magic" will lose one of his backfield mates as sophomore third-string running back Dontrayevous Robinson is transferring to Montana State, where he will be eligible to play immediately because the Bobcats are an I-AA program. Robinson was expected to get more carries next season following the departure of Roy Helu Jr., but perhaps Robinson figured that he would lose out to top recruit Aaron Green for the backup slot behind sophomore Rex Burkhead in 2011.
One last note on Martinez: Although may expect Cornhuskers stud quarterback recruit Bubba Starling to never take a snap under center in Lincoln (he's the nation's top high school baseball prospect, according to Baseball America, and could net a signing bonus exceeding $5 milli on), the signal caller believes he could be the starter next fall at Nebraska — even with Martinez still at the school. "I just felt like I could get the job done as good as him, if not better," he said of "T-Magic." You have to love the bravado and confidence of the 6-5, 195-pound 18-year-old.
…With Notre Dame junior tight end Kyle Rudolph deciding to enter April's draft, is wide receiver Michael Floyd next in line? There's no question that Floyd has proved during his tenure in South Bend that he is one of the best receivers in the country. And even though he didn't put up eye-popping numbers in the first year of Brian Kelly's scheme, his Sun Bowl performance against Miami (FL) showed how dominant of a player he can be at any time. Factoring in the possibility of injury and the labor situation, we'll have to wait and see. But the coaching staff and NFL scouts have been impressed with his willingness to block and his maturation into a complete receiver — he just plays a position that is expected to be loaded in this year's draft.
…With junior Darren Evans announcing on Thursday that he will enter the NFL draft, Virginia Tech is now awaiting word on whether sophomore Ryan Williams will follow his lead. If both depart, the Hokies will still be in good hands at running back. Sophomore David Wilson proved this season that he could carry the load as the Hokies dealt with an array of injuries in the backfield. In terms of depth, it's very possible that junior fullback Josh Oglesby could move back to tailback. Keep in mind that he rushed for 335 yards as a sophomore behind Williams in 2009. And with redshirt freshman Logan Thomas likely to assume the starting quarterback role with Tyrod Taylor graduating, the Hokies may lean on their backs to carry the load, especially early in the season. Redshirt freshman Tony Gregory could also be in the mix if he is healthy after suffering a torn ACL late in the year.
On the recruiting trail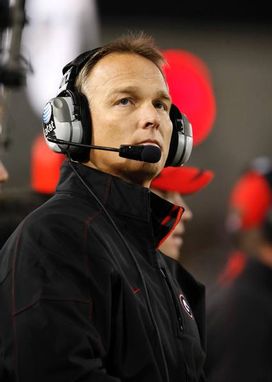 ICONMark Richt will enter 2011 on one of the hottest coaching seats in the nation.
• Mark Richt had to be disappointed when defensive end Xzavier Dickson and athlete Quan Bray decided to leave their home-state of Georgia and choose Alabama and Auburn, respectively. However, the two biggest fish in the sea — five-star defensive end Ray Drew and running back Isaiah Crowell — remain in play. I'm just not sure they'd be willing to go to a program with a head coach who is currently on shaky ground.
• It looked like four-star running back Dee Hart was heading to Tuscaloosa after switching his commitment from Michigan to Alabama on Sunday, but Hart said on Thursday evening that he never made a pledge. He did acknowledge that he was not headed to Ann Arbor and that the Crimson Tide is his top option as of now. With teammate Ha'Sean Clinton-Dix remaining committed to Alabama — at least for now — most in the know still believe that Tuscaloosa will ultimately be Hart's destination.
Victory formation
This is just speculation, but I have a feeling that Les Miles indeed ends up at Michigan. Wolverines athletic director Dave Brandon knows that this hire will define his legacy, and I think he feels that San Diego State's Brady Hoke — despite being a "Michigan man" — is too risky of a hire because he hasn't had the experience on a big stage. And I think that Miles understands that there will always be a large number of Tigers fans who question his coaching ability — even with a BCS National Championship on his resume.
Email dave.miller@nationalfootballpost.com or follow me on Twitter at Miller_Dave