February 12, 2011 -
Dave Miller
College football notebook
We are not that far away from the opening of spring practice. While start dates vary from team to team across the country, two programs begin preparations for the 2011 season on Wednesday: Duke and Army.
Yes, it truly is a beautiful thing.
Let's open up this weekend's notebook and see what's happening on campuses across the country.
Recruiters of the year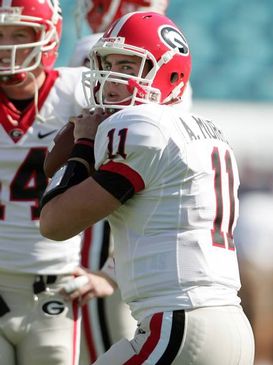 ICONAaron Murray had a fine debut season as a starter, and a lot of his success can be credited to Mike Bobo.
Georgia's Class of 2011 has been receiving a lot of buzz — and for good reason. The Bulldogs landed their Dream Team of in-state talent, and now it's up to Mark Richt and his staff to develop these youngsters and turn the program back into a consistent winner. One member of the staff who is getting much of the praise for the success of this recruiting class is oft-criticized offensive coordinator Mike Bobo. While the Dawgs have sputtered at times offensively in recent seasons (see weak line and underachieving running backs), Bobo worked wonders with quarterback Aaron Murray in 2010, getting his young signal-caller prepared for the rigors of a full SEC campaign.
On the recruiting trail, Bobo's work can be unquestioned, as Rivals named him as one of the top 25 recruiters for 2011.
From Rivals.com:
Georgia pushed to the top five in recruiting this year largely behind the efforts of Bobo, who was credited with many of the top commitments. He landed five-star defensive end Ray Drew as well as four-stars Christian Lemay, Nick Marshall, Malcolm Mitchell, Jay Rome and Justin Scott-Wesley. Bobo had a hand in signing 10 of Georgia's 26 commitments in what is easily the most important recruiting cycle of his and head coach Mark Richt's career. Talk about clutch.
Here is the rest of Rivals' top 25 list
Recruiter of the year: Frank Wilson (LSU)
Others: Tony Alford (Notre Dame), Joe Barry (USC), Tim Beck (Nebraska), Lawrence Dawsey (Florida State), Luke Fickell (Ohio State), Odell Haggins (Florida State), Clint Hurtt (Louisville), Adrian Klemm (SMU), Tosh Lupoi (California), G.A. Mangus (South Carolina), Tee Martin (Kentucky), Jim McElwain (Alabama), Ed Orgeron (USC), Don Pellum (Oregon), Sam Pittman (North Carolina), Anthony Poindexter (Virginia), Robert Prunty (Texas Tech), Joe Rudolph (Wisconsin), Brad Scott (Clemson), Sal Sunseri (Alabama), Trooper Taylor (Auburn), Tommy Thigpen (Auburn), Darrell Wilson (Iowa).
Skinny posts
…Has Randy Shannon finally landed a new gig? Multiple outlets reported Thursday night that the former Miami head coach and Maryland were very close to an agreement that would make Shannon the team's new defensive coordinator. While it seems that both sides want to get this deal done, Shannon did return to Miami without a deal in hand — which always is cause for concern. Of course, Shannon was reported to be UCLA's new defensive coordinator and that didn't work out. But this opening makes a lot of sense because Shannon knows the ACC, would be able to remain on the East Coast and continue to take advantage of his recruiting contacts in Florida.
…Meanwhile, Rick Neuheisel still hasn't found a coach to run his defense, but he said that he hopes to have one by the weekend. Neuheisel admitted that he picked a new DC three times this offseason, only to have something fall through. Just a random thought, but it looks like Neuheisel and the Bruins seem destined to have another disastrous season.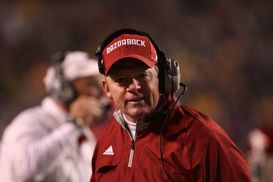 ICONIf there's a way to help land a recruit, Bobby Petrino has likely thought of it.
…To what extent will you go to land a coveted high school recruit? If you're Arkansas head coach Bobby Petrino and the school's athletic department, you lease a 10-foot-by-36-foot billboard in Yuma, Ariz. — a full 1,406 miles from Fayetteville. The hope was to snag offensive tackle prospect Aaron Douglas, who is enrolled at Arizona Western Junior College. The billboard on Interstate 8 read as follows: "Arkansas Football. Visit ThisIsArkansasFootball.com." The cost of the pursuit? $1,704. The recruitment tool didn't work, as Douglas decided to go to Alabama instead. Petrino was able to bring in three other recruits from Arizona, but they were from the Phoenix area — about 200 miles away from Yuma. Clearly, Petrino doesn't mind finding good prospects from any part of the U.S. — or Canada — as Arkansas' 2011 recruiting class has players from 13 different states and the land up north.
…Oklahoma State finally landed a new offensive coordinator when the school hired Todd Monken, who spent the past four years in the NFL as a receivers coach for Jacksonville after previously coaching quarterbacks for the Jaguars. Monken has ties to the Cowboys program, as he coached receivers at Oklahoma State from 2002-04. Head coach Mike Gundy was looking for a new offensive leader since Dana Holgorsen announced on Dec. 14 that he was leaving to become the offensive coordinator/head-coach-in-waiting at West Virginia. Don't expect too much of the Cowboys offense to change in 2011, as Gundy clearly trusts that Monken won't do anything drastic. After all, what tinkering needs to be done with five returning offensive linemen, All-Big 12 quarterback Brandon Weeden and Biletnikoff Award-winning receiver Justin Blackmon? But it is possible that the Cowboys will revert back to a more pro-style attack in the future under Monken, who hasn't had play-calling responsibilities since 1999 when he was the OC at Eastern Michigan. He's been part of a pro-style attack since his first stint in Stillwater and at his stops at LSU and in the NFL.
…I mentioned this week the plan for Arizona to redshirt backup quarterback Matt Scott, the idea being that he can succeed Nick Foles when he departs after the 2011 season. But Wildcats quarterbacks coach Frank Scelfo said that calling him a redshirt now is premature, as he could be needed if Foles went down with an injury. Scott won't take it easy and simply work on the scout team. Rather, he will work to try to get better and be ready to play — because he's just one snap away from being pressed into action. Another factor that could alter a redshirt plan is if Arizona lands Rutgers transfer Tom Savage, who would give the Wildcats an experienced signal-caller when he becomes eligible in 2012.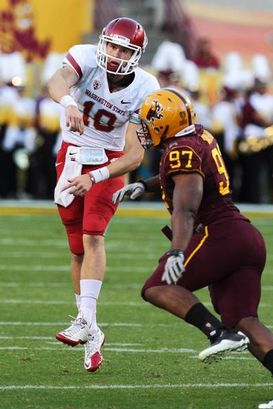 ICONJunior Onyeali was the Pac-10 defensive freshman of the year in 2010.
…Arizona State could be without two of its top players when spring practice arrives on March 22. Defensive end Junior Onyeali, the Pac-10 defensive freshman of the year, had surgery in January to repair a torn right labrum. However, he said that the shoulder — which popped out of its socket three times last season — feels its best since his senior year in high school. The 5-11, 233-pounder had 11.5 tackles-for-loss and a team-high 6.5 sacks while being banged up. Meanwhile, quarterback Steven Threet has not yet been cleared to participate in spring practice after suffering three concussions this past season. Head coach Dennis Erickson described the position under center as wide open, however, after junior Brock Osweiler threw for 380 yards and four touchdowns in a win over UCLA and then led the Sun Devils to a victory over Arizona to close out the season. Osweiler completed 57 percent of his passes for 797 yards with five touchdowns and no interceptions last season, and his ability to avoid mistakes is the main reason why Osweiler could be the favorite to win the starting job even if Threet is healthy.
…Mississippi's rising junior quarterback Randall Mackey had surgery on Thursday for a torn meniscus, according to head coach Houston Nutt. Mackey, who redshirted last fall after transferring from junior college, is expected to be in the mix to replace Jeremiah Masoli under center in 2011. He is expected to be recovered in time for the start of spring practice, however, on March 28. Mackey will face competition from rising junior Nathan Stanley, junior-college transfer Zack Stoudt and West Virginia transfer Barry Brunetti. He also could move to receiver if he falls too far down the depth chart.
…New Temple head coach Steve Addazio is turning the city of Philadelphia into Gainesville these days. The former Florida offensive coordinator completed his staff on Wednesday when he hired former Gators quarterbacks coach Scott Loeffler as his OC. Addazio had previously named former Florida co-defensive coordinator Chuck Heater as his DC. Loeffler was considered a rising star among the coaching ranks, as he reportedly impressed Les Miles when the Mad Hatter was interviewing candidates for LSU's coordinator opening. Running the Owls offense will be a good opportunity for a first-time play-caller, especially because Addazio is a former OC who can help break in Loeffler. The Owls are expected to employ a pro-style attack no matter who is under center, whether it is rising junior Mike Gerardi, soon-to-be senior Chester Stewart or rising sophomore Chris Coyer. Loeffler worked with Tom Brady at Michigan, so he has a track record.
…Michigan State found success by turning to a transfer at left tackle last season, and head coach Mark Dantonio may go to the well again in 2011. After graduating starter D.J. Young arrived from Bowling Green, the Spartans signed offensive lineman Fou Fonoti from the junior college ranks. Fonoti, a cousin of former Spartans Tupe Peko and Domata Peko, has manned the right tackle position throughout his career but was recruited to East Lansing to play on the left side. Fonoti, who began his college career at 17 and is only 19 years old, could always end up on the right side, where J'Michael Deane is departing, as well.
Victory formation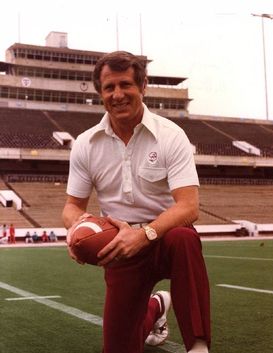 Emory Bellard, the father of the wishbone.
The name Emory Bellard may not have a place in football history such as Vince Lombardi or Knute Rockne, but the former Texas A&M and Mississippi State head coach has long been credited with being the father of the wishbone offense when he was an assistant at Texas. Bellard, who also coached on the Texas high school circuit for more than two decades, passed away this past Thursday at the age of 83 after battling Lou Gehrig's disease. He was on the great Darrell Royal's staff at Texas in 1968 when the Longhorns developed the multiple-running back formation that came to be known as the wishbone. From a personal standpoint, I grew up playing Bill Walsh College Football '95 on the Sega Genesis, and I always enjoyed running the wishbone attack while playing as Notre Dame or Army. My thoughts and prayers go out to the entire Bellard family.
When it comes to anything and everything related to college football, I will continually spread what I hear on Twitter throughout the day at Miller_Dave, so be sure to stay tuned if you're a frequent tweeter. Also, you can find my stories under my Against the Grain column. And feel free to email me at dave.miller@nationalfootballpost.com
Enjoy our first football-less weekend in a long, long time.
Want to work in the NFL? Click here to sign up for the NFP's "Chalk Talk at the Combine" Seminar February 25 in Indianapolis.