January 15, 2011 -
Dave Miller
College football notebook
With top-ranked Auburn knocking off No. 2 Oregon in the BCS National Championship Game on Monday night, the college football season came to an exciting end.
Really, though, the fun has just begun. With new coaching staffs getting assembled, high school recruits making last-minute decisions and spring practices not too far off, there's never a dull moment in the college football world.
So let's open up this weekend's notebook and see what's happening on campuses across the country.
Head-coaching changes
Here's a look at how the coaching carousel has unfolded this offseason.
Program: Who is Out, Who is In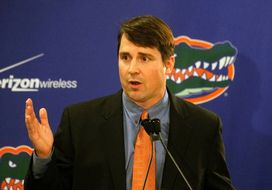 ICONNew Florida head coach Will Muschamp
Arkansas State: Steve Roberts, Hugh Freeze
Ball State: Stan Parrish, Pete Lembo
Colorado: Dan Hawkins, Jon Embree
Connecticut: Randy Edsall, Paul Pasqualoni
Florida: Urban Meyer, Will Muschamp
Indiana: Bill Lynch, Kevin Wilson
Kent State: Doug Martin, Darrell Hazell
Louisiana-Lafayette: Ricky Bustle, Mark Hudspeth
Maryland: Ralph Friedgen, Randy Edsall
Miami (FLA): Randy Shannon, Al Golden
Miami (OH): Mike Haywood, Don Treadwell
Michigan: Rich Rodriguez, Brady Hoke
Minnesota: Tim Brewster, Jerry Kill
Northern Illinois: Jerry Kill, Dave Doeren
North Texas: Todd Dodge, Dan McCarney
Pittsburgh: Dave Wannstedt, Mike Haywood
Pittsburgh: Mike Haywood, Todd Graham
San Diego State: Brady Hoke, Rocky Long
Stanford: Jim Harbaugh, David Shaw
Temple: Al Golden, Steve Addazio
Tulsa: Todd Graham, Bill Blankenship
Vanderbilt: Robbie Caldwell, James Franklin
Skinny posts
…Losing Todd Graham to Pittsburgh definitely is a blow to Tulsa, but the Golden Hurricane were able to bring in a nice array of candidates during the interview process. The problem is, the school swung and missed on every candidate it targeted. Texas A&M defensive coordinator Tim DeRuyter, who rebuilt an atrocious Aggies defense this past season, turned down the job after finding out he would be paid only $500,000 per season. So then reports broke Thursday evening that Tulsa native and Arkansas offensive coordinator Garrick McGee was slated to take over head-coaching duties. However, McGee formally announced in a statement Friday morning that he was withdrawing his name from consideration. So the school stayed in-house and chose senior associate head coach Bill Blakenship, who was not thought to be a serious candidate for the job. However, the former Tulsa quarterback was the only one who would take a small salary. I'm still really surprised that former offensive coordinator Chad Morris passed up the job to honor his commitment at Clemson, but that speaks to his character. TCU co-OC Justin Fuente, a Tulsa native like McGee whom Morris beat out for the Clemson opening, also talked to the school but was never brought back into play. There's no question that the Golden Hurricane can have a nice future in C-USA, and the momentum is there after finishing the season on a seven-game winning streak — including wins over Notre Dame and a bowl win over Hawaii. But this weekend is a big recruiting weekend, and this seemed like a really messy search. It doesn't seem like the administration was willing to bump up the salary being offered, so it settled for a coach seemingly on the bottom of the list of candidates.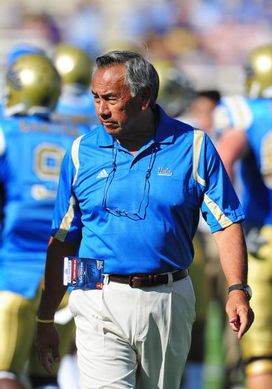 ICONIs Norm Chow headed out of L.A.?
…Will Norm Chow end up at Utah? It would be a great get for the Utes, but I'm not sure the school can afford him. The former Utes offensive guard, who made a name for himself as OC/QB coach at rival BYU, reportedly made $640,000 last year. The highest-paid assistant on the Utes in 2010 was defensive coordinator Kalani Sitake, whose base salary was just $170,000. Of course, Chow is still employed by UCLA despite head coach Rick Neuheisel hiring Mike Johnson as the new OC. Chow clearly will either be demoted or fired, and he just may wait to get fired so he can collect his full salary. San Diego State also reportedly had interest in Chow after losing Al Borges to Michigan, but it appears that Utah would make the most sense. How about Chow facing Neuheisel and the Bruins every year in the Pac-12? That is, if Neuheisel is in Westwood past 2011. It should also be noted that Utah currently runs its offense with co-OCs Aaron Roderick and Dave Schramm. Schramm was the main OC in 2009 before Roderick was promoted and given play-calling duties for 2010. Schramm has also coached a variety of positions during his tenure while Roderick is the current wide receivers coach, so perhaps a reshuffling of duties would occur if Chow was brought aboard.
…Which direction will Les Miles go in his search to find a new leader of the LSU offense? There are conflicting reports on whether the Mad Hatter will look outside the program or stay in-house. Derek Ponamsky of BayouBengalsInsider.com reported that Miles has already talked with four candidates, but the only one who he can confirm is Arizona quarterbacks coach Frank Scelfo, a Louisiana native who has served as offensive coordinator at Tulane and Louisiana Tech. However, sources also told Ponamsky that Miles is likely to promote a current assistant to OC and then hire a QB coach. A name to keep an eye on if he stays in-house is wide receivers coach Billy Gonzales, who left Florida when he was passed over for the OC gig vacated when Dan Mullen left for Mississippi State. Outside of the program, Tennessee's Jim Chaney could be a fit because he was inherited by Volunteers head coach Derek Dooley. However, the Vols have a budding offense in Knoxville so Chaney may not even be interested. TCU's Fuente and Washington OC Doug Nussmeier could also be in the mix.
…I don't love the Paul Pasqualoni hire at UConn because I thought the school should have gone the Randy Edsall route—hiring a smart, young coach who wouldn't mind sticking around for awhile. I know Pasqualoni has ties to the Northeast, but things didn't end great at Syracuse. And he's been away from the college game for awhile. With the influx of young coaches in the Big East, it just doesn't strike me as a smart hire. Now it seems that former Miami (FL) offensive coordinator Mark Whipple was athletic director Jeff Hathaway's top choice, but either low salaries for his assistants or the school asking Whipple to keep some of Randy Edsall's staff could have been the snag in discussions.
On the recruiting trail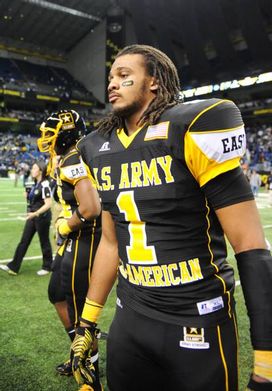 ICONOne of the nation's top defenders, Ishaq Williams, is headed to South Bend.
• On Friday, Notre Dame received a commitment from Ishaq Williams, one of the most dominant defenders in the 2011 class, as coordinator Bob Diaco keeps pushing all the right buttons in South Bend. The defensive end from Brooklyn, N.Y., opted for the Fighting Irish over Syracuse and Penn State. The 6-6, 220-pounder, who is expected to play outside linebacker, was supposed to make his announcement last weekend at the U.S. Army All-American Bowl in San Antonio, Texas. Instead, the Lincoln High chose the Irish before taking an official visit to Penn State this weekend before deciding. The four-star talent is the biggest defensive "get" for the school since Manti Te'o. He is expected to enroll this semester. Meanwhile, Notre Dame is still in the running for defensive end Aaron Lynch, who is on an official visit to South Bend this weekend. Of course, he was once committed to the Irish before switching to Florida State and backing off that commitment.
• Is Stanford feeling the effects of losing Jim Harbaugh already? Four-star running back commit Amir Carlisle will take an unofficial to USC on Saturday before making his final decision on Sunday. His final list includes the Cardinal, the Trojans and Notre Dame. Carlisle will have his parents with him this weekend, so he quite possibly could be leaning toward signing with Lane Kiffin.
• One of the nation's best tight end's, Jay Rome of Georgia, will announce his college decision next Thursday. Georgia, Tennessee, Clemson and Alabama, which he visits this weekend, are the finalists for his services. His high school teammate, four-star wide receiver Malcolm Mitchell, is also scheduled to announce that day. Mitchell is down to Georgia and Alabama, and he'll also be visiting Tuscaloosa this weekend. Will Nick Saban land the pair, will they go their separate ways or could Georgia head coach Mark Richt add some weapons for quarterback Aaron Murray? The pair could go a long way toward landing five-star defensive end Ray Drew and five-star running back Isaiah Crowell — all from the land of peaches.
Victory formation
Congratulations to Houston senior quarterback Case Keenum, who was granted a sixth year of eligibility by the NCAA, according to Steve Campbell of the Houston Chronicle. Because he took a traditional redshirt as a true freshman, Keenum was not expected to win his appeal for a sixth season, which is usually only granted when a student misses two seasons for reasons beyond his control. Campbell writes that the school claimed that a collarbone injury kept Keenum off the field in 2006, and the NCAA must have been in a good mood. So head coach Kevin Sumlin will get his veteran signal-caller back once he fully rehabs his torn ACL. The high-powered Houston attack really struggled as it was forced to turn to multiple freshmen.
When it comes to the assistant coaching carousel, the recruiting trail or anything else related to college football, I will continually spread what I hear on Twitter throughout the day at Miller_Dave, so be sure to stay tuned if you're a frequent tweeter. Also, you can find my stories under my Against the Grain column.