January 29, 2011 -
Dave Miller
College football notebook
National Signing Day is Wednesday, and the Class of 2011 still has plenty of uncommitted future college stars. Be sure to stay with the NFP for all of the latest recruiting news.
But for now, let's open up this weekend's notebook and see what's happening on campuses across the country.
Hoke tries to piece together Michigan's Class of 2011
It will be interesting to see how new Michigan head coach Brady Hoke does in assembling the Wolverines' 2011 class. Rich Rodriguez went away from recruiting in-state players because many of them didn't fit into Rich Rod's offensive schemes, but it's essential that Hoke keeps these players home as he transitions the program into a new era. Of course, rebuilding relationships with local high school coaches is the first step. This shouldn't be a problem for the Michigan Man, as he knows the state and the entire Midwest pretty well. Getting three-star offensive tackle Jacob Fisher to stay home and recommit to the Wolverines after flirting with Florida would be a nice early coup for Hoke and his staff, which had just about three weeks to piece this class together.
When all is said and done, it's likely that Michigan's class will rank in the 30's when averaging all of the rankings of the top recruiting services. But the new staff somehow was able to keep 10 of the 12 existing commitments and even add some new ones. While the Wolverines may not have a large number of four-star recruits and none of the five-star variety, new coordinator Greg Mattison is helping to replenish the defense. Twelve of their 16 commitments are defenders, and Raymon Taylor is a solid defensive back who could contribute immediately.
On the recruiting trail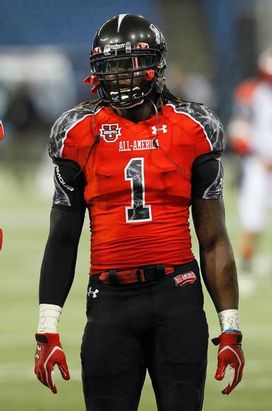 ICONWill Isaiah Crowell land at Alabama or Georgia?
• It's down to two schools for five-star running back Isaiah Crowell of Georgia. After canceling an official visit to Auburn this weekend, Alabama and Georgia remain the last two teams standing. He will take the next few days to sit down and discuss the decision with his family. With the Bulldogs receiving a commitment from Crowell's best friend, safety Quintavious Harrow, many believe Crowell will stay in-state and play for Mark Richt. In addition, Alabama already has four-star running back Dee Hart in the fold. I know it's tough to turn down Nick Saban, but I think Crowell ends up in Athens. This could be the best class of Richt's tenure. Question is, will he be around to see it through?
• With Ray Drew committing to Georgia on Friday, the stud defensive end is working to bring four-star offensive tackle Antonio Richardson of Tennessee to Athens to give Mark Richt an insanely strong 2011 class. Richardson will take an official visit to Auburn this weekend after visiting Tennessee and Georgia the past two weekends. Drew called for Richardson to become a Bulldog during his own announcement, but Richardson has been one of Vols head coach Derek Dooley's top targets since he arrived in Knoxville.
• Could four-star outside linebacker Stephone Anthony of North Carolina end up playing on Bud Foster's Virginia Tech defense? Anthony is the cousin of Hokies starting middle linebacker Barquell Rivers, and he took an official visit to Blacksburg last weekend before heading to Chapel Hill this weekend. In recent days he has hosted coaches from Florida, Virginia Tech and Clemson, and he also is still considering NC State. But the Hokies are considered the favorite for his services.
• Kenny Hilliard, a four-star running back recruit from Louisiana, was finally cleared by the NCAA this week to enroll at LSU and will be eligible to participate in spring practice despite missing eight days of classes. With Stevan Ridley and Richard Murphy moving on from Baton Rouge, Hilliard may have a chance for some carries despite the presence of impressive sophomores Michael Ford, Spencer Ware and Alfred Blue — all of whom had at least 20 carries and 100 yards in 2010. After all, Les Miles and Co. didn't have a problem essentially going five-deep at the position last season. Former Georgia Bulldog and junior-college transfer Zach Mettenberger also enrolled early, and he has a legitimate shot at running Steve Kragthorpe's offense under center in 2011. Five-star defensive tackle Anthony Johnson also began classes on Jan. 18.
• Ohio State has already rounded up a class that will likely finish in the top 10 nationally when all is said and done. But the Buckeyes could really receive a boost if four-star prospects Curtis Grant of Virginia and Aundrey Walker of Ohio choose to go to Columbus. Grant, an inside linebacker, is expected to choose between the Buckeyes and Florida, while the 6-5, 355 pound Walker, an offensive guard, has reportedly always been leaning toward Ohio State. The Buckeyes also have offered spots to four-star wide receiver Ja'Juan Story of Florida and four-star athlete Darius Jennings of Maryland, but Story is expected to stick with his commitment to Will Muschamp's Gators and Jennings likely will land with Mike London's Virginia squad.
• If you're a recruit, you don't want to mess with Georgia Tech head coach Paul Johnson. On Thursday, Johnson dropped three-star defensive tackle Tre Jackson — Tech's highest-rated defensive recruit — after he agreed to take an official visit to Florida State this weekend. Before Jackson even arrived in Tallahassee, his scholarship offer was pulled. The Yellow Jackets nearly faced a similar situation in December when four-star athlete Vad Lee of North Carolina was considering taking visits after the season. The Jackets currently have 23 commitments for the 2011 class, but none at defensive tackle. Coordinator Al Groh certainly cannot be happy.
Skinny posts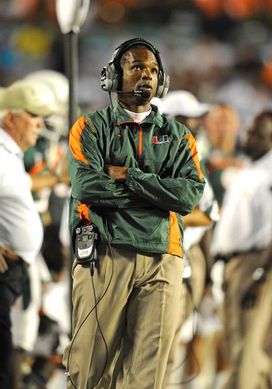 ICONCould Randy Shannon land in Westwood?
…Who will ultimately assume defensive coordinator duties at UCLA? There have been conflicting reports as to whether former Miami head coach Randy Shannon received or did not receive an offer, but former USC safety and current New York Jets defensive line coach Mark Carrier is a serious candidate. Some have speculated that Carrier could be a DC-in-waiting under Shannon, but it isn't a stretch to believe that Carrier is a legitimate candidate considering new offensive coordinator Mike Johnson has less than a full season of coordinator experience himself. Carrier, like Johnson, worked with Rick Neuheisel on the Baltimore Ravens staff so it's clear that having coaches he could easily work with is the biggest selling point for any coaching candidate.
In other UCLA news this week, the NCAA granted a sixth year of eligibility to left tackle Sean Sheller, who had missed both the 2006 and 2008 seasons with injuries. After a disastrous 2010 season along the line, the Bruins could be solid next fall with Sheller and senior Mike Harris manning the tackle spots; senior center Kai Maiava returning from a broken ankle that shelved him the entire season; and junior Jeff Baca, who has 21 career starts despite being academically ineligible for 2010. But again, better quarterback play under center will be needed for Neuheisel to survive in Westwood.
…South Florida alone will not be able to keep Central Florida out of the Big East. According to Iliana Limon of the Orlando Sentinel, the conference does not require a unanimous vote to add a new member, so the Bulls' objections by will not prevent UCF's candidacy if the league indeed wants the Knights as its tenth member. In addition, Limon reports that the conference will make a decision on expansion by March 1, echoing the comments of commissioner John Marinatto, who stressed that the league would not be waiting on Villanova's decision in April.
…The starting quarterback gig in Miami will definitely be up for grabs in 2011, according to new offensive coordinator Jedd Fisch. Despite his high interception total this past season, senior Jacory Harris will have a "clean slate." But he'll have to fight off stiff competition from Stephen Morris, who showed flashes of stellar play during his true freshman campaign when Harris went down with a concussion. In an interview on Miami's WQAM-AM 560, Fisch said that "both have an opportunity to do something special." Consistent play under center will definitely correlate with the degree of success for new head coach Al Golden in his first season with the Hurricanes.
…In a bit of a surprise move, USC wide receiver Brice Butler announced on his Twitter feed this week that he is leaving USC. It's odd because the Trojans will lose Ronald Johnson and David Ausberry, so there were reps to be had for the redshirt sophomore. However, quarterback Matt Barkley still has plenty of talent at receiver in sophomore Robert Woods, senior Brandon Carswell, redshirt freshman Kyle Prater and five-star recruit George Farmer figure to round out the rotation.
…Earlier this week I mentioned that Tom Savage was being blocked by Rutgers from discussing a transfer with Miami. Well, Arizona has emerged as a legitimate contender to obtain the former Scarlet Knights signal-caller. With starter Nick Foles and Matt Scott graduating after 2011, the job under center will be wide open in Tucson when Savage is eligible in 2012. Despite his interest in playing for the Hurricanes, the Wildcats were on his initial list of interest.
Victory formation
It certainly looks as if Mark Richt will be all smiles on National Signing Day. There's no question that the Bulldogs have a top-10 class. In terms of their 2011 fortunes, however, it still comes down to having a better running game to complement quarterback Aaron Murray — whose play was not the problem last year. They'll have to replace A.J. Green and underrated Kris Durham at receiver, and three veteran offensive linemen will depart. Ray Drew should make an immediate impact and help make up for the loss of pass-rusher Justin Houston, and they'll return the entire secondary. The defense must play better in year two under Todd Grantham, though, and the Bulldogs can't stub their toes as they did so often in 2010.
When it comes to anything and everything related to college football, I will continually spread what I hear on Twitter throughout the day at Miller_Dave, so be sure to stay tuned if you're a frequent tweeter. Also, you can find my stories under my Against the Grain column.
Enjoy the Senior Bowl!