March 05, 2011 -
Dave Miller
College football notebook
Back from the NFL Scouting Combine in Indianapolis, the weekend college football notebook returns to its roots as the NFP goes around the country and checks in on what is happening on campuses across the nation.
Spring practice news
Clemson's offensive retooling began in earnest on Friday afternoon as the Tigers commenced spring practice with new coordinator Chad Morris. On Thursday, Morris promised that he was going to push his players "well out of their comfort zone," which is a good thing considering the team's offensive woes in 2010. There's been a lot of intrigue as to what the offense will actually look like, but keep in mind that Morris is a disciple of Gus Malzahn, so it's likely we'll see new starting quarterback Tajh Boyd running an up-tempo, no-huddle attack. The competition should be fierce at running back and receiver, as D.J. Howard and Demont Buice will get extended looks in the backfield while Joe Craig, Brandon Ford, Marquan Jones and Bryce McNeal will look to make impressions before the Tigers' highly touted receiving class arrives on campus. I'll have a report early next week on the initial impressions from Clemson's spring camp.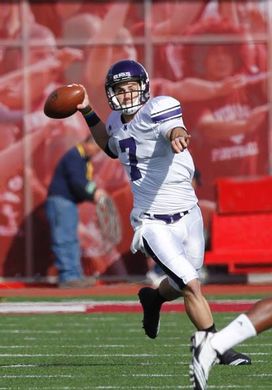 ICONDan Persa will remain sidelined during spring practice but he is still ahead of schedule in his rehab.
Northwestern quarterback Dan Persa remains ahead of schedule in his rehab from a ruptured Achilles tendon suffered last November in the win against Iowa. However, the dual-threat signal-caller will remain sidelined for the most part when the Wildcats begin spring practice on Monday. Offensive coordinator Mick McCall hopes that Persa will be able to throw some routes to receivers, but he will not participate in 7-on-7 or full team drills. Persa is expected to participate fully in the start of summer camp. Evan Watkins and Kain Colter will take most of the spring reps in Persa's absence.
Texas wide receiver Mike Davis continues to impress Mack Brown down in Austin at spring practice. The rising sophomore caught 47 passes for 478 yards and two touchdowns last season, and his role is expected to increase dramatically with leading receiver James Kirkendoll out of eligibility. Although he's young, he's being looked upon to take on a bigger leadership role for some of the other younger players on offense. Davis' work ethic and desire to compete and get better is making quite the impression on the staff. Meanwhile, no one has established himself yet in the four-man competition for the starting job under center. Of course, it's well too early as all the players continue to learn a new offense under a new coordinator. Case McCoy, Connor Wood and David Ash are all competing with incumbent Garrett Gilbert for the job. I'll have more on this competition next week.</p>
Spring flings
— How will Utah replace all four starters in its secondary?
— Will Oklahoma State's offense remain as potent under Todd Monken, who replaces Dana Holgorsen at coordinator?
— Replacing Blaine Gabbert will be of primary importance, but with a solid offensive line and renewed emphasis on the run, Missouri should be fine on offense. But how will the Tigers replace three starters in the secondary?
— Washington State's offensive line allowed 51 sacks in 2010, the second-highest total in the nation. The rushing attack was subpar, as well. Meanwhile, the Cougars' defense was brutal against the run and didn't generate enough of a pass rush. Can they get tougher on both sides of the ball?
— Kevin Wilson begins his first head-coaching gig as he looks to turn the Hoosiers into a consistent winner. While he is an offensive mind, Wilson must improve a defense that ranked 10th in the Big Ten in scoring.
— The Syracuse defense was instrumental in getting the Orange back to the postseason. But linebackers Derrell Smith and Doug Hogue are gone. Can Marquis Spruill and Co. pick up the slack?
Skinny posts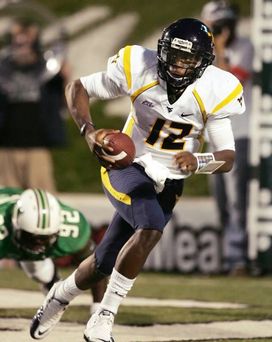 ICONGeno Smith will be able to participate in spring practice as Dana Holgorsen implements a new offense.
…It looks as if West Virginia quarterback Geno Smith will indeed be available for spring practice despite having surgery on his left foot after being injured in the Mountaineers bowl loss to NC State. Missing time in spring sometimes gets overblown, but that isn't the case in Morgantown this season. New offensive coordinator Dana Holgorsen is installing his Air Raid offense in spring drills, which begin on March 28, so the rising junior will be able to physically participate instead of just reading the playbook and sitting on the sideline. Smith is still wearing a walking boot but says he's been told that he'd be cleared to go.
With Noel Devine moving onto the NFL, the Mountaineers will have a hole at running back. Holgorsen said that rising junior wide receiver Tavon Austin, who was recruited as a running back, will be considered for duty in the backfield. The team also has Andrew Buie and Dustin Garrison, backs that Holgorsen said are comparable to Austin in that they are light on their feet. However, Buie and Garrison won't arrive until the summer.
…While Marcus Coker did a phenomenal job quickly solving Iowa's depth issues in the backfield during the Insight Bowl win over Missouri, expect the Hawkeyes to once again employ multiple backs in 2011, according to Marc Morehouse of the Cedar Rapids Gazette. While the rising sophomore Coker sits atop the depth chart, redshirt freshman De'Andre Johnson should get a decent amount of carries as the primary backup. But what about one of the talented backs from the Class of 2011?
Out of the four signees from this past recruiting haul, Rodney Coe is the most likely candidate to make the most impact. The 6-3, 250-pounder, who could still end up on the defensive side of the ball, is physically ready to adjust to the college game. Morehouse says that Mika'il McCall "probably sees the field next fall" as well. McCall possesses a nice combination of size and speed.
…Georgia announced three position changes on Thursday, with all three players projected to start. The most notable move is rising sophomore Alec Ogletree, who will move from safety to inside linebacker. He'll pair up with rising junior Christian Robinson, allowing USC transfer Jarvis Jones to play on the outside opposite soon-to-be junior Cornelius Washington, who takes over for Justin Houston. Five-star recruit Ray Drew is expected to compete with Washington for playing time on the outside. In addition, rising senior Justin Anderson is moving back to offense and is slated to start at left guard while rising senior Cordy Glenn is being shifted to right tackle to replace Josh Davis.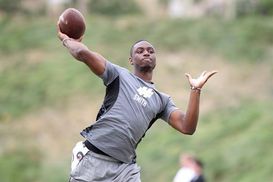 Is DaMarcus Smith's career at Central Florida over before it even began?
…It's looks as if DaMarcus Smith's career at Central Florida will be a very short one. The quarterback recruit out of Kentucky, who appeared to be a steal for the Knights, wants out of his letter of intent and wants a full release, according to Jody Demling of the Louisville Courier-Journal. It is believed that Smith still wants to attend Louisville, where he was committed for more than a year before Charlie Strong pulled his offer and then reinstated it. The signal-caller has not attended classes at UCF so he should be eligible at Louisville this fall if he is released and ends up with the Cardinals. With UCF's starting quarterback Jeffrey Godfrey not moving to wide receiver, perhaps Smith feels it's in his best interest to move on. Will head coach George O'Leary let go that easily?
…Early-enrollee quarterback Brock Berglund will not be able to make an impression on Turner Gill and Co. this spring in the Jayhawks' quarterback derby as the youngster has returned home to Colorado to attend to a personal matter and will not participate in spring practice. Berglund will reportedly take classes online and the staff said it's still possible for him to take part in drills if he's able to return. By taking online classes, he will still be eligible for the fall, when he'll try to make an impact in the competition with rising sophomore Jordan Webb and rising senior Quinn Mecham. We wish Berglund the best as he takes care of business back home.
…Five of Florida State's expected starters will miss spring practice as they recover from surgeries, according to head coach Jimbo Fisher. While no details were provided, Fisher said that rising senior tackles Andrew Datko and Zebrie Sanders, rising junior nose guard Jaccobi McDaniel, rising sophomore cornerback Xavier Rhodes and rising junior safety Nick Moody will not participate in spring drills but are expected back for training camp. This isn't terrible news for a team as deep as the Seminoles, as some of the younger reserves will get a closer look at those positions. Rising sophomore linebacker Jeff Luc and redshirt freshman linebacker Holmes Onwukaife will also be sidelined this spring.
Victory formation
Just as Pittsburgh Pirates fans feel revived and excited when spring training rolls around every year (well, maybe that's a bad example), college football fans are able to feel the same when their school hits the field for spring practice. While games aren't won and bowl bids aren't handed out, spring practice still serves as a college football fix for those in desperate need. So enjoy it, but don't take it too seriously, either — unless your star player gets hurt.
When it comes to anything and everything related to college football, I will continually spread what I hear on Twitter throughout the day at Miller_Dave, so be sure to stay tuned if you're a frequent tweeter. Also, you can find my stories under my Against the Grain column.
Have a college football question? Feel free to send me an email at dave.miller@nationalfootballpost.com.
Have a great weekend.