February 19, 2011 -
Dave Miller
College football notebook
Spring practice is underway at Duke and Army, so the ball is rolling on preparations for the 2011 campaign. With much of the nation enjoying balmy weather conditions the last few days, we are inching closer to another baseball season — and another countdown to pigskin.
Let's open up this weekend's notebook and see what's happening on campuses across the country.
Is there an Aaron Rodgers in this group?
As more and more teams begin spring practice over the next month, I will be taking a look at some of the most interesting position battles occurring in camps across the country. One competition that surely will be fierce is the battle under center in Berkeley, where rising senior Brock Mansion and rising junior Beau Sweeney will get pushed from rising sophomore Allan Bridgford, redshirt freshman Austin Hinder and transfer Zach Maynard. After what seemed like a ten-year career at Cal, Kevin Riley has run out of eligibility, forcing head coach Jeff Tedford to find a new leader on offense.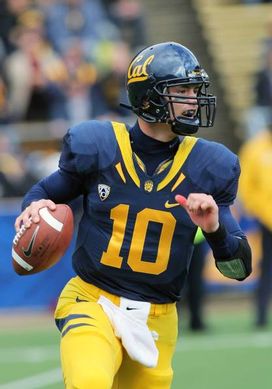 ICONWill Brock Mansion succeed Kevin Riley under center at Cal?
When Riley was lost for the rest of the 2010 season in late October, Mansion assumed the starting job and was underwhelming down the stretch. He never threw more than 173 yards in a game, recorded two touchdowns compared to five interceptions and finished with a completion percentage below 50.0 percent. The 6-5, 232-pounder hopes that his playing experience can eventually win out over his fellow signal-callers, but he'll have to have a strong offseason beginning in spring drills.
Meanwhile, rising junior Maynard has generated enough interest to be deemed by many nationally as the projected winner of the quarterback derby. Buffalo's former starter, whose half-brother is emerging Golden Bears receiver Keenan Allen, Maynard is a gifted athlete with 12 starts under his belt with the Bison. He's thrown for nearly 2,700 yards with 18 touchdowns, but his 15 interceptions are a concern. As much as he can make plays, he's just as prone to making mistakes.
On Wednesday night, Tedford admitted that he has no idea who the starter will be but that he is looking forward to seeing Maynard in camp. He expects to whittle the race down to three by the end of spring before naming a starter during fall camp.
Cal fans haven't exactly been able to get excited about the quarterback position since Super Bowl MVP Aaron Rodgers was on campus. Rodgers was the sixth first-round quarterback coached by Tedford, but the play under center in Berkeley has severely tapered off since. Including his stints as offensive coordinator at Fresno State and Oregon before his arrival at Cal in 2002, Tedford coached Trent Dilfer, Akili Smith, David Carr, Joey Harrington, Kyle Boller and Rodgers in college. After Rodgers' departure, Joe Ayoob, Steve Levy, Nate Longshore, Riley and Mansion have all taken snaps under center.
Has Tedford's magic run out completely, or will a new star emerge from the current crop of signal-callers?
Recruiting, like drafting, isn't an exact science
"Recruiting" will always be a dirty word in the world of college football. Fairly or unfairly, shining the spotlight on high school football players will never be favorably looked upon. No matter the recruit — no-star or five-star — many college football fans wait until the prospect has arrived on campus to see what kind of an impact he may have on the program.
One player who has yet to have an impact anywhere he has gone is wide receiver Josh Jarboe, a Georgia native who was ranked as a five-star recruit in the Class of 2008. Jarboe originally signed with Oklahoma that year but was dismissed by Sooners head coach Bob Stoops after being arrested on gun charges and posting a YouTube video in which he rapped about guns and violence, as well as making derogatory remarks about women. After his dismissal, the 6-3 receiver enrolled at Troy but ran into trouble there, as well, being dismissed after redshirting his first year. He ended up at Northeast Mississippi Community College. But that won't be his final destination, either.
Jarboe has now resurfaced at Arkansas State.
New Red Wolves head coach Hugh Freeze is convinced that Jarboe has matured. "I've never had a recruiting meeting like that before where a kid is as emotional, breaking down and crying and just thinking that somebody is willing to listen to his story," Freeze said. "We all have a past. He made a mistake, and he is the first to confess, 'I made a mistake.'...It's up to him to rewrite his story, and we want to help alongside of that."
Hopefully, this time, Jarboe is able to realize his potential and make an impact at Arkansas State. More importantly, the hope here is that Jarboe finishes getting his education and that he's able to have a long, healthy life away from the spotlight.
Skinny posts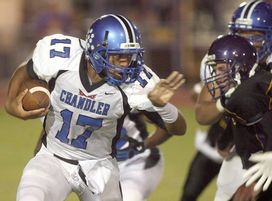 QB Brett Hundley could be the key to Rick Neuheisel's future in Westwood.
…There's no question that Rick Neuheisel has to win football games in 2011. But Jon Gold of the Los Angeles Daily News makes a great point when he writes that the UCLA head coach could remain in Westwood beyond next season with a six-win season. "The more I think about the financial implications of getting an entirely new staff after what just went on this offseason, the more I think that Neuheisel is safe next season barring an epic meltdown," Gold writes. Unless the Bruins are a disaster — and that could still be the case with a major question under center — the administration may not want to buy out the contracts of the team's recent hires as well as pay a completely new staff. Heck, five wins may even be enough, especially if top recruit Brett Hundley wins the starting quarterback job and he offers enough hope for the future.
…I never thought that Ron Zook would get a pay raise at Illinois, but that's exactly what the Fighting Illini head coach and his staff received on Wednesday. Athletic director Ron Guenther gave Zook an increase of roughly $250,000, although he was not given an extension. He has three years remaining on his current deal. Of course, the Illini were helped by two new coordinators — Vic Koenning on defense and Paul Petrino on offense — but Zook certainly did a nice job, especially finishing the season on a high note with the bowl win over Baylor. So is the Zooker off of the hot seat? Well, Guenther's contract actually expires on July 1. What if he is not offered an extension? Or what if he chooses to retire? A new AD could spell bad news for Zook if he isn't able to build off of the 2010 campaign.
<strong>…Tom Savage is officially an Arizona Wildcat after committing to the only school he visited following his transfer from Rutgers. Current Wildcats starter Nick Foles will be entering his final season in the fall while coaches hope to redshirt backup Matt Scott in order to have him take over starting duties in 2012. However, Savage has found a nice home for when he becomes eligible in 2012 even if Scott is still around. After spending two years at Rutgers, the native of Philadelphia has two years of eligibility remaining.
Victory formation
If you're a di e-hard college football fan, I'm sure you're well aware of The Paul Finebaum Radio Network and Finebaum's weekday show. Perhaps you're a longtime listener who lives in the state of Alabama or you listen to the show online as I do here in Chicago. But if you need your college football fix throughout the offseason, you have to make sure you tune into his show during the week. Although it's primarily a show for those in the Southeast region, it's must-hear radio for any fan of the college game. And I'm sure his listenership increased even more this week when many suggested that his show had something to do with the disgraceful act committed at Toomer's Corner. My opinion on the matter? To suggest that Finebaum should accept any blame for one man's lunacy is ludicrous.
Question of the Week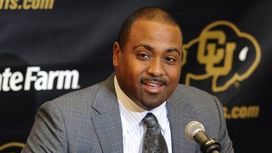 Jon Embree is preparing Colorado for its move to the Pac-12.
Jon Embree played high school football in Colorado, went to Colorado and coached for 10 seasons in Boulder under Bill McCartney, Rick Neuheisel and Gary Barnett. Clearly he's a Buffaloe. But he was born in Los Angeles, coached at UCLA and even played for the Rams for two seasons when they were based in L.A. So he knows California. With Colorado preparing for its first season in the new Pac-12, how do you think Embree will do as the program transitions out of the Big 12 and into the new league?
Drop your thoughts in the Comments section below or send me an email at dave.miller@nationalfootballpost.com.
When it comes to anything and everything related to college football, I will continually spread what I hear on Twitter throughout the day at Miller_Dave, so be sure to stay tuned if you're a frequent tweeter. Also, you can find my stories under my Against the Grain column.
Have a great weekend.
Want to work in the NFL? Click here to sign up for the NFP's "Chalk Talk at the Combine" Seminar February 25 in Indianapolis.