January 22, 2011 -
Dave Miller
College football notebook
On this NFL Championship weekend, there is always room for a little college football love.
So let's open up this weekend's notebook and see what's happening on campuses across the country.
Early declarations
In case you missed the news earlier in the week, the NFL released its official list of underclassmen who have declared for the draft. A record 56 players decided to leave the college game early to turn pro.
With schools now officially knowing who will be leaving and who will return, let's take a look at the programs who were the biggest beneficiaries.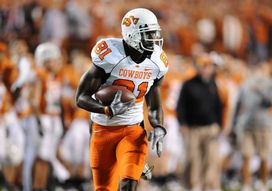 ICONJustin Blackmon is returning to Stillwater for the 2011 season.
1. Oklahoma State: No head coach dodged a bigger bullet than Oklahoma State's Mike Gundy. No matter who is calling the offensive plays in Stillwater following the departure of coordinator Dana Holgorsen to West Virginia, the return of quarterback Brandon Weeden and Biletnikoff Award-winning receiver Justin Blackmon will make it a whole lost easier. Which coordinator candidate wouldn't want this job. I've maintained that Gundy should go back to running the offense, but it's hard to argue the success that he had in 2010 when he took a step back from those duties. Even if the Cowboys don't make a big jump defensively, they should be able to flirt with the Top 10 with Weeden and Blackmon returning.
2. Ohio State: Not many people thought that the Big Four of the Suspended Five would return, including yours truly. But head coach Jim Tressel will get back quarterback Terrelle Pryor, running back Dan Herron, receiver DeVier Posey and offensive tackle Mike Adams after they serve their five-game suspensions to start the 2011 season.
3. Oklahoma: Perhaps not as impactful as rival Oklahoma State getting back Weeden and Blackmon, but the return of prolific receiver Ryan Broyles and outstanding linebacker Travis Lewis was huge. Now, Bob Stoops and Co. will prepare to have the big target on their backs as they are the trendy pick for preseason No. 1 status.
4. Nebraska: Former Big 12 member Nebraska will face an easier transition into the Big Ten with the return of two-time All-Big 12 defensive tackle Jared Crick. But that's not all. Cornerback Alfonzo Dennard, who had 4 interceptions in 2010, returns along with linebacker Lavonte David, who came to Lincoln from the JUCO ranks.
5. Stanford: The biggest losses suffered by the Cardinal this offseason were in the coaching ranks. Head coach Jim Harbaugh bolted for the NFL's 49ers, and he brought with him defensive coordinator Vic Fangio and offensive assistant Greg Roman. I do think David Shaw will be successful in 2011, but it's tough to ignore the long-term impact of losing Harbaugh and Co. However, next season should be bright as quarterback Andrew Luck stunned everyone by bypassing a likely No. 1 overall pick and returning for another season in Palo Alto. Tight end Coby Fleener also is coming back after a stellar Orange Bowl performance.
Also of note: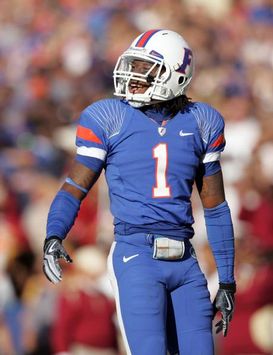 ICONHaving Janoris Jenkins in the defensive backfield is a big bonus for Will Muschamp.
Florida: New head coach Will Muschamp already has a tough job rebuilding the secondary, but having top cornerback Janoris Jenkins return makes that job a little bit easier. His presences will be huge for the Gators in 2011.
Oregon: It was very surprising to see Oregon State's Jacquizz Rodgers leave the Beavers, but in-state rival Oregon will have back Heisman Trophy finalist LaMichael James. The star running back should help the Ducks' offense continue to put up points — maybe just not against the SEC's best.
Skinny posts
…Not only was their game canceled from this past season, but the Texas Tech-TCU showdown for next season has been abandoned, as well. Texas Tech was trying to pare its nonconference schedule from four games to three games to accommodate the Big 12's nine-game, round-robin league schedule that will begin in the fall. However, the Red Raiders still need a foe for Sept. 3 after keeping their scheduled games with New Mexico and Nevada. Meanwhile, be sure that TCU isn't happy. The late notification will make it difficult for the Horned Frogs to fill the vacancy, especially against a high-profile program — a factor of utmost importance when considering the BCS standings. With the move to the Big East not coming until 2012, the Horned Frogs still need all the help they can get to crash the BCS party once again. Baylor will host TCU on Sept. 3, but it would have helped the Horned Frogs to have a second Big 12 bowl-eligible team from this season on the slate.
…I've always been a big supporter of the WAC, but check out the conference members for the 2012-13 season as of today: Idaho, Louisiana Tech, New Mexico State, San Jose State, Utah State, Texas State and Texas-San Antonio. Denver will be a non-football member. Current members Boise State, Nevada, Fresno State and Hawaii are all set to leave for the Mountain West by the 2012 season. The WAC is exploring adding more programs, and those could include Montana, Montana State, Seattle Lamar, North Texas and Sam Houston State. However, a report in The San Jose Mercury News earlier this week stated that San Jose State has emerged as a potential expansion target of the MWC as the league looks to possibly add two more teams in order to stage a conference championship game. Any move by San Jose State could affect the future of the WAC, as the league would need the Spartans to retain its automatic bids to NCAA tournaments in all sports when it goes through a transition period in 2012. The MWC's board of directors is expected to meet on Monday and expansion is on the agenda, but no invitations are expected to be given out.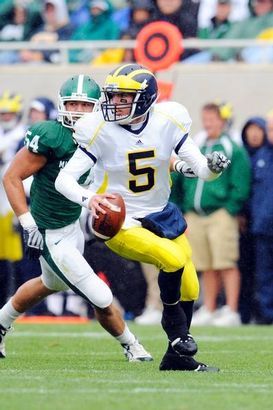 ICONWhere will Tate Forcier land now that he will officially depart Ann Arbor?
…Tate Forcier is officially done at Michigan — no, I'm serious this time. The quarterback will be transferring from the school after throwing for 2,647 yards with 17 touchdowns and 10 interceptions in a 20-game career. In case you've heard this story before, it's because you have — older brothers Jason and Chris transferred from the first college they attended, as well. Forcier won his first four starts as a freshman in 2009 and displayed the ability to keep plays alive with improve, but he did seem to take a step back in Big Ten play. He also battled injuries, lost his starting gig to Denard Robinson and ultimately ran into academic issues. Good luck to Forcier wherever he lands.
…With Case Keenum being granted his sixth year of eligibility, why can't Houston emerge as a top non-AQ contender in 2011? The Cougars return top receivers Patrick Edwards and Tyron Carrier return, and the backfield features very good depth in Bryce Beall, Chris Wilson and Michael Hayes. And don't forget about Charles Sims, the 2009 C-USA freshman of the year, as he could r eturn in the fall. Of course, we'll have to see how Keenum responds after ACL surgery. But even if he is 100 percent, can the defense be any better? Brian Stewart will enter his second year as coordinator, and the team will need to continue to get better playing in the 3-4 scheme. As long as head coach Kevin Sumlin is there, however, don't expect another 5-7 season. He's too good of a coach, and Keenum is too good of a signal-caller.
On the recruiting trail
• Cyrus Kouandjio, the nation's top offensive tackle prospect, has dropped USC from his list of finalists after receivers coach John Morton — Kouandjio's primary recruiter for the Trojans — left for the NFL's 49ers. The five-star offensive lineman canceled a scheduled official visit to Los Angeles, leaving him with four finalists: Alabama, Auburn, New Mexico and Iowa. His brother Arie is a true freshman at Alabama, while Auburn was a late addition after Kouandjio dropped Miami after its own coaching change. Could he really go to New Mexico? Kouandjio is visiting Iowa this weekend and will take a final visit to The Plains next weekend before announcing his destination on National Signing Day.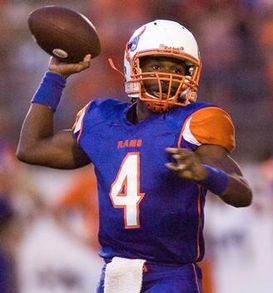 Safety is just one of the many positions Erique Florence has played in high school.
• Could four-star safety Erique Florence of Alabama get persuaded to enroll at USC? If his mother has any say, he will end up a Trojan. Florence's mom wants him to leave the bad influences of his hometown in Alabama, but in-state rivals Auburn and Alabama are considered frontrunners, with the Tigers reportedly having the edge. Auburn is only a half-hour away from his home and will be the defending national champions in 2011.
• After losing four-star athlete Amir Carlisle to USC and three-star offensive guard Garrett Gladd to Tulsa, it looks like new Stanford head coach David Shaw will be able to hold onto four-star linebacker James Vaughters of Georgia. Florida, Ohio State, Georgia and Georgia Tech were all serious contenders for his services. Vaughters is currently the highest-rated of Stanford's 2011 commitments, but the fact that the Cardinal are without a linebackers coach or defensive coordinator apparently does not worry Vaughters.
Victory formation
Texas and ESPN reached a 20-year, $300 million deal this week for the all-sports cable channel to run its Longhorn Network. The Longhorns will receive $15 million per year, and as Darren Rovell tweeted, the deal "makes [Notre Dame] look like the Little Sisters of the Poor." The question now is whether Texas eventually tries out being an independent. Why not? Despite athletic director DeLoss Dodds maintaining that the thought never crossed his mind, couldn't the 'Horns exceed the Big 12's $20 million per year for all seven home games?
When it comes to anything and everything related to college football, I will continually spread what I hear on Twitter throughout the day at Miller_Dave, so be sure to stay tuned if you're a frequent tweeter. Also, you can find my stories under my Against the Grain column.
Want to work in the NFL? Click here to sign up for the NFP's "Chalk Talk at the Combine" Seminar February 25 in Indianapolis.