December 18, 2010 -
Dave Miller
College football notebook
Finally, actual bowl games will be played today. The 2010-11 bowl season kicks off with a trio of games: BYU-UTEP in the New Mexico Bowl, Fresno State-Northern Illinois in the Humanitarian Bowl and Troy-Ohio in the New Orleans Bowl. For my full preview of all three games, check out my post from Friday afternoon at the National Football Post.
The mess at Maryland
Things look like they could get real ugly in College Park at any time.
According to Joe Schad of ESPN.com, Maryland athletic director Kevin Anderson is considering asking head coach Ralph Friedgen to take a buyout and retire. Schad reports that Friedgen opted to go home Friday afternoon instead of participating in a scheduled teleconference with Anderson and reporters. This, of course, comes on the heels of offensive coordinator James Franklin taking the head job at Vanderbilt. Franklin is reportedly set to bring at least three Terrapins assistants with him to Nashville, as well.
Earlier this season, Maryland informed Friedgen that he would be back in 2011, but the Fridge wanted to see his contract get extended. That apparently was never in the cards.
So now, the entire coaching staff remains in limbo, and no one is offering any answers. Friedgen would receive $2 million if his contract is bought out.
According to Schad, former Texas Tech head coach Mike Leach would be the leading candidate to replace Friedgen if he is forced into retirement. Former Washington head coach Tyrone Willingham and current New Mexico head coach Mike Locksley also are reportedly in the mix. Just based off of what Locksley has done with the Lobos, that would be absurd for him to get the Terrapins gig — even if he knows the local recruiting areas like the back of his hand.
The figure to keep an eye on in all of this is Kevin Plank, the wealthy founder of Under Armour and former Terrapin. Leach has a close relationship with Plank and the company, but I still can't see the former Red Raider getting hired anywhere until his legal issues are solved. But Plank certainly has the cash to make a change, paying Friedgen to leave and bringing in a big-name new face of the program.
I guess that's what Friedgen gets for going 8-4 and keeping his team in the ACC Atlantic race all season.
Vanderbilt has its man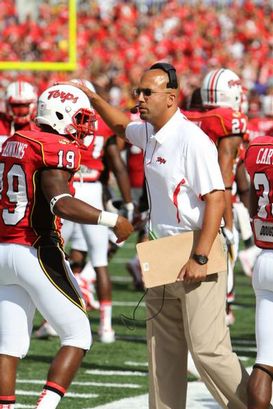 ICONJames Franklin is the new head coach at Vanderbilt.
Finally, the Commodores have a head coach
. After Vandy officials were unable to woo Gus Malzahn from Auburn despite throwing a nice chunk of change his way, the school was able to complete a deal for Maryland's Franklin to succeed Robbie Caldwell. It wasn't easy, especially with Thursday's report that contract talks between Franklin and Vandy officials were "stalled" over money and staff issues. However, vice chancellor of athletics David Williams was able to hammer out a deal with Franklin, who is known for his work ethic on the recruiting trail and his ability to maximize the talent of whoever is under center.
This will be the first head coaching job for the 38-year-old Franklin, and he will also be the first black coach of any major sport at Vanderbilt. The Commodores are coming off consecutive 2-10 seasons after finishing 7-6 in 2008 — their first winning season since 1982. Rivals.com named Franklin one of the best 25 recruiters nationally in 2009, and he also coached Raiders receiver Darrius Heyward-Bey and Bucs quarterback Josh Freeman in college.
Will they or won't they? Juniors ponder 2011 NFL Draft
• Nebraska has three juniors who are likely considering entering the 2011 NFL Draft: Cornerback Alfonzo Dennard, defensive tackle Jared Crick and linebacker Lavonte David. Of the three, it appears Dennard would be the most likely to leave Lincoln early. However, he cites Ndamukong Suh and Prince Amukamara — two Cornhuskers who weighed their options before ultimately returning to school — as a strong reason why returning for his senior year may be the most beneficial.
Dennard, however, has stated that he will ultimately do what is best for his mother in Georgia. He said her well-being will ultimately make the decision for him. As of now, it does not appear that any of the three juniors have submitted paperwork to the NFL draft advisory board.
Amukamara believes he is staying. Dennard said he will officially decide after the Dec. 29 Holiday Bowl against Washington.
• Five Ohio State players submitted paperwork to the draft advisory board: center Mike Brewster, running back Dan Herron and wide receiver DeVier Posey. The other two? Doug Lesmerises of the Cleveland Plain Dealer guesses that they are quarterback Terrelle Pryor and left tackle Mike Adams. Defensive end Nathan Williams said on Wednesday that he was going to return to Columbus for his senior campaign.
Of course, Pryor maintains that he is returning for his senior season, which leads me to believe that all of the other offensive standouts will return as well so the Buckeyes can make a run at the national championship. Adams, because he is a left tackle, could be the exception.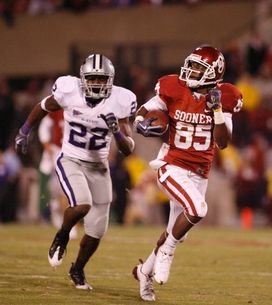 ICONWill Ryan Broyles be back in Norman for his senior season?
• Oklahoma wide receiver Ryan Broyles and linebacker Travis Lewis are expected to submit paperwork to the draft advisory board.
Broyles is an interesting case in that it looks like he will be a slot guy-only in the NFL, and he's currently projected on average to be taken in the later portion of the second round. Of course, A.J. Green, Julio Jones, Justin Blackmon and Jon Baldwin grade out a bit higher as they play on the outside. That also assumes all four come out this year.
Lewis is one of the better outside linebackers and could be taken in the middle of the second round. Defensive coordinator Brent Venables, however, believes Lewis should return to school to improve as a player, thus improving his stock.
• Miami cornerback Brandon Harris was impressed by new head coach Al Golden, but it's hard to imagine Harris returning for his senior season. He did say that he doesn't think he would leave if he's not a guaranteed first-round pick, and it looks dicey right now. One mock has him in the middle of the first round, while another has him slotted early in the second round. Harris will ask for an evaluation from the draft advisory board and make a decision sometime after the Dec. 31 Sun Bowl against Notre Dame. Even if he's slotted for the second round, I get the feeling he won't be a Hurricane next season.
Skinny posts
…Michigan head coach — for now — Rich Rodriguez has been pleased with the practices his team has participated in as the Wolverines prepare to battle Mississippi State in the Gator Bowl. In particular, he is encouraged by the progress of quarterback Denard Robinson, who is said to be the healthiest he's been since the season started. Of course, one of the more intriguing storylines of that contest is how Bulldogs defensive coordinator Manny Diaz will be able to contain "Shoelace." The Bulldogs match up well athletically, but will they be able to tackle him in space?
…Another quarterback who has battled health issues is Alabama's Greg McElroy, who suffered a severe concussion late in the memorable Iron Bowl game against Auburn on Nov. 26. The good news is that the senior said he is fully recovered and will be fine for the Capital One Bowl game against Michigan State. McElroy suffered from post-concussion symptoms for several days following the game. Alabama began bowl practice on Thursday.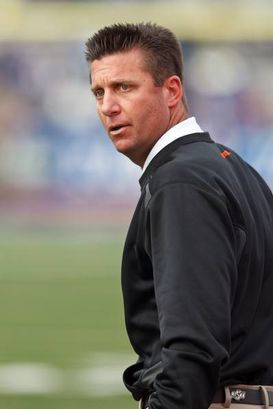 ICONMike Gundy is a man. And now older than 40.
…If I had to guess, I'm thinking that Oklahoma State head coach Mike Gundy may stay in-house when he selects a new offensive coordinator to replace Dana Holgorsen, who left to become the OC/head-coach-in waiting at West Virginia. Or, he can also go back to calling plays himself.
I had a hard time believing that Mike Leach would be a viable candidate even before the reports about Maryland's interest in the former Texas Tech head coach. Plus, there was also talk this past summer that T. Boone Pickens was eyeing Leach as a possible replacement for Gundy.
Among the in-house candidates: inside wide receivers coach Doug Meachem, offensive line coach Joe Wickline and outside wide receivers coach Gunter Brewer, who was a former Cowboys OC.
…The OC positions at Florida and Texas? There are WAY too many names to even sort out. I will keep you up to date with any movement on these fronts in my Against the Grain column whenever I hear loud rumblings.
Victory formation
Let's face it, UCLA was awful offensively this season.
It was fun watching the Bruins when the Pistol was hitting all its targets, but UCLA is home for the holidays because of horrific quarterback play from a gimpy Kevin Prince, Richard Brehaut and Darius Bell.
However, September's commitment of blue-chip quarterback recruit Brett Hundley was huge. Big enough for a true freshman to start next season?
Fans are in love with him already, and we can't blame them based on the poor play they saw under center in 2010. But would head coach Rick Neuheisel, in a potentially make-or-break season, hand over the car keys to a true freshman even if he is praised for his leadership and maturity?...
Enjoy the start of bowl season, and be sure to drink plenty of Rolling Rocks.
And as I talked about on the latest On the Quad podcast with Wes Bunting, please see Black Swan this weekend. Gentlemen, you will thank me.
And check out Bunting's post this afternoon on the prospects to watch in today's bowl games.
Email dave.miller@nationalfootballpost.com or follow me on Twitter at Miller_Dave