February 05, 2011 -
Dave Miller
College football notebook
National Signing Day in the books, but that doesn't mean that college football has to take a back seat.
Let's open up this weekend's notebook and see what's happening on campuses across the country.
National Signing Day wrap-up
Here are some additional notes I couldn't cram into my Top 25 recruiting classes of 2011 piece, which I posted on Thursday…
• Oregon's pickup of athlete De'Anthony Thomas could be really big. Not only did the Ducks steal a big-time player from rival USC, but his skill set just fits so well into that offense in Eugene. The scary thing is that he could be a really good cornerback, but he will make his mark on offense at running back — especially with LaMichael James moving on after 2011. The other recruit to keep an eye on in this class is linebacker Colt Lyerla, who has drawn comparisons to Brian Urlacher. I won't make that comparison, but I can Lyerla becoming the Casey Matthews of this defense.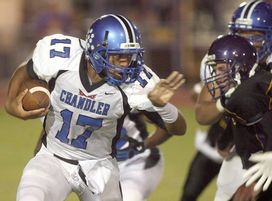 QB Brett Hundley is one of the few bright spots in UCLA's 2011 signing class.
• Rick Neuheisel better hope that quarterback Brett Hundley truly is the savior of the program as many are expecting him to be in Westwood. It certainly hasn't been a great offseason for the Bruins following a rough 2010, and that extended onto the recruiting trail. I like receiver Devin Lucien and defensive tackle Kevin McReynolds, but this class was a little bare in the cupboard.
• I was very impressed with the haul Michigan's Brady Hoke was able to assemble given the fact that he had such a short amount of time to piece together a class. The former San Diego State head coach was able to add nine new commits since taking over in Ann Arbor, and he was helped by the addition of new defensive coordinator Greg Mattison — who is very well-respected for his recruiting prowess.
• Speaking of coaches trying to assemble a class under the gun, Miami's Al Golden only had 15 actual recruiting days to bring new Hurricanes into the fold. Even more stunning, he inherited just two commits. But he brought in a pair of real good defensive ends and received signatures from eight recruits who previously had been committed to other programs.
Skinny posts
…Oklahoma State head coach Mike Gundy officially brought in talented quarterback recruit J.W. Walsh on Wednesday, but who will he be learning the offense from during spring ball? Gundy has yet to decide on an offensive coordinator to replace Dana Holgorsen, who left for West Virginia. Gundy said on Wednesday that he hopes to have his new OC in place by Feb. 21, which would give the Cowboys' new assistant about three weeks to get acclimated before the start of spring football. I have always maintained that Gundy would re-assume play-calling duties, although who could argue with Oklahoma State's success in 2010 with Gundy relinquishing those duties. Current staff members Doug Meachem and Joe Wickline, the inside wide receivers coach and offensive line coach, respectively, have been mentioned as potential candidates to be promoted to offensive coordinator, while names outside the program who could be in the mix include Troy's Kenny Edenfield, Houston's Jason Phillips and Hawaii's Nick Rolovich.
…In other offensive coordinator news, Minnesota Vikings quarterbacks coach Kevin Rogers has emerged as the frontrunner to assume the same position at Boston College, according to Mark Blaudschun of the Boston Globe. Head coach Frank Spaziani is expected to make the decision very soon after a roughly three-week search. Rogers, of course, ran the offense at Notre Dame under Bob Davie and also served stints at Navy, Syracuse and Virginia Tech.
…Does Texas A&M have a Ryan Tannehill clone in the Class of 2011? The Aggies quarterback, who moved from wide receiver and replaced Jerrod Johnson under center late in the season, could be throwing to a quarterback-turned-receiver next year if signee Johnny Manziel sees the field early. Head coach Mike Sherman said on Wednesday that Manziel will be moved around the field to take advantage of his athleticism. The 6-1, 190-pounder has a body type more similar to former Georgia QB-turned-WR Logan Gray, but Manziel may have to do anything he can to get on the field with the Aggies having three other scholarship signal-callers on the roster with freshmen eligibility in 2011.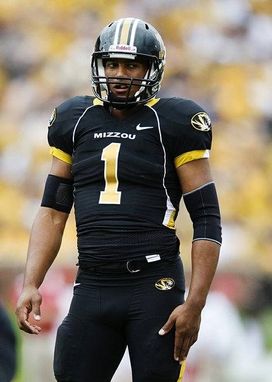 James Franklin is still the odds-on favorite to replace Blaine Gabbert under center at Missouri.
…While soon-to-be sophomore James Franklin remains the odds-on favorite to supplant Blaine Gabbert as the starting quarterback at Missouri, offensive coordinator David Yost said that redshirt freshman Tyler Gabbert, Blaine's younger brother, and sophomore Ashton Glasser will also get a chance to win the job under center. Yost, who described the gig is "wide open as it's ever been," said the three will share first-team reps before the bulk of the work is handed to whoever earns it.
…It will be interesting to see how Georgia head coach Mark Richt keeps all of his running backs happy in Athens next season — especially his returning veterans. In an interview on ESPNU's National Signing Day show on Wednesday, Richt said the following about prized recruit Isaiah Crowell: "I expect him to come right in and compete right away. I wouldn't be shocked to see him running that rock in the Dome against Boise State on the opening play (of the season) if he does what he's supposed to do." So if you're Washaun Ealey, Caleb King, Carlton Thomas or redshirt freshman Ken Malcome, you're likely not feeling comfortable about your depth-chart status. While Crowell has tons to prove, Richt obviously shouldn't be happy with the production his returnees gave in 2010. It can be argued that the Bulldogs' disappointing running game was a big reason for the inexcusable 6-7 campaign.
…Ohio State's stud quarterback recruit Braxton Miller certainly has a chance to see action under center next fall with starter Terrelle Pryor sidelined the first five games of the season. While head coach Jim Tressel has never started a true freshman quarterback to open up the season, Miller is already enrolled in school and will go through spring practice — especially big because Pryor is expected to miss most if not all of spring drills following Jan. 7 surgery on his right foot. However, unless 25-year-old soon-to-be senior Joe Bauserman really struggles this offseason and early against weak nonconference competition, I'm not sure that Tressel would look to Miller—especially because he'd just return to the sideline when Pryor returns for Big Ten play. Plus, freshman signal-caller Kenny Guiton impressed a lot of people last summer and could be in line if Bauserman falters. Still, Miller is a special talent — one who bears watching this spring.
Victory formation
I wasn't a big fan of the Paul Pasqualoni hire at Connecticut, but the successor to Randy Edsall made a great move by bringing in Don Brown as the team's defensive coordinator. Brown, who spent the past two seasons running the Maryland defense, has family in New England and led UMass to the 20 06 national championship game as head coach. He also led the program to its best five-year span in school history. As a coordinator, Brown preaches aggressiveness, speed and physicality, and his Terps finished 2010 ranked No. 38 nationally in scoring defense, No. 39 in total defense, No. 21 in rushing defense, ninth in pass efficiency defense and tied for 18th in turnovers gained. It's a real nice gain for the Huskies.
When it comes to anything and everything related to college football, I will continually spread what I hear on Twitter throughout the day at Miller_Dave, so be sure to stay tuned if you're a frequent tweeter. Also, you can find my stories under my Against the Grain column.
Enjoy the NFLPA Game!
Want to work in the NFL? Click here to sign up for the NFP's "Chalk Talk at the Combine" Seminar February 25 in Indianapolis.