December 11, 2010 -
Dave Miller
College football notebook
First off, if you happened to miss Lee Corso's speech Thursday night at the 2010 Home Depot College Football Awards show, it is a must-watch. Corso represents the best aspect of college football: pure passion. You can see it below.
In case you missed the show or do not know who took home awards, here is a complete list of winners.
Maxwell (nation's best all-around player): Cam Newton, Auburn
Davey O'Brien (nation's best quarterback): Newton
Doak Walker (nation's best running back): LaMichael James, Oregon
Biletnikoff (nation's best receiver): Justin Blackmon, Oklahoma State
Mackey (nation's best tight end): D.J. Williams, Arkansas
Rimington (outstanding center): Jake Kirkpatrick, TCU
Chuck Bednarik (nation's best defensive player): Patrick Peterson, LSU
Butkus (nation's best linebacker): Von Miller, Texas A&M
Outland Trophy (nation's best interior lineman): Gabe Carimi, Wisconsin
Jim Thorpe (nation's best defensive back): Peterson
Lombardi (top lineman): Nick Fairley, Auburn
Nagurski (best defensive player): Da'Quan Bowers, Clemson
Lou Groza (nation's best kicker): Dan Bailey, Oklahoma State
Ray Guy (nation's best punter): Chas Henry, Florida
William V. Campbell Trophy (academic success): Sam Acho, Texas
Frank Broyles (top assistant coach): Gus Malzahn, Auburn
Coach of the Year: Gene Chizik, Auburn
Of course, the Heisman Trophy will be awarded Saturday evening, and Auburn quarterback Cam Newton is the overwhelming favorite to claim the honor of college football's best player. In case you were wondering, Cecil Newton will not be in attendance, as the elder Newton does not want to be a distraction.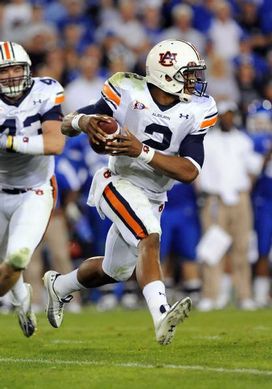 ICONCam Newton will join the exclusive list of Heisman Trophy winners.
There have been a lot of tremendous Heisman winners in the past, and Newton's fantastic season (307.5 total yards per game and 49 touchdowns) has many wondering whether or not he put up the best campaign of all. Let's take a look back at some of the best individual seasons by past winners — starting with Bo Jackson's 1985 win.
RB Bo Jackson, Auburn (1985): Before Newton took the Auburn campus by storm, there was Bo Jackson. And Bo knew Heisman hardware. He rushed for 1,786 yards and 17 touchdowns, averaging 6.4 yards per carry, in 1985 — the second-best single-season performance in SEC history at the time. He edged out Iowa quarterback Chuck Long for the award in one of the closest margins of victory ever.
QB Danny Wuerffel, Florida (1996): One of most fun college quarterbacks to watch of all time, Wuerffel threw for 3,625 yards with 39 touchdowns against 13 interceptions in 1996. He also averaged an absurd 10.1 yards per pass attempt and a 170.6 passer rating — the fourth highest on record at the time. He became the first signal caller to record a rating of 170 or better in back-to-back seasons.
QB Charlie Ward, Florida State (1993): Ward was ahead of his time, as he did not have the benefit of playing in a spread offense. Still, he logged 3,371 yards of total offense, tossed 27 touchdowns against just four interceptions and averaged 5.2 yards per carry. He recorded six 300-yard games and finished fourth in pass efficiency as he led the Seminoles to their first national title.
QB Sam Bradford, Oklahoma (2008): I think we sometimes forget how dominant of a 2008 season Bradford had in Norman. He threw for 4,464 passing yards, an incredible 48 touchdowns and just six interceptions. His pass efficiency rating of 180.8 set an NCAA record and he led Oklahoma to the national championship game. Despite those great numbers, he was in a very close race against Tim Tebow and Colt McCoy.
QB Tim Tebow, Florida (2007): Before Cam Newton, there was Tim Tebow — perhaps the greatest college football player of all time. He averaged 321.6 total yards per game and scored 51 touchdowns. He threw just 6 interceptions and boasted a passer rating of 178.8. It's amazing the Gators lost three games.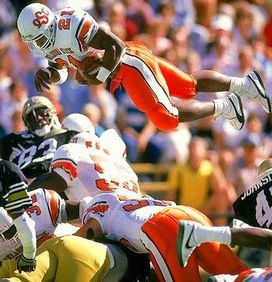 Former Oklahoma State RB Barry Sanders was insanely good.
RB Barry Sanders, Oklahoma State (1988): This one takes the cake for me—especially because it was done in an 11-game season. Sanders rushed for 2,628 yards and 37 touchdowns, both of which continue to stand as FBS records. Sanders received 559 first-place votes, while runner-up and future pro teammate Rodney Peete earned just 70.
There were a lot more great single-season performances by Heisman winners. I just wanted to include what I thought were the best handful of the last 25 years. Which players pop into your mind as having the best Heisman season? Drop your favorites in the Comments section at the bottom of the page.
On Friday at the NFP, I looked at the five must-see bowl games of the season if you were only allowed to watch a few because of the girlfriend, wife, etc. Today, let's take a look at some more intriguing matchups of the 2010-11 bowl season.
Dec. 28 Insight: Missouri vs. Iowa
I'm looking forward to seeing how Missouri quarterback Blaine Gabbert deals with the pressure from the vaunted front four of the Hawkeyes. Meanwhile, Iowa quarterback Ricky Stanzi almost assuredly will be without top wide receiver Derrell Johnson-Koulianos, the team's career leader in receptions and receiving yards, after his arrest on multiple counts of possession of controlled substances, keeping a drug house and two counts of unlawful possession of a prescription drugs. This should be one of the better Insight Bowls in recent memory.
Dec. 31 Chick-fil-A: Florida State vs. South Carolina
How about this matchup of runner-ups from the ACC and SEC? FSU, which has to be feeling good right now as Florida and Miami deal with coaching turnover, has a chance to cap off its nice season with a win over the SEC East champs. But can the 'Noles contain stud Gamecocks tailback Marcus Lattimore and top receiver Alshon Jeffery? South Carolina quarterback Stephen Garcia will face a fierce pass rush, but the Seminoles will be going against one of the best defensive rushing squads in the country.
Jan. 7 Cotton: Texas A&M vs. LSU
The Aggies will enter this contest as one of the hottest teams in the nation. They look like a different team with Ryan Tannehill under center and Cyrus Gray doing a tremendous job on the ground, as he finished the season with six games of at least 100 yards rushing and averaged 6.3 yards per carry in that stretch. Keep an eye on Texas A&M's Butkus Award winner Von Miller, who potentially would be the best player on LSU if he played for the Tigers. He's a beast and he finally looks healthy after dealing with an early-season ankle injury.
For LSU, they are going to have to score enough points to keep pace with A&M's prolific attack. As always, it comes down to the effectiveness of quarterbacks Jordan Jefferson and Jarrett Lee.
Jan. 1 Gator: Michigan vs. Mississippi State
The main draw for this game is seeing how Bulldogs defensive coordinator Manny Diaz contends with Wolverines dual-threat signal caller Denard Robinson.
Of course, we know why Dan Mullen has been linked to the openings at Miami and Florida. In his second year with the Bulldogs, he went from a 5-7 mark in his first season to an 8-4 record and a New Year's Day bowl invite. The Bulldogs averaged more than 200 yards rushing for the second year in a row, and Diaz oversees a defense that makes yards tough to come by on a weekly basis.
Meanwhile, could this be the final game for Rich Rodriguez at Michigan?
I'll have more glances of bowl matchups in the days and weeks ahead.
Email dave.miller@nationalfootballpost.com or follow me on Twitter at Miller_Dave