February 02, 2013 -
Dave Miller
College football's best recruiting assistant coaches
As I wrote on Thursday at the NFP, most of the time head coaches get all of the credit for landing a stellar recruiting class at a major-conference school. And while they are indeed the program-builders with the most sway, their assistants are often the unheralded stars of a successful recruiting class.
Assistant coaches spend countless hours making phone calls and taking in-home visits while trying to secure verbal commitments from college football's stars of tomorrow.
So, today, let's give credit where credit is due to some of the top recruiters from the assistant coaching ranks.
Greg Mattison, Michigan: Brady Hoke's personable nature is one of his biggest drawing cards as the face of Michigan football. But there's no question that Mattison has seamlessly transitioned back into being an ace recruiter after spending time in the NFL as the defensive coordinator of the Baltimore Ravens. Mattison was instrumental in salvaging the Wolverines' class when Hoke was hired mere weeks ahead of Signing Day a few years ago, and he helped garner commitments from eight prospects before the end of July for the 2012 class. Honorable mention goes to Fred Jackson, who was brought in by Hoke to primarily work the Detroit area.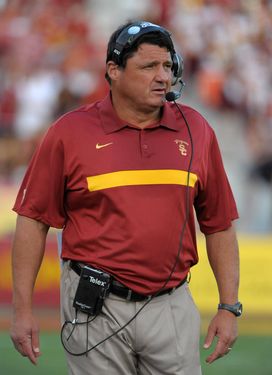 US PRESSWIREEd Orgeron has been one of the best recruiters for many years.
Ed Orgeron, USC: The Trojans are always going to get very good talent no matter the NCAA scholarship reductions. And, love him or hate him, head coach Lane Kiffin can recruit with the best of them. But having Orgeron in Los Angeles is huge because he has been one of the nation's best recruiters for awhile. He started at Miami (FL) in the late 1980s and early 1990s and was USC's main recruiter under Pete Carroll. And although he struggled as a head coach at Ole Miss, he left good talent for Houston Nutt. He continues to be USC's top recruiter under Kiffin, so he's been involved with nearly all of the Trojans' top prospects.
Jay Norvell, Oklahoma: The Sooners co-offensive coordinator and wide receivers coach will be a head coach one day, as he is highly regarded within the coaching community. He was even recently offered a position on the Chicago Bears' new coaching staff, but turned it down to stay in Norman. He has an infectous personality, and he is arguably the best recruiter among the Big 12 assistants (despite his Twitter flap last offseason). He helped Oklahoma land one of the best classes at the wide receiver position last year, and he was one of the biggest reasons for Nebraska's infusion of talent when Bill Callahan was in Lincoln.
Kirby Smart, Alabama: The Crimson Tide defensive coordinator/linebackers coach will be a head coach any day now. Not only does he not get enough credit for his coaching because he works in the shadow of Nick Saban, but I don't think Smart gets enough credit for his recruiting either. Smart relates well to high school players, and recruits are sold on playing for him, especially impact defenders.
Adrian Klemm, UCLA and Tosh Lupoi, Washington: Klemm, the former New England Patriots and Green Bay Packers offensive lineman, developed a strong reputation as a recruiter at SMU because he was able to land Southern California talent. Thus, his hire by Jim L. Mora at UCLA made a lot of sense. Honorable mention for Bruins assistant coach Demetrice Martin. Meanwhile, Lupoi came over to Washington from Cal, and he helped the Huskies close well late last year, getting players such as Shaq Thompson and Pio Vatuvei to flip. Steve Sarkisian is a very good recruiter as well, but Lupoi was a fantastic hire last offseason for the Huskies.
Dameyune Craig, Auburn: The former Tigers quarterback returned to The Plains as co-offensive coordinator and wide receivers coach after spending the past three seasons as Florida State's quarterbacks coach and recruiting coordinator following two seasons coaching wide receivers for South Alabama. New Auburn head coach Gus Malzahn called Craig one of college football's best recruiters when he was hired. In Tallahassee, Craig helped the 'Noles make headway on the recruiting trail in Alabama, which obviously appealed to Malzahn. Oh, and it should be mentioned that Craig began his career as a graduate assistant at LSU under Nick Saban and worked another season under Saban with the Miami Dolphins. A special mention in this spot also goes to Odell Haggins, who is the longest-tenured member of the Florida State coaching staff and who was the Seminoles' big closer on National Signing Day last year when he helped land the commitments of defensive tackle Eddie Goldman and cornerback Ronald Darby. The 'Noles did lose Craig, but Haggins remains in place for FSU head coach Jimbo Fisher.
Others of note: Luke Fickell, Ohio State; Frank Wilson, LSU; Rodney Garner, Auburn; D.J. Durkin, Florida