December 15, 2010 -
Dave Miller
College head-coaching moves
Are you going insane trying to keep up with the coaching carousel taking place across the college football landscape?
Me too.
So here's a rundown of everything that has occurred around the country thus far — and we aren't done yet.
Florida: As I wrote on Monday, the Will Muschamp hire comes with some risk for athletic director Jeremy Foley. But this hire feels different than the Ron Zook selection. Muschamp, who has agreed to a five-year, $13.5 million contract, is ready for a head gig after working under Nick Saban and Mack Brown. I know everything is always peaches and cream at an introductory news conference, but the former Texas defensive coordinator looked the part early Tuesday evening when he was introduced as the new face of the Gators. He is intent on keeping his players out of trouble off the field while winning right away on Saturdays.
How will he help an offense that struggled the last two seasons, particularly in 2010? So long spread, hello pro-style approach. Expect more downfield passes, a running game out of the I-formation and no more three-quarterback system. And while we don't yet know who his coordinators will be, they will help carry out Muschamp's vision for playing winning football in the SEC — a conference he's been familiar with his entire life.
Overall, his infectious personality at least helped sell himself to those who worry about his inexperience as a head coach. Now, all he has to do is win.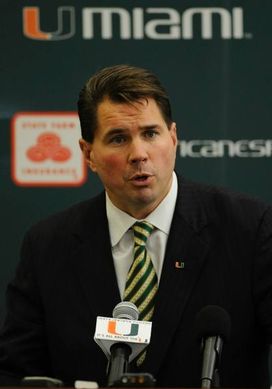 ICONHe's not Jon Gruden, but Miami fans will love Al Golden if he wins games.
Miami: He isn't Jon Gruden or Bo Pelini, but Miami fans should be optimistic about Al Golden, who was one of the hotter names in college football and who was long-rumored to take over for Joe Paterno at Penn State. The 41-year-old built up Temple's program in five seasons at the helm after finishing 1-11 in his first year. In the past two campaigns, Golden has won 19 games, including an 8-4 mark in 2010 with a win over Fiesta Bowl-bound Connecticut. In 2009, Golden led Temple to its first bowl game in 30 years.
Golden, who will instill discipline in the Hurricanes players, is known for being a solid recruiter and leader, and he was hired over former Miami assistant coach Marc Trestman, UConn head coach Randy Edsall and Houston head coach Kevin Sumlin.
Before arriving in Philadelphia, Golden was Al Groh's defensive coordinator at Virginia, as well as an assistant under Paterno at Penn State and under Tom O'Brien at Boston College.
While I thought a larger-than-life personality would be a better fit at Miami, the fact is that Golden is a winner. If a traditionally fickle fan base gives him a chance, he will succeed.
Minnesota: The NFL's Vikings and Bears will get a close look at just how beautiful of a place TCF Bank Stadium is when the teams hook up on Monday night. New Gophers head coach Jerry Kill is already familiar, as his Northern Illinois squad beat Minnesota earlier this season. No wonder why the Gophers hired him.
Besides going 23-16 with postseason appearances in all three seasons at NIU, Kill led Southern Illinois to five straight postseasons. He has won at every coaching stop in his career, and he will finally get his chance to run a big-time program. There's no reason to believe that the Gophers won't be going to the postseason on a consistent basis.
Colorado: Only three Big 12 teams will be home for the holidays, and Colorado is one of them. That's why they have a new head coach, and Jon Embree will be the face of the program as it prepares for life in the Pac-12. The former Buff very much wanted this job, but I'm not sure if this is the right hire — despite CU wanting to keep it in the family. He's an NFL guy, serving as the Washington Redskins tight ends coach, and if anything I almost feel that the administration should have rolled the dice on fellow former Buff Eric Bieniemy, who will finish out the season as the Minnesota Vikings running backs coach before returning to Boulder to serve as Embree's offensive coordinator. Nonetheless, Embree will be a hero in town if he can win more than Dan Hawkins.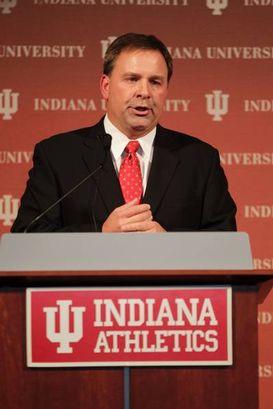 ICONIndiana's Kevin Wilson gets his chance to put his stamp on a program.
Indiana: Oklahoma offensive coordinator Kevin Wilson finally accepted a head coaching job, landing in Bloomington and taking over for the fired Bill Lynch. Wilson is definitely ready to lead his own program after serving as the play caller in Norman since 2006. In 2008, he won the Broyles Award, which is annually given to the top assistant in college football. Wilson even has Big Ten experience, serving as Northwestern's offensive coordinator from 1999-2001. There's no question that the Hoosiers will continue to score points under his leadership. But can he get IU to stop anyone on defense? That has been the problem in Bloomington for so many years. But IU has made improvements to its facilities, and fans should be optimistic that Wilson can take the Hoosiers to lower-tier bowls on a consistent basis.
Vanderbilt: Will it be James Franklin, Maryland's offensive coordinator and the coach-in-waiting under Ralph Friedgen? All signs point in that direction, although nothing is official yet. But after failing to land Auburn offensive coordinator Gus Malzahn — despite offering a lucrative deal — it appears that the Commodores are looking for a bright offensive mind. Franklin is considered an up-and-comer in the coaching ranks who works well with young quarterbacks. Case in point: Terrapins redshirt freshman signal caller Danny O'Brien, who was the ACC rookie of the year in 2010. O'Brien's success under center was one of the key reasons why the Terps finished 8-4 and contended for the Atlantic Division title one year after finishing 2-10.
I still think that Navy head coach Ken Niumatalolo would be a home-run hire — although Commodores fans would disagree after being seemingly close to landing Malzahn — but Franklin could be poised to get Vandy out of the SEC East cellar. Would that mean consistent 6-6 campaigns and nothing more? Perhaps. But take a look at the success of Stanford and Northwestern. High academic standards don't have to result in a limited amount of wins.
West Virginia: An interesting scenario is playing out at West Virginia, where the administration reportedly has been able to woo Oklahoma State's Dana Holgorsen to Morgantown. All indications are that he will serve as the team's offensive coordinator in 2011 before succeeding Bill Stewart in 2012. Holgorsen, who has coached at Texas Tech and Houston, directed an Oklahoma State offense in 2010 that averaged 538 yards per game in his first season, the best in the FBS. The Cowboys were also second nationally at 355 passing yards per game and third in scoring at 44.9 points per game. I believe Holgorsen is ready to be a head coach, but I'm really surprised by the negativity surrounding Stewart among some fans and alums. I'm also surprised that Stewart would stick around for 2011 knowing that his successor — who is coming from another program — will be newly arrived in town. Perhaps Mountaineers brass just didn't want to lose out on Holgorsen, especially to rival Pitt.
Northern Illinois: Wisconsin defensive coordinator Dave Doeren will take over the Huskies from Jerry Kill, who left for the head gig at Minnesota. It will be Doeren's first head job, and he's determined to bring a physical brand of football to DeKalb. The Huskies are about as solid as they come in the MAC, so there is talent to win right away. Kill went bowling three consecutive seasons, including this year, so the same will be expected of Doeren.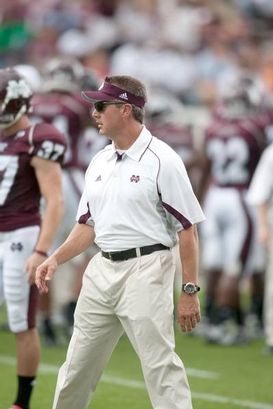 ICONMark Hudspeth went 66-21 with five NCAA playoff appearances in seven seasons at Division II North Alabama.
Louisiana: The Ragin' Cajuns wanted to bring in a new leader who had head-coaching experience, and that's exactly what they'll get in Mark Hudspeth. The former Mississippi State receivers coach/passing game coordinator, who went 66-21 with five NCAA playoff appearances in seven seasons at Division II North Alabama, will bring a winning pedigree to Lafayette. This looks to be a real solid hire, as the program has never made a bowl game. Hudspeth is experienced, and he'll get started with recruiting and rebuilding the program right away as he will not coach Mississippi State in the Gator Bowl against Michigan.
North Texas: Former Iowa State head coach Dan McCarney takes over for Todd Dodge, who never could get the Mean Green going after a successful run in the high school ranks. McCarney is the highest-profile hire at North Texas since Hayden Fry in the 1970s, and he signed a five-year deal that will pay an annual salary in the mid-six figures. So the expectation is that the 57-year-old recent Florida assistant will get the program turned around. Although he went just 56-85 from 1995 to 2006 at Iowa State, the Cyclones went to five bowls under his leadership. He's enthusiastic, and at this point that is what this program needs after posting a 13-58 mark in six seasons since enjoying a four-year run of winning the Sun Belt conference.
Arkansas State: Hugh Freeze replaces Steve Roberts after serving as the offensive coordinator under Roberts. In 2010, Arkansas State broke nine school records on offense, so that continuity on that side of the ball will help. The only head-coaching experience for Freeze came at the high school level as well as Lambuth (Tenn.) College.
Still searching
Pittsburgh: Where will Pitt athletic director Steve Pederson turn after losing out to Backyard Brawl foe West Virginia for the services of Holgorsen? According to Paul Zeise of the Pittsburgh Post-Gazette, Miami of Ohio's Michael Haywood has emerged as the leading candidate. Haywood led the RedHawks to the MAC championship this season, just one year after the team went 1-11 in his first year at the school. The 46-year-old served as offensive coordinator at Notre Dame from 2005-2008, as well as an assistant at Texas from 2003-2004 and LSU from 1995-2002.
Temple: Who will the Owls land after Al Golden left to take over at Miami? Defensive coordinator Mark D'Onofrio is out of the running after turning down the head gig. He will instead follow Golden to Miami, according to a report in the Philly Sports Daily. According to OwlScoop.com, possible candidates for the Owls opening include Frank Cignetti, who is the current offensive coordinator at Pittsburgh; Cincinnati Bengals assistant Paul Guenther; Owls offensive coordinator/quarterbacks coach Matt Rhule; and former Notre Dame head coach Bob Davie. Athletic director Bill Bradshaw is conducting a nationwide search, and Bradshaw has always been the type of AD to try to make a splash. The Owls have good talent returning in 2011. I just get the feeling that Bradshaw is going to surprise the college football world with this hire.
Kent State: According to TideSports.com, Alabama receivers coach and recruiting coordinator Curt Cignetti has emerged as the leading candidate to take over for Doug Martin. The Golden Flashes also showed interest in West Virginia offensive coordinator Jeff Mullen, who has coaching experience in the MAC as an assistant at Ohio, as well as Ohio State assistant coach Darrell Hazell.
Ball State: Ball State is looking to replace Stan Parrish, who was let go three weeks ago. From a recruiting standpoint, the Cardinals are in a tough spot because they lead all MAC teams in the number of high school players committed to play for the team next season. However, many of the 17 who had given oral commitments have some doubt about whether they will remain on the list after Parrish's firing. Athletic director Tom Collins has been mum about the search. Local newspapers have reported that Stanford special teams coach Brian Polian, Indiana offensive coordinator Matt Canada and New Orleans Saints assistant Mike Neu could be in the mix.
Email dave.miller@nationalfootballpost.com or follow me on Twitter at Miller_Dave